DTC Briefing: After spending years on the sidelines, more startups are participating in Prime Day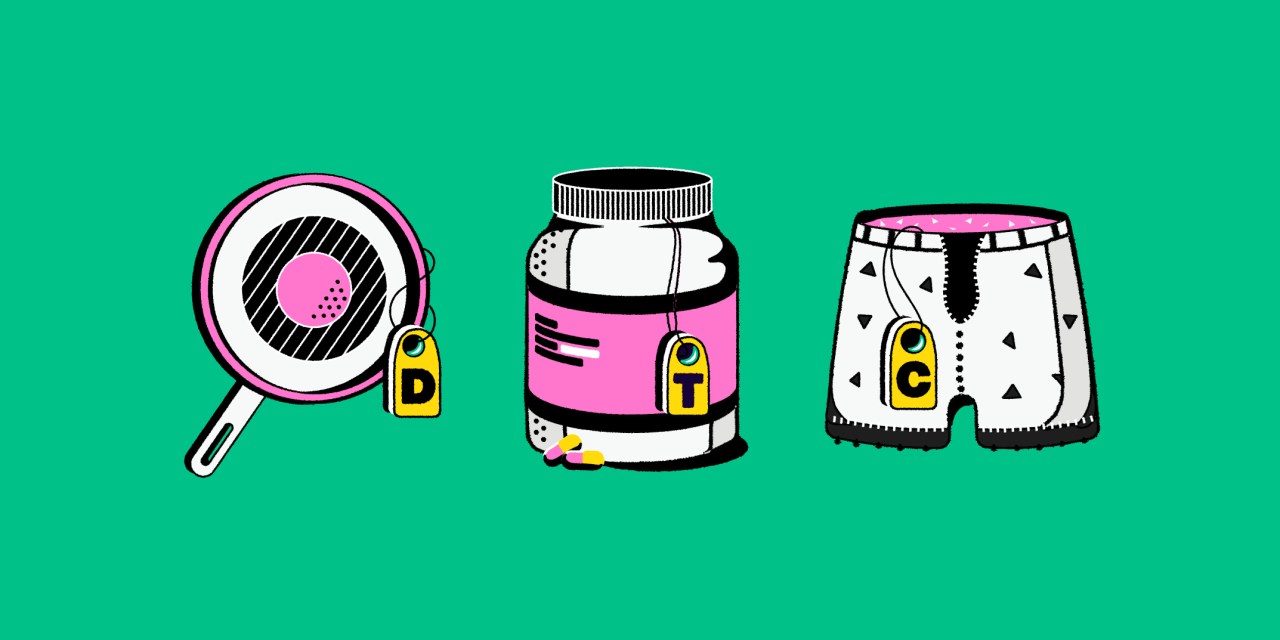 Illustration by Ivy Liu
This is the latest installment of the DTC Briefing, a weekly Modern Retail+ column about the biggest challenges and trends facing the volatile direct-to-consumer startup world. More from the series →
This is the latest installment of the DTC Briefing, a weekly Modern Retail column about the biggest challenges and trends facing the volatile direct-to-consumer startup world. To receive it in your inbox every week, sign up here.
For years, direct-to-consumer brands largely sat out Prime Day. 
Some of the most high-profile DTC startups of the last decade, like Allbirds and Away, have steadfastly resisted offering their products through Amazon. Instead, they preferred to direct customers to their own websites and stores for the sake of protecting their brand loyalty. 
But, as it gets harder for direct-to-consumer brands to acquire customers through their own channels, more DTC startups are opening Amazon storefronts. And in turn, more of them are participating in Prime Day for the first time. As one of the biggest shopping days of the year, Prime Day serves as an example of how the DTC playbook has evolved: startups are increasingly becoming more open to discounting and selling through other retailers, as wider distribution has become more critical to staying ahead of the competition. 
Take cookware brand Caraway. The company, which launched in 2019, started selling on Amazon in March of this year. According to founder Jordan Nathan, Caraway thought now was the time to start selling on Amazon because now that the company has been in the market for a couple of years, "we started to see a lot of search volumes specifically for Caraway on Amazon." 
Additionally, he said that as the cost to acquire customers have gotten more expensive, he thought now was the time to "go wider as a business," and sell Caraway's products in more places. 
This year, Caraway will be participating in Prime Day for the first time, selling its cookware and bakeware sets for $345. Caraway actually prices its cookware and bakeware sets slightly higher on Amazon than it does on its website ($395 on its website compared to $445 on Amazon) so that represents a 20% discount compared to Caraway's typical Amazon prices. 
Historically, many of the e-commerce startups that have been most eager to sell through Amazon have been those in the consumables space, given that it's a site where many U.S. shoppers go to replenish household staples. Hot sauce brand Truff, for example, has been selling through Amazon since 2018. 
Truff co-founder and co-CEO Nick Guillen told Modern Retail in an email that the company views Prime Day as "a great way to drive trial. Additionally, Prime Day is a great holiday to create content around as it's an easy way to grab the attention of the consumer in a different way." 
Truff will be offering 30% off on all of its products on Amazon for Prime Day this year. Last year, the company offered 20% off. Truff will be running ads across Facebook and Instagram encouraging customers to take advantage of "unprecedented prices" for the "big shopping event." 
For Truff, the decision to sell through Amazon was a no-brainer: "We wanted to make sure that we were available on a site where many Americans shop."  
But for other brands, the calculus has been more difficult. For many direct-to-consumer startups, their desire to stay away from Amazon has been fueled over concerns of a lack of control. There's no shortage of horror stories of brands' Amazon sales being wrecked by fake reviews, an army of counterfeits or Amazon itself encroaching upon brands' territories with a similar product.
Amazon, however, has been determined to attract more direct-to-consumer brands over the years through a variety of methods, such as by allowing some brands to use its fulfillment service even if they don't sell through the platform, and giving brands more control and customization capabilities in terms of how their product pages appear. For Caraway's Nathan, the latter was another big reason why he was ultimately comfortable making his products available for sale on Amazon. 
As one of Amazon's biggest sales events of the year, Prime Day also serves as a litmus test for just how much they are willing to encourage their customers to shop via an e-commerce behemoth instead of their own site. Some brands aren't quite willing to cede all of their sales to Amazon over the next two days; Brooklinen, for example, is offering 15% off both on its site and through Amazon. 
"We decided to host a 'surprise' sale at Brooklinen, primarily because we know there is a demand from our customers to shop during this time period. We want to make it convenient for them by keeping the sale consistent across our site as well as Amazon," Brooklinen's vice president of marketing Alieu Fye wrote in an email. 
For Caraway, Nathan said that this Prime Day will inform just how much Caraway wants to participate in Amazon's major shopping events going forward. Over the next two days, Caraway will be running ads on Facebook and Instagram directing customers to Caraway's Amazon storefront — rather than to its own website — for the first time.
"I think [Amazon] is a channel you have to be on at least within our category," Nathan said. "In order to be successful within the kitchen and home category, you need to be omnichannel."
What I'm reading
Grove Collaborative

will start selling its products in Kohl's stores, as the eco-friendly cleaning marketplace seeks to increase its

wholesale distribution

after going public via SPAC this year. 

Insider as a look at how

Lush Cosmetics'

marketing strategy

has shifted, one year after the retailer stopped advertising on Facebook and Instagram entirely. 

Klarna

closed a recent $800 million round at a

$6.7 billion valuation

, down from $45.6 billion compared to a year ago – it's the latest e-commerce tech company to take a drastic razor to its valuation as startup fundraising gets harder to come by. 
What we've covered 
Seth Goldman spoke with Modern Retail about his reaction to the discontinuation of

Honest Tea

, as well as his plans for his new brand,

Just Ice Tea.

 

Luxury strawberry brand

Oishii

opened up a new commercial facility to support its

Whole Foods

 

launch.

Brands like

Hydros

,

French Toast

and

State Bags

are looking to capture more shoppers this

back-to-school season

with deeper discounts, and by testing out new marketing tactics like influencer partnerships and direct mail catalogs.