Dig is trying to retain hourly workers with a 4-day work week and other perks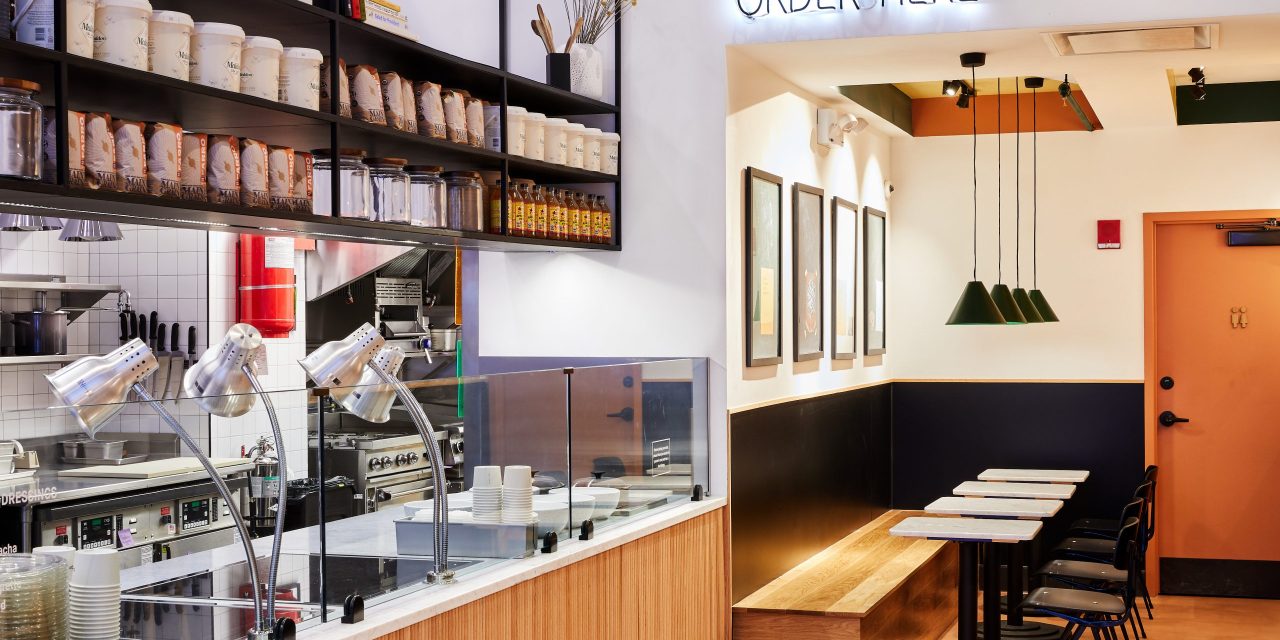 Image via Dig
The retail and hospitality labor shortage has many companies upping their wages and benefits. The quitting rate in the hospitality industry hit 6.4% last September, more than double the national rate of 3.0%, per Glassdoor data. This staffing shortage and low retention rate pushed restaurant chain Dig to upgrade its hourly workers' benefits.
Last fall, fast-casual restaurant group Dig (formerly known as Dig Inn) started testing out a new slate of job benefits at six locations. Notably, it offered hourly workers to work four days a week while still remaining full-time employees. Other benefits included additional kitchen training to those interested in pursuing culinary careers. Dig is now rolling out these policies to more restaurant locations in the coming year, including the four-day work week option which will expand to five additional locations in the first half of 2022.
Dig's new workplace initiatives were announced last fall, when Dig announced a $65 million Series F funding round, which the company says will help fund the new benefits to attract and retain employees.
Dig specializes in vegetable dishes and has locations in the New York area, Boston and Philadelphia. Over the next three years, the company plans to double its restaurant count from 30 to 60 locations.  
Offering Dig workers more flexible schedules 
Like many businesses, Dig started instituting a $2-per-hour bonus for all hourly workers during the pandemic, which this year will become permanent. Andrew Jacobson, Dig co-founder and general manager of labor, said the pay adjustments boosted Dig's average hourly wages in its Boston and New York markets – currently $17.84 and $18.85, respectively.
But Melinda Sharretts, vp of people and culture at Dig, said the company found that a higher pay alone wasn't enough to retain its restaurant workers. That's when additional benefits, like the four-day work week and paid parental leave, came in. 
"These are policies we've been working on for a long time, but the past two years have heightened the need to implement them," Sharretts said. She said that the so-called Great Resignation has shown that many restaurant operators and workers realized how taxing the daily shifts can be. She noted that this is especially for workers with families or little resources. 
With the four-day model, instead of the standard five eight-hour shifts per week, employees have the option to work four 10-hour shifts per week for the same pay. The policy is similar to a program fast-casual chain Shake Shack began testing in 2019, which was paused due to the pandemic's labor shortage.
Jacobson said the shortened work week has been typically associated with white-collar work, such as tech and startup jobs. The practice has taken off in Europe, becoming increasingly popular in Scandinavian countries for a few years. Indeed, Dig began offering corporate employees the option to work a four-day work week in 2020. "But we didn't think it was fair to offer it to our virtual corporate employees while restaurant staff had to commute five days a week," Jacobson said. 
In the six pilot restaurants, Dig found that 90% of team members selected the four-day work week option. Of 45 piloting employees surveyed, Dig found that 87% said they'd recommend the shortened workweek model to a friend, according to the company. Many employees said that they use the extra day to catch up on schoolwork, chores and errands, Sharretts explained. 
As of May 2021, all Dig employees receive paid parental leave for restaurant employees. Dig is also currently working with the city of New York on running a pilot program for a company-supported daycare.
"We'd always talked about parental leave, but had to figure out how to execute it for hourly workers," Sharretts said. "After research, I realized offering it can help save on hiring cost and increase retention." She went on to say that so far "more than a handful" of eligible employees claimed child bonding time and have returned to work. Since last May, the company has paid out  parental leave to seven eligible employees. 
Offering additional perks is expensive, especially as Dig tries to recover from its pandemic losses, said Jacobson. "Like the rest of the restaurant industry, we're still in the hole from Covid losses," he said. "But we think investing in our restaurant staff is important for long-term growth." 
Investing in career training 
Skills training is another popular perk more companies are offering.
While many workers may want to transition from retail to corporate work, it can often be confusing and requires additional training, said Mike Hudy, chief science officer at hiring consulting firm Modern Hire. What's more, he said, many companies fail to provide hourly workers with concrete plans and training that help them graduate to higher positions.
In the case of Dig, last year the company launched Dig Academy, a New York City-based teaching kitchen that offers a six-week program that all team leaders are required to go through. Over the next three years, Dig Academy will begin offering training on digital restaurant experiences — including culinary and business classes. The curriculum's tracks will range from basic and technical cooking courses — such as French bread and pastry making — to tracks focused on business, finance and marketing.
Additionally, the company is building out its 232 Bleecker program, which will offer restaurant team members continued culinary learning options. According to Jacobson, 232 Bleecker will launch a two-week rotation that will allow employees to work across different stations, including prep and live service work.
The main reason for offering these training programs is due to the skills involved for working at Dig, Jacobson said. He said Dig shifts differ from fast-casual chains that rely on heating up and serving menu items.
"We do a lot of cooking at our restaurants, and each kitchen team is responsible for prepping, mixing and cooking dishes," he said,  which include vegetables, proteins and grains. Jacobson said the training could also be useful for future culinary jobs outside of Dig.  
While Dig plans to scale these benefits as it increases its number of locations, Jacobson said it will be challenging. After all, other restaurant chain operators, including Starbucks and Chipotle, have attempted similar policies before reaching global scale.
"We're learning what policies work as we go," he concluded. "The goal is to put pressure on others in our industry to adopt better labor policies."