Diffuser brand Vitruvi charts brick-and-mortar expansion after rebrand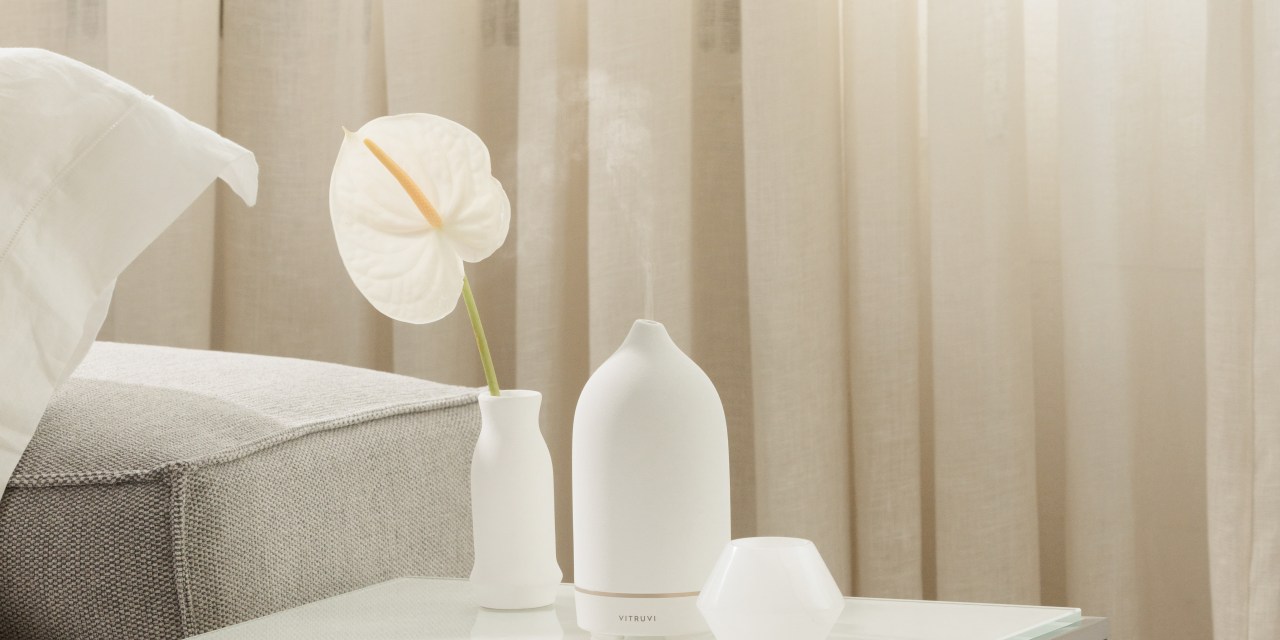 Vitruvi
Diffuser brand Vitruvi is leaning on new hires and brick and mortar to acquire new customers after a rebrand.
Vitruvi rebranded last month with new packaging centered on helping its customers better understand scent profiles in store. Last week, the brand also hired a new brand president, Cindy Bokitch, with experience navigating brick-and-mortar retail experiences as a gm of Iviva by Lululemon — a tween-centered athleticwear offshoot of Lululemon — and COO at low-sugar candy brand Smart Sweets. Both moves signal Vitruvi's plans to center customer acquisition in store: the brand is inking new retailer partnership deals and launching new products to appeal to a broader array of retailers. Currently, the brand sells in-store at companies like Erewhon, Crate and Barrel and Dillards.
Founded in 2015, Vitruvi has sold over 250,000 diffusers and 500,000 oils priced at around $150 and $30, respectively. In February 2020, Vitruvi announced a $4.5 million funding round. This cash infusion, explained Vitruvi co-founder and CEO Sara Panton, helped the brand with its packaging and product rebrand this year.
"We've been investing heavily in our product experience and our product innovation, which we saw go live with the rebrand," said Panton. "We had two goals. One was to help the customer navigate aroma on the shelf and to understand scent preferences. The second was to create cohesion across brand collections."
The funding has also helped the company with "some key hires" like Bokitch. And going forward, Vitruvi plans to put a majority of its efforts in brick and mortar. Currently, the brand is in over 400 brick-and-mortar stores and 200 retail partners but Panton hopes to rapidly expand.
"Cindy's going to blow out [our business] with a lot more retail expansion," said Panton.
While Vitruvi distributes many of its products online with partners like Nordstrom and Anthropologie and in-store at select companies like Urban Outfitters, Panton said the next step is "taking the foundation that we've built from the digital side and… betting on retail." While Panton declined to give exact product details, she mentioned that Vitruvi would be launching two new products at a lower price point to help the brand appeal to "mass stores" and partners. Bokitch added these new products would roll out over the next six months.
The trouble with customer acquisition
Vitruvi, like other startups, is tasked with building out its audience during a time where customer acquisition costs are rising. In 2021, Apple launched its iOS14 update, asking users to opt-in to cross-app tracking. Since then startups' ability to target new customers digitally has gotten harder and more expensive.
A number of digitally-native brands like Brooklinen and Fly by Jing have been looking to expand their brick and mortar presence this year, whether through opening their own stores or expanding their retail presence.
When asked if the iOS14 update had impacted Vitruvi's ability to acquire customers online, Panton didn't answer directly, but said that "while it was really shiny and fun for a few years to have a DTC-only business… we've flexed into different channels, and weathered a lot of storms that other more direct-centric businesses have struggled with."
Truett Horne, managing director of the Alvarez & Marsal Consumer Retail Group said over email that the iOS14 privacy-related updates has "created advertising barriers."
"This has led to lower efficiency in buying, thus creating higher acquisition costs," he added.
Ken Fenyo, president of research and advisory at Coresight Research, added these challenges can be particularly challenging for digitally native brands like Vitruvi with a large DTC channel.
"If you're a larger established player, you have your stores, you have… TV, radio, billboard and print strategies so you're not as dependent on the digital channel to get your word out," said Fenyo. "For a lot of the digitally native startups, digital marketing is really where their expertise lies. They understand how to market on Facebook, they understand how to do search engine marketing."
Horne added that a retail-centered strategy is one way for these sorts of brands to get around the increasingly expensive hurdles of digital marketing.
"Brick and mortar naturally helps customer acquisition as it's another sales avenue," said Horne. "Retail stores have organic traffic due to natural in-person shopping thus creating 'free' awareness. Omnichannel customers are more valuable than digital or physical."