Q&A
// July 2, 2020 ■ 5 min read
Ashley Merrill on joining Outdoor Voices' board: 'It's about getting our planning and our buying right'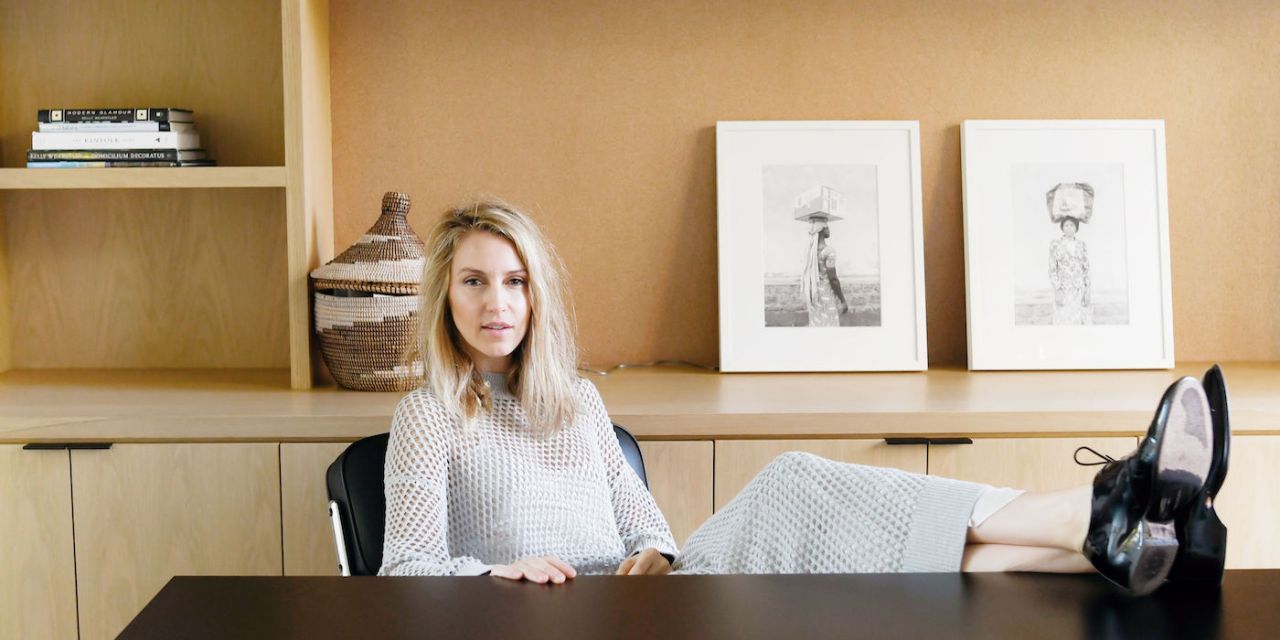 This weekend, beleaguered athleisure brand Outdoor Voices added a familiar face from the direct-to-consumer world to its board.
Ashley Merrill, the founder of sleepwear brand Lunya, is joining Outdoor Voices as chairwoman of its board of directors, and also participated in a funding round for the company through her investment platform, NaHCO3.
Merrill's addition as chairwoman comes after a few months' worth of public relations headaches for Outdoor Voices. In February, founder Tyler Haney stepped down as CEO, as the company was reported to be losing $2 million a month on $40 million in revenue. Then, Haney announced she was leaving Outdoor Voices altogether amidst reports that she was battling with former board chairman Mickey Drexler, as well as stories interviewing ex-employees about what they felt was her toxic leadership.
Merrill said that the decided to reach out to Haney, after seeing, "a trend of harsh media pieces about female founders," and ultimately decided to join the board. Haney has also rejoined the company, working on "creative projects and collaborations with other brands," according to Business of Fashion, which broke the news.
"Our companies were started at similar times and we were both early in the direct to consumer digital space, so I always kept a close eye on [Outdoor Voices], said Merrill. "While I didn't know Ty personally, I have always felt an unstated kinship with a lot of female founders."
Merrill spoke with Modern Retail about how she hopes to help Outdoor Voices grow, as well as her thoughts on the current retail landscape as a founder, investor, and now, board member. This conversation has been edited for clarity and length.
What do you feel like you learned about Outdoor Voices in conversations with Ty that surprised or excited you about the brand?
You can build a lot of companies, but not every company has a soul and a community that people feel passionate about. That is what motivates me at Lunya, and it's what attracted me to Outdoor Voices. It's a company with a mission that people connect with, and there is just so much potential in that.
There's been operational challenges for this company, but not a lot of demand challenges, which is harder. If you have a demand challenge, that's a trickier problem to overcome, that means people aren't wanting your product. This was a situation where there was a lot of demand, and we just needed to figure out how to iron out our operations, so we could deliver for our customers.
Do you have any immediate thoughts on how you want to help Outdoor Voices grow from here — any new doors that you would like to help them sell in, or new categories you would like to help them get into? 
A lot of what needs to be done to help the business unlock its potential — it's not the sexy external stuff, it's about getting our planning and our buying right so we can truly serve the demand. Trying not to be sold out of the things that we really need to drive our business, nailing our fit, really making sure that all of our products are best-in-class, and efficient. So getting rid of products that maybe aren't as strong and making sure we are continuing to play offense with product development, and really making sure we are bringing exciting new options to customers.
Are there any roles right now in particular that you are looking to hire for, and what kind of expertise are you looking for?
We are definitely looking for a [chief marketing officer], and I think we are definitely looking for a CEO, and a chief merchant. For the CEO, I think we are looking for someone who is a great people operational player — they know how to scale an organization, they have very intentional decision making but they are not afraid of taking risks and building what we think could be the recreation brand.
From a background standpoint, would love someone with really strong omnichannel retail experience — and it doesn't have to be clothing, I think it could be omnichannel CPG, but definitely someone who is really fluent in digital and comfortable with how the market is moving into a much more omnichannel direction.
And then for the CMO I am looking for…someone who is really good at managing a team towards really sort of a hybrid of analytical and creative outcomes, and they can have a multi-channel, full funnel approach. For a merchant — would love somebody who is experienced in digital. I think this is going to be the theme right.
I know that Lunya is still pretty young, but are there any ways that you feel like the retail landscape has changed since you started your company, and what does that mean for companies starting out today?
When I first started, selling online in and of itself was a novelty. You could take a business that existed in the physical world, and bring it online, and suddenly you have this modern, millennial direct-to-consumer brand. And so you would see every other day a brand new business popping up, which maybe wasn't even a differentiated product, but was almost viewing distribution as its differentiator.
Distribution advantages are not long and sustaining. You should be going into business because there is considerable unmet demand — back to the old business fundamentals — that there is a problem that you can solve with your business. As online becomes the primary selling platform, the competition around keywords and users is going to heat up, so the costs are going to go up. Product really has to be special, and really has to be differentiated if a company wants to reach scale.