To quadruple its international business by 2023, Lululemon takes a local approach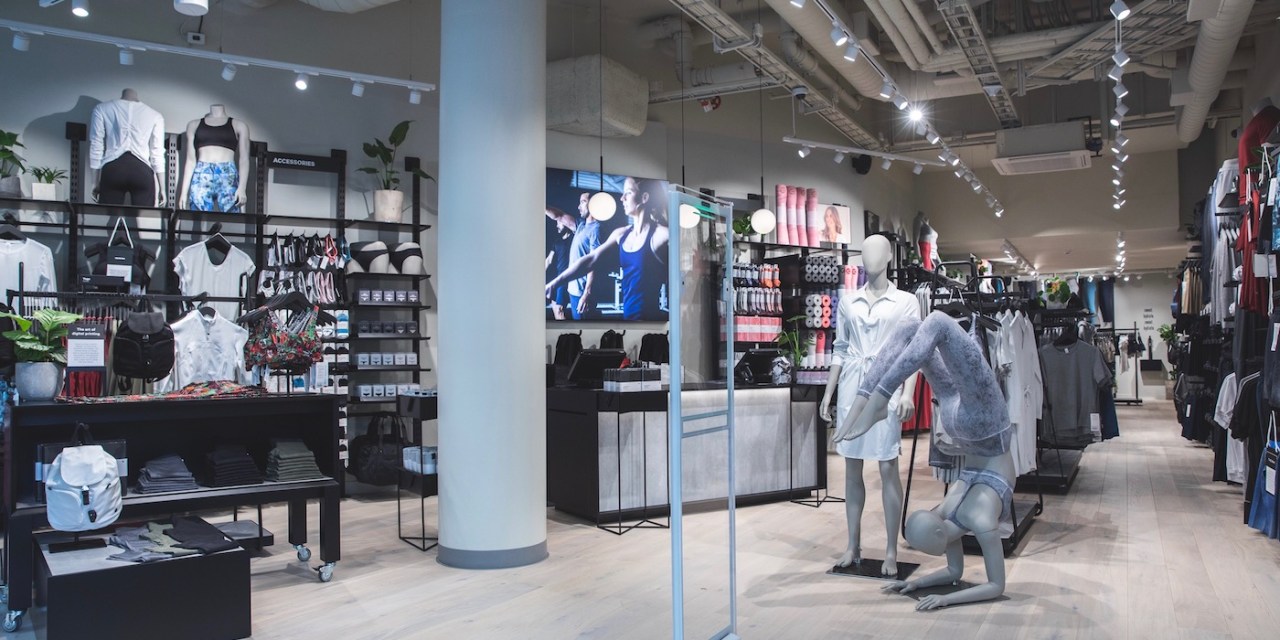 Image via Lululemon
In April, Lululemon set a five-year-strategic plan with an aggressive goal for its international business: to quadruple sales generated outside of North America by 2023.
In order to do so, Lululemon is opening stores in Europe and Asia at an aggressive pace —  of the 45 to 50 stores Lululemon is projecting it will open this year, about 30 of those will be outside of North America. But it also sees hosting localized events and developing customized e-commerce sites for each country it wants to gain market share as critical to its goals.
Lululemon's international business is younger compared to other retailers — it opened its first store in Europe in 2013, and its first store in Asia in 2014. At the end of fiscal year 2018, 95 of Lululemon's 440 stores were located outside North America.
The first step in order for Lululemon to build up an international business was simply to open stores abroad. But now that Lululemon has a more developed store network abroad, it has started to invest more resources into the digital international experience. Under the leadership of Stuart Haselden, Lululemon's chief operating officer who was also put in charge of the international business by new CEO Calvin McDonald in 2018, Lululemon has relaunched new e-commerce sites in the first half of the year in China, Japan, South Korea Germany and France.
Jessica Ramirez, retail research analyst at Jane Hali & Associates, praised Lululemon for using local models on its newly-launched e-commerce sites and in markets like China and Japan also carrying sizes that are more tailored to the body type of the typical customer there. She contrasted Lululemon's approach to that of Victoria's Secret, which uses the same images and copy in all of its international sites, but just changes the currency displayed.
"That's not enough — you need to make sure that products and colors are customized to consumers in that particular market," Ramirez said.
Lululemon also sees events as key to international expansion. Most notably, its Swetlife Festival — an annual multi-day fitness event that it first started hosting in London. Lululemon has also held a Sweatlife Festival for the past two years in Berlin, and plans to host one in Paris for the first time next year.
Lululemon is not the only retailer who has taken this hands-on approach to international expansion — so have its competitors Nike and Adidas. But it exemplifies a shift from how vertically-integrated apparel retailers have historically treated their international businesses. And, it's indicative of a split that's occurring in retail. The retailers who are seeing some of the best sales growth are taking a more hands-on approach to their international businesses, while struggling retailers have failed to localize their international businesses beyond displaying local currencies on their websites.
During its second-quarter earnings last week, Lululemon reported that its revenue in Europe grew 35% year-over-year, while sales in Asia-Pacific grew 22%. Overall, the company reported a total revenue increase of 22% to $883.4 million.
Jason Goldberg, chief commerce officer at Publicis, said that historically, a vertically-integrated apparel retailers like Lululemon have approached international expansion as more of a licensing business. Retailers would often sell the rights to a brand to the local company in that market.
The upside of that approach is that the retailer could ensure that the presentation is localized to that particular market. The downsides, according to Goldberg, are that "the global brand voice can be diluted," and it can limit the ability of the retailer to share resources between markets.
"The best international practitioners have some federal guidelines that get followed in every market, but then there is a fair amount of local autonomy," Goldberg said.
The company has also benefitted from some favorable tailwinds as its expanded internationally. For now, athleisure products like the ones Lululemon sells are more popular among consumers, particularly in China, then performance-based activewear like Under Armour. But if those trends flip, Lululemon may have to find themselves having to find new ways to speak to consumers.
"Lululemon's getting really good at becoming more of a lifestyle brand," Ramirez said. "You don't necessarily have to go in there for a pair of leggings. They're getting into every part of the consumers' life."