Earnings
// August 21, 2019 ■ 4 min read
As digital sales increase, Target is looking for ways to ensure its stores can fulfill orders efficiently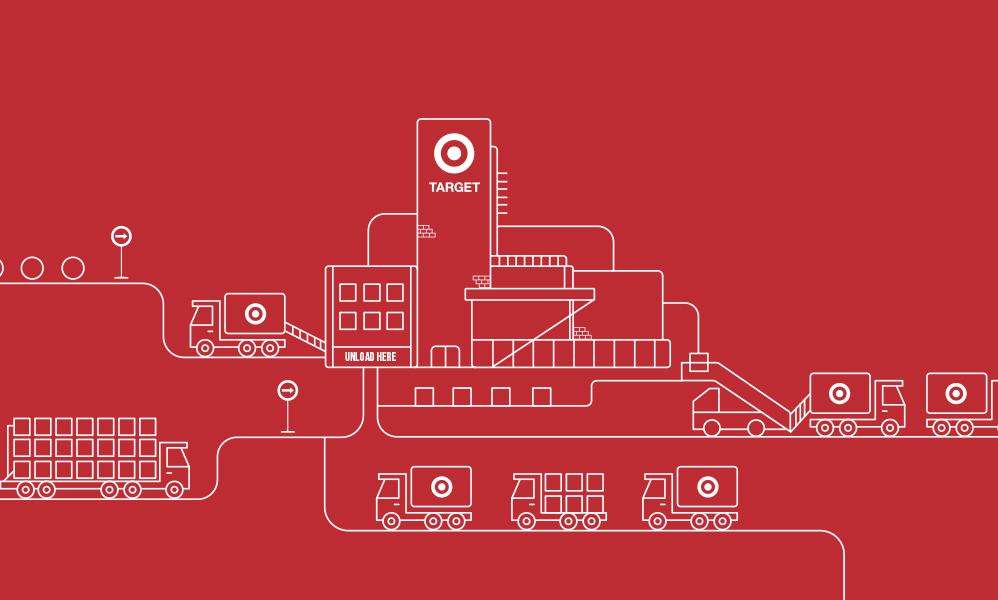 Target's strategy of using its stores to fulfill orders placed online continues to drive an increase in both digital sales and foot traffic. Now, as Target is in the middle of remodeling 1,000 of its more than 1,800 stores to ensure they can effectively serve as fulfillment centers, it's eyeing additional investments in technology and employee training to ensure it can keep up with digital sales growth.
During its second quarter earnings on Wednesday, Target said that its same-day delivery options — in-store pickup, drive-up delivery, and home delivery using Shipt, the startup it acquired in 2017 — accounted for more than a third of digital sales. Target's chief operating officer John Mulligan said during a call with analysts that digital sales generated by these same-day delivery options accounted for three-quarters of digital sales growth, up from half last quarter. And, he said that nearly 1.5% of Target's 3.4% comparable sales growth in the second quarter can be attributed to same-day fulfillment services.
"For many guests [same-day fulfillment services] are becoming the go-to choice for their digital shopping, because they offer unique advantages," Mulligan said.
Target reported on Wednesday total revenue of $18.4 billion during the second quarter, up 3.6% from last year, and net earnings of $938 million, up 17.4% from last year, an indication that Target's investments in same-day delivery aren't eating too much into its margins.
Now, Mulligan said that Target's priority is making investments in its technology and backroom processes to ensure that orders can be fulfilled more efficiently as Target's digital sales continue to grow. Last year, Target did $5 billion in digital sales.
Mulligan said on the earnings call that the company continues to receive questions about the "long-term prospects for our strategy of using our stores as fulfillment hubs," but was adamant that the company has projected that the backroom space it has allocated in remodeled stores to fulfill online orders won't need to be expanded until the next decade. In the meantime, it's investing in more technology — including looking at adding some automation to backroom facilities — in order to meet additional demand.
In 2017, the company announced that it would remodel about 300 stores per year for the next three years. So far, Mulligan said the first set of remodeled stores has seen first year traffic and sales lifts in line with its original projections. Mulligan said that the second set of remodeled stores experienced a "smaller average sales disruption" during the construction period than the first set of stores, as the company is trying to take learnings from the first set of remodeled stores and apply it to future renovations to make them more efficient.
"Next year's remodels won't look the same as the first year's," Mulligan said.
But, Target has to do more than just ensure it has the necessary space for in-store employees to fulfill orders. Stores can hold fewer items compared to warehouses, so they can run out of items more quickly.
"Target's supply chain is good, but it often has out-of-stocks on a lot of items and that problem could grow if more products are fulfilled from stores," Neil Saunders, managing director of GlobalData Retail said in an email.
Target's stores will face additional strain in their fulfillment capabilities as the company seeks to gain a greater share of the online grocery market. The company announced on Monday that it is rolling out a new private-label food and beverage line called Good & Gather, which will be available for same-day delivery. Competitor Walmart has had to hire more pickers in order to fulfill orders in-stores, and is building distribution centers with the capability to hold fresh and frozen food as grocery has become critical to its e-commerce strategy.
Only about 2.2% of U.S. food and beverage sales came from online in 2018, according to a May report from Coresight Research, as shoppers are still skeptical about letting someone else pick out the right food items for them, particularly when it comes to fresh produce.
"It's something we're working hard on, and piloting here in Twin Cities, and looking to understand the operational needs," Mulligan said in response to a question about when the company would make fresh produce available for in-store pickup and drive up.