Amazon is partnering with retailers to roll out in-store package pick-up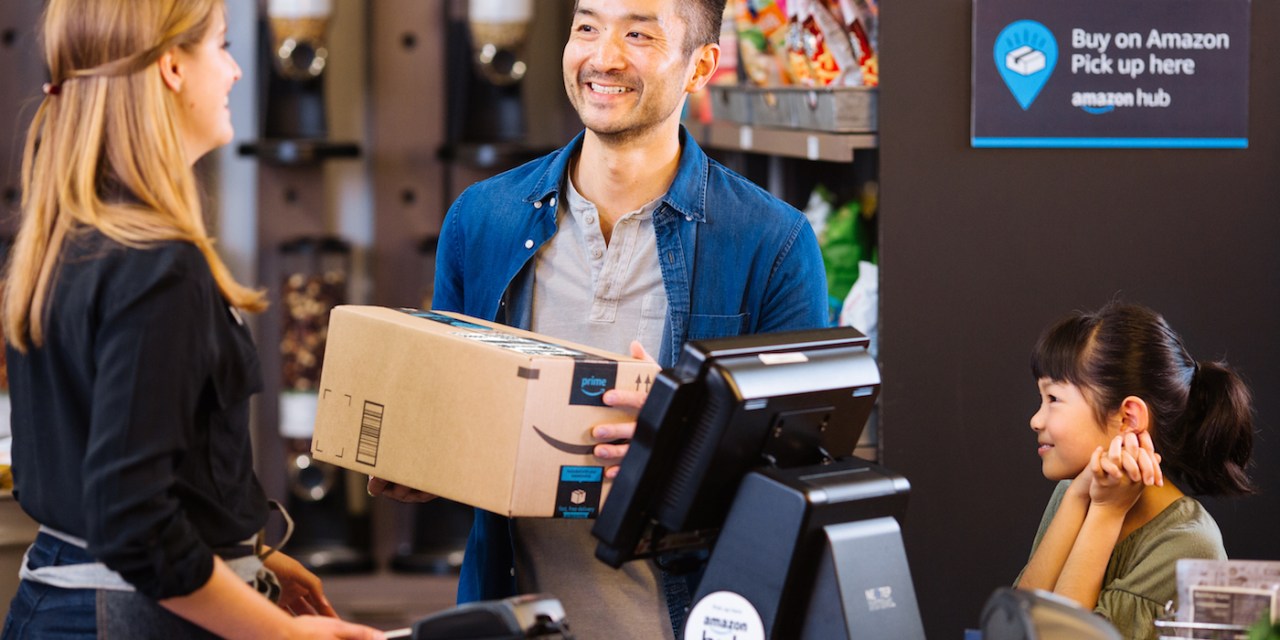 After driving sales online and away from brick-and-mortar retailers, Amazon is now looking to partner with stores to ride the popularity of buy online, pick up in store.
On Thursday, Amazon announced Counter, a new service that will allow customers to pick up Amazon packages from select retailers' stores. Amazon's initial launch partner for Counter in the U.S. is Rite Aid, with the service currently available at 100 Rite Aid stores and rolling out to 1,500 by the end of the year.
Additionally, Amazon said in its press release that it's "actively looking to bring additional partners onboard, including small to midsize businesses and other large chains."
Here's how the service will work: when customers check out on Amazon, the site will show them all of the Counter pickup locations in or near their zip code, and ask if they want to send their package to one of them. Customers will have 14 days to pick up their package from the store, and are given a barcode to show store staff to scan.
"Being the first store partner for Counter in the U.S. is a differentiator for Rite Aid," Jocelyn Konrad, executive vice president of pharmacy and retail operations for Rite Aid, said in a statement. She also added that Rite Aid believes the service will "create a stronger in-store experience for existing customers and new customers that come in to pick up their packages."
Amazon is pitching retailers on the fact that it believes its service will help them drive additional foot traffic and that it's developed a checkout system that will "ensure store associates can serve customers without disrupting their daily activities." But Andrew Lipsman, an e-commerce analyst for eMarketer, said that the rollout also coincides with some of Amazon's brick-and-mortar competitors pointing to buy online, pick up in store as a service that's becoming popular among their customers. Both Target and Walmart have increased their delivery capabilities over the past year, using store networks to their advantages.
"It's one of the fastest segments of e-commerce growth and where Amazon is currently at a disadvantage vs. top competitors like Walmart and Target," Lipsman said.
Rite Aid isn't the only retailer currently partnering with Amazon. Next month, Kohl's customers will be able to return select items bought through Amazon to any one of its stores nationwide. Additionally, Amazon announced last month that it's adding Amazon Lockers — through which customers can both pickup and return packages to 200 SteinMart stores, which is a discount department store chain.
The Amazon isn't giving any one retailer exclusivity over the service will likely deter some retailers from partnering with the e-commerce giant. But for struggling retailers, it will be hard to say no.
Rite Aid, for example, reported yesterday during its first-quarter earnings that its revenue from continuing operations totaled $5.37 billion, compared to $5.39 billion during the same time last year. Rite Aid sold 1,932 stores to competitor Walgreens last year — after trying but failing to get approval for a merger — to offload some of its underperforming real estate.
"Those retailers in desperate need of driving footfall will definitely consider overtures from Amazon, even though they may be uncomfortable doing so," said Neil Saunders, managing director of GlobalData Retail.