Amazon Briefing: Why Amazon is investing in physical grocery stores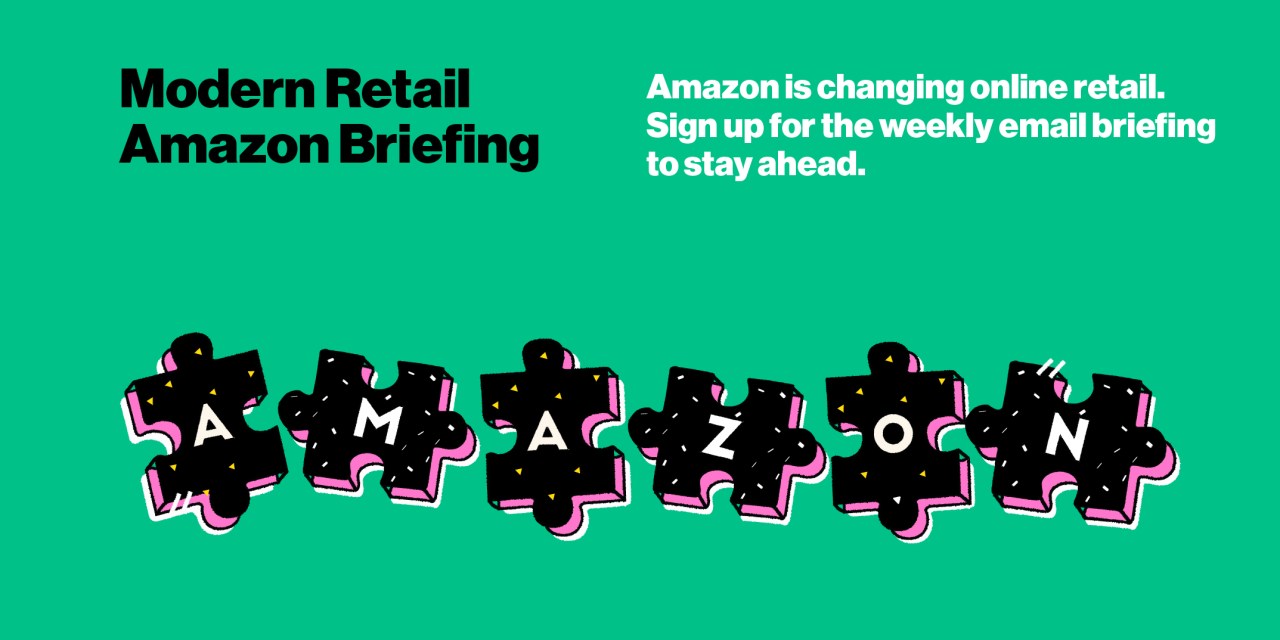 This is the latest installment of the Amazon Briefing, a weekly Modern Retail+ column about the ever-changing Amazon ecosystem. More from the series →
This is the latest installment of the Amazon Briefing, a weekly Modern Retail column about the ever-changing Amazon ecosystem. To receive it in your inbox every week, sign up here. 
Amazon has quietly built up a full-scale grocery business.
After launching its first physical Amazon Fresh store in August 2020, Amazon has slowly added a few more stores — mostly in Washington state and Illinois. But now, it is planning to add locations on the East Coast — part of a much larger acceleration for the company's physical grocery footprint. Bloomberg reported that Amazon is planning to open over 28 Fresh stores in the near future.
Meanwhile, Amazon is also rolling out its own private-label food brands to stock its Fresh stores — last week, for instance, it announced a new crackers, frozen food and seasoning brand called Aplenty.
In under a year, Amazon has laid the groundwork for a national, physical grocery chain. And that increased expansion comes right as Amazon shuttered one of its longest-running online food businesses, Amazon Pantry, in January. In general, the company appears to have acknowledged that, in order to gain a foothold in the grocery market, it needs physical locations to complement its e-commerce might.
Here's a look into how it's approaching the vast world of physical grocery.
Stores as Amazon billboards
While online grocery may have boomed during the pandemic, many customers still buy grocery from multiple channels. Amazon's growth of its physical presence seems to be a play, and perhaps a temporary one, to compete more directly with traditional grocers.
"The store itself is a marketing vehicle," said Bill Bishop, a food retail researcher who runs the website Brick Meets Click.
Experts I spoke with disagreed on the extent to which Amazon Fresh stores are intended as a destination for in-store shopping in the long run. Rachel Dalton, an e-commerce analyst at Kantar, said she sees the stores as drawing customers who make both in-store and online grocery purchases. "At the end of the day, shoppers want to do both," she said.
But Bishop saw the stores more as a temporary play by Amazon. He pointed out, for instance, that the size of Fresh stores is smaller than the average supermarket — and the product selection, he said, is relatively limited. "It's not like you'd ever go there because you believe they were going to carry something no one else has," he said.
As Amazon Fresh builds out its customer base, Bishop said he wouldn't be surprised if Amazon gradually scales back the in-store shopping component of its grocery stores — until, eventually, "once they get concentrations of customers that are confident buying for delivery, they'll be able to eliminate the costs of the stores and run dedicated delivery systems [out of them] that are more efficient," he said. The Fresh stores, in his mind, might one day become largely delivery outposts. (One piece of evidence in his favor is that Whole Foods closed a small handful of its locations and turned them into dark stores last year.) Ultimately, he said, "I think Amazon sees grocery as the means to an end."
Targeting non-Whole Foods customers
Amazon seems committed to making its grocery stores feel as close to general interest as possible. While it does own a significant physical grocery presence through Whole Foods, Whole Foods has a very specific brand, focused on natural and organic foods for a largely upper-income customer. Amazon tried to broaden out its appeal soon after acquiring it in 2017, including by slashing prices across the store, but it has yet to develop a dynamic audience (in part because those price cuts ended up to be limited in scope).
Amazon Fresh stores appear to be the replacement: they're meant to draw in more general-interest consumers. "The Fresh market is more of a traditional grocery store," Dalton said.
A recent Morgan Stanley report found that Amazon Fresh prices are below average, as much as 9% cheaper than Ralph's. But in general, the early evidence suggests that Amazon is targeting shoppers that skew slightly higher-income. "They have very intelligently located those stores to be in above-average income areas and in relatively dense population and traffic areas," Bishop said.
A focus on technology
Bishop said that, strictly looking at the selection, the Amazon Fresh stores "are adequate, good enough, satisfactory, not extraordinary, exceptional, whatever the superlative would be," he said.
Instead, said Dalton, Amazon is trying to differentiate itself partly through the technology it embeds into the store. Amazon's Dash cart, for instance, tallies up the cost of items in real time. The stores also have Alexa plugins that field customer inquiries, plus cashierless checkout technology.
But the ultimate differentiator for the Amazon Fresh stores, Dalton said, will likely be the company's fulfillment network. Even if the number of Amazon Fresh stores never rivals other major grocery chains, fulfillment will help build up the reach of the Fresh stores. "That's where they're going to win, or it's going to help them win, because they won't naturally have as many physical store locations as their competitors," she said.
Amazon has already shown signs, for instance, of investing in ultra-fast delivery. The food publication Hngry reported last week that Amazon is adding 13 new micro-fulfillment centers, which may eventually overlap with its grocery ambitions — and would, in theory, allow for lightning fast 1-2 hour grocery deliveries.
All of this expansion ultimately seems intended to bolster Amazon's other businesses. Grocery is a low-margin field, but capturing grocery means capturing one of the most frequent consumer purchases. "They're looking to embed themselves into their shopper's routines," said Dalton. And "there's no better way to do that than through grocery."
A new VC fund for e-commerce acquisition companies
A venture capital firm called Upper90, which was the first backer of the e-commerce acquirer Thrasio, is now dedicating $55 million to funding startups that want to buy up e-commerce businesses. (That comes after Upper90 added $195 million in funding in December.)
On one hand, the new fund — which would be targeted toward early-round fundraising — will bankroll yet more companies in the increasingly crowded e-commerce rollup space. A Marketplace Pulse tracker says there are now 54 e-commerce rollup companies, which have between them raised $3.5 billion. Many of those have only cropped up in very recent months.
But Jason Finger, a founder of the food delivery service Seamless and the chairman of Upper90, said he's betting that the overall number of these companies will shrink dramatically soon. "In two years or three years or four years, virtually all of these companies are not going to exist," he told me.
It might seem like all of these companies have roughly the same business model: find successful Amazon sellers, buy them out and then integrate and scale their products into a larger portfolio. But Finger said that, beneath the surface, many of the rollup companies he's seen are not actually making back their investments, and are gearing themselves more toward a quick exit. "Many of the companies — in fact the overwhelming majority of the companies — are actually destroying value," he said.
The goal of the fund, he said, is to find more rollups that have plans for the longterm. He said he's met with several rollups that are focused on amassing data through their acquisitions with the explicit goal of launching, for instance, subscriptions or original products. In meetings, he said, "there are many that are discussing new product launches." That's where he thinks the market is ultimately headed.
Amazon in the news: 
The Wall Street Journal has a report on how Amazon uses its power to win concessions from smaller business partners — including, in one example, by pushing the smart thermostat maker Ecobee to share data with Amazon even when its products weren't in use.
Hundreds of small businesses in India are protesting Amazon, as well as Walmart-owned Flipkart, for what they say are predatory practices against small companies — and it's coming right as India is considering regulating Amazon's presence in the country.
Amazon, along with other major companies, signed a letter in protest of Georgia's recently passed voting law.
What we covered:
Retail worker collectives aren't giving up after the failed Amazon union vote in Bessemer, Alabama — but if anything, the Bessemer story highlights just how difficult organizing is in the retail sector, especially for retail workers outside of grocery stores.
Amazon acquired a Shopify-like company for mom-and-pop stores in India. But the acquisition only underscores Amazon's expansion strategy in India, which involves digitizing local shops and using them as fulfillment centers.
One way traditional retail brands like Lands' End and Hudson's Bay are gearing up to compete with Amazon in e-commerce: they're increasingly launching third-party marketplaces of their own.