Amazon Briefing: The e-commerce services war escalates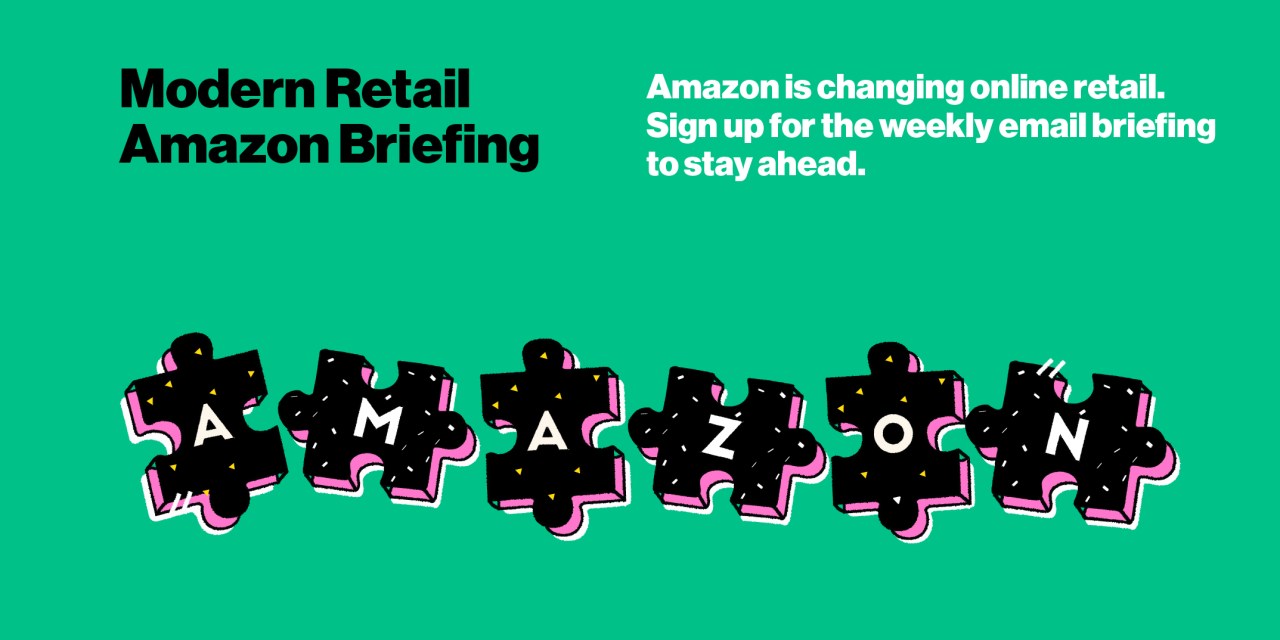 This is the latest installment of the Amazon Briefing, a weekly Modern Retail+ column about the ever-changing Amazon ecosystem. More from the series →
This is the latest installment of the Amazon Briefing, a weekly Modern Retail column about the ever-changing Amazon ecosystem. To receive it in your inbox every week, sign up here. 
Amazon is reportedly looking to enter the furniture assembly business.
As Bloomberg reported last week, the company is testing an option where its delivery drivers — who already ship furniture directly to people's homes — also assemble beds, sofas, washing machines and dishwashers for customers in exchange for a fee. That is concerning some drivers, according to Bloomberg, who see it as yet more expectations and trainings to endure. What's more, this development speaks to the growing role of adjacent services in the e-commerce world.
Amazon does already offer some version of furniture assembly through its third-party Amazon Home Services marketplaces. In select cities, customers can hire third-party contractors to come and help them with odd jobs, like installation and assembly. But this new service, if Amazon does eventually roll it out, would seem to bring Amazon's services offerings more in-house. It also seems to be a defensive play against companies like Wayfair and Walmart, which have offered in-home assembly for years, and which have seen their online furniture sales surge over the past year.
Even just three years ago, in-home services were pitched as a way that e-commerce companies were differentiating themselves from Amazon. In 2018, Walmart, Home Depot, eBay and The Container Store all launched various assembly services — which included both furniture assembly and setups for tech products like TVs. As Digiday wrote at the time, these were a bid to draw customers away from Amazon. Most of those retailers work with outside contractors, like Handy and Porch, who supply the assembly and tech installation experts. The main exception is IKEA, which bought TaskRabbit in 2017 to bring services directly to customers.
Many of those service offerings have become essentially staples of the industry. In fact, e-commerce companies have only offered more services to bundle with their products — Walmart and Amazon each offer in-home and in-garage delivery, for instance, and Walmart is experimenting with delivery via porch cooler.
At this point, "assembly services are a competitive necessity for any retailer or ecomm pure play," said Paul Dillon, vp of business and corporate development at Porch, the assembly services company that has worked with Walmart, eBay and Overstock. He noted that, in his experience, the existence of assembly services improves conversion rate.
While assembly services have existed in various forms for decades, Paula Rosenblum, co-founder of the retail-focused firm RSR Research, said that their stock has risen as furniture buying has shifted. Ready-to-assemble furniture — meaning furniture that is manufactured and shipped in separate pieces — has become a dominant player, especially as e-commerce ascends in the furniture industry. "It's cheaper to ship something flat" — in separate boxes — "than to ship it assembled," she said.
Rosenblum said there is likely a significant cohort of people who would choose where to buy based on the accessibility of assembly services — a fact that may have bolstered the profile of Amazon rivals like Wayfair that sell assembly as an add-on. Anecdotal evidence suggests a similar phenomenon. When IKEA expanded into India, the company hired 150 full-time assembly workers in Hyderabad alone, and it told the Wall Street Journal that its research had indicated that the availability of assembly services was a key factor for buyers.
But Amazon's assembly program is also an acknowledgement of the growing profile of the furniture business. Over the past year, online furniture sales in particular saw a boom — they jumped 41% year-over-year across the industry, according to Coresight — and companies like IKEA have revamped their app strategy in order to capture that growth, while startups like Outer pocketed investments in hopes of riding the wave. By focusing on furniture again, Amazon is joining that wave.
"If you want to increase your share of that business, you have to add that service, it's kind of that simple," she said. And one reason e-commerce services like furniture are so attractive for retailers is that they have relatively little downside. Rosenblum said that furniture assembly is a high-margin business. She added that any additional service-driven profits are an important, but still secondary, bonus; "if you also get a margin out of it, that's great."
Amazon, if it does launch a full-scale furniture assembly offering, will be relatively late to that market — and its newfound focus on assembly seems to be a defense against Wayfair, its main rival in the furniture e-commerce space. In 2020, Wayfair saw its number of customers increase 54%, to 31.2 million. According to figures that 1010data shared with me, Wayfair is the top player in the market, representing 42% of all online furniture sales. Amazon is in second place, at 34% (a figure that excludes third-party marketplace sales on Amazon.com).
Said, Rosenblum, by investing in assembly, "I think they're trying to just take some share away from Wayfair, which is doing really well."
Merchant fulfillment isn't getting any easier
For Amazon sellers, managing their own fulfillment while also maintaining the coveted Prime shipping badge is getting trickier.
In February, Amazon rolled out the first set of changes to a program called Seller Fulfilled Prime, which gives Prime badges to sellers who do their own fulfillment. That is a small, and shrinking, cohort: according to Jungle Scout, only about 9% of Amazon sellers do their own fulfillment exclusively via Fulfillment by Merchant. (Those who opt for Amazon's in-house fulfillment, Fulfillment by Amazon, receive a Prime badge by default.)
The Seller Fulfilled Prime changes require sellers to:
Fulfill orders on at least one day during the weekend.
Meet 2-day, and increasingly 1-day, shipping times, depending on the size of the product.
Meet those shipping requirements on a national scale — whereas previously, sellers could qualify for a Prime badge regionally (for instance, if the seller lives in New Jersey, they might have been Prime eligible for other New Jersey residents but not for California residents).
Steve Denton, CEO of the UPS-owned third-party logistics provider Ware2Go, said that Amazon is likely implementing these changes to speed up shipping times. FBM speeds, he said, were generally lagging. Amazon released numbers over the summer suggesting that fewer than 16% of FBM shipments were on time.
But the changes are also arriving as Amazon has convinced an ever larger share of merchants to opt for Fulfillment by Amazon, which in turn is now a ballooning part of its business. Sellers opt for FBM when they do a large share of business on platforms other than Amazon. Signing with a third-party fulfillment company means it's easier to warehouse and ship products for many different retailers at once. But for many sellers, especially those without extensive resources, it is increasingly difficult to meet Prime standards without just turning over the keys to FBA.
It's hard to measure exactly what impact these changes will have on FBM sellers, and how many may eventually lose their Prime shipping badges because of it. But Denton said, "if what's happening in the market is indicative of the number of people that have reached out to us, then there absolutely are some challenges out there."
Amazon news to know:
Amazon's palm payment technology is moving beyond Amazon Go and Amazon Fresh stores and making its first appearance at Whole Foods.
Amazon is opening up a one-off hair salon in London that leans heavily on its AR technology. For now, only Amazon employees can get in the doors.
Amazon is about to start launching satellites — earlier this week, it bought 9 launch slots from a Boeing-Lockheed joint company, the first step in its previously announced plans to bring internet connectivity to rural areas (and, likely, bolster the infrastructure for AWS along the way).
What we covered:
In his investor letter last week, Jeff Bezos announced that Amazon Prime has surpassed over 200 million subscribers globally. But buried in the letter were some other statistical nuggets that describe the growth of its delivery partners program, its Alexa skills store and more.
Amazon doesn't directly sell vehicles, but these marketplaces do: online used car sites like Vroom have attracted immense amounts of investor hype, especially over the past year, but despite their promise, their actual market share remains nearly negligible.
Best Buy, Walmart and now Target are all introducing new technologies to help them combine orders and make their last-mile fulfillment much more efficient — and much cheaper for the retailer.