A bevy of discount European grocers are expanding into the U.S.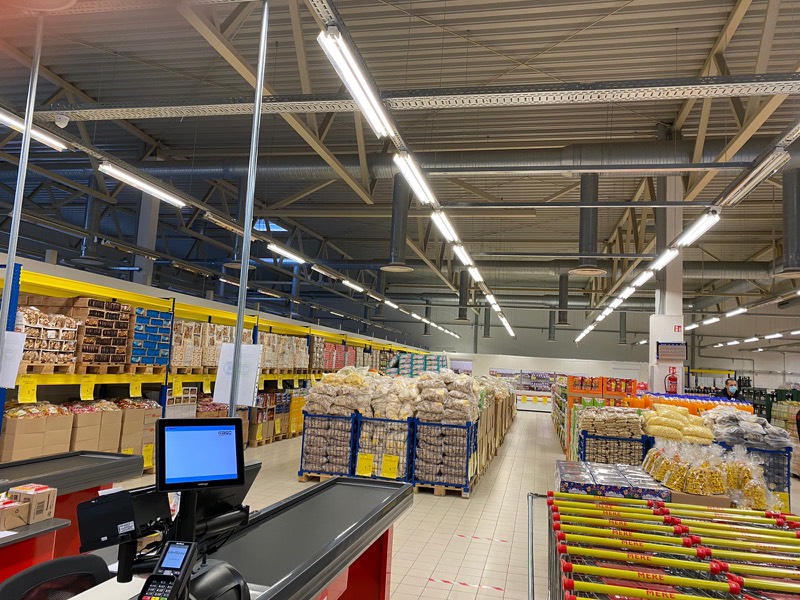 Mere
Following Aldi and Lidl's aggressive expansion in the U.S. other discount European grocery chains are eyeing a stateside expansion.
Most recently, the publication Winsight Grocery Business reported that a Russia-based discounter called Mere is "exploring expansion to the U.S.," including by hiring a project manager who can negotiate leases in Alabama and Georgia.
That would make Mere the latest in a series of European discount chains to attempt a U.S. takeover in the last decade — a strategy that, so far, has proven to be a mixed bag. Alongside successful rollouts, like Aldi and Lidl, are the failed U.S. expansions of British discounter Tesco and Russia's X5 Retail Group. But these European chains seem to be betting that U.S. demand for small-format, discount chains will only continue to balloon in the coming years.
"There's quite a strong rationale for European discounters entering and expanding in the USA," said Bryan Roberts, a retail consultant and founder of Shopfloor Insights. The U.S. is a grocery market with relatively little market consolidation, and the three common traits of Aldi, Lidl and Mere — "heavy private label reliance, a smaller store footprint and fewer bells and whistles than the supermarkets," said Roberts — are also gaining favor in the U.S. Still, stores like Aldi, he said, have also been able to find success because they are "very successful at local sourcing and local marketing."
A market long dominated by big-box
European-style discount grocery stores are also the model for a larger trend in grocery. A defining feature of these discount grocery stores is their small assortment. Most European discounters have 2,000 to 2,500 products, about five times less than a typical U.S. supermarket.
Meanwhile, the U.S. grocery market has long been dominated by big-box retailers. While Walmart is still the largest grocer in the U.S. by revenue, smaller-format stores, — like Trader Joe's and Amazon Fresh — have become more popular for expansion in recent years.
On average, "retail stores are becoming a little bit smaller" in the U.S., said Chelsea Gross, a director analyst at Gartner covering retail, but she cautioned that "there's a cyclical nature to this stuff." A smaller and easier-to-navigate store format might not be as big of a selling point if more Americans continue to order their groceries online, for example.
While discount grocery stores are far from a uniquely European phenomenon, they have become a mainstay of some European countries, especially in the east. Germany — the home of Aldi and Lidl — has the highest concentration of discount grocery stores of any country according to Michael Gerling, managing director of the research firm EHI Retail Institute in Cologne. "There is no other country in the world where the discounters have such a big share of the market as in Germany — at 40 percent," Gerling told the German publication DW.
"The density of Europe is pretty high relative to the U.S.," said Gross. "It's really hard to build these supercenters," like Walmart, which opens the door to a higher concentration of small-format, discount stores.
In the U.S., demand for these stores has been increasing. While Aldi has had a presence in the U.S. since 1976, it only began its aggressive expansion period in the last decade. Aldi has made significant inroads, and it is on track to become the third most popular grocery chain in the U.S. by 2022, according to Forbes. Right now, Aldi has over 2,000 stores to its name in the U.S., and it was the country's fastest-growing grocery chain last year. Lidl's growth has been slower, but the company is on track to build 150 U.S. stores by the end of the year, despite only officially launching in the U.S. in 2017.
Not all European grocery expansions have succeeded, however. The Russian grocery giant X5 Retail Group launched a series of discount stores in the U.S. under the name Okey-Dokey in 2012, only to shutter them all after a year. And Tesco, a major discount store in the U.K., attempted to launch a U.S. chain in 2007 under the name Fresh & Easy, but the company left the country in 2013, after consistently losing money.
Enter: Mere
A U.S. embrace of Mere might be an equally tough sell. Svetofor, the parent company of Mere, was founded in 2009 and currently has 1,800 grocery stores to its name, mostly under the Mere trademark (almost all are located in Russia, Poland and Germany so far). But Mere doesn't look like anything else on the U.S. market.
What makes the Mere model so unique — and so cheap — is the way that Mere contracts with distributors. It doesn't use warehouses to handle shipping and fulfillment, and it doesn't focus on brand names; instead, according to The Grocer, its suppliers are expected to drop off deliveries directly at Mere stores, where Mere's small staff of eight people per store will accept and sort them.
The company doesn't work with suppliers that won't meet its price targets — which involve ensuring that its prices are less than 20% of Aldi's or Lidl's — either. Mere is so aggressive about its low prices that it will refuse to stock some essential products if it can't strike a satisfactory deal.
Mere's bet isn't only on the U.S. The discounter has already begun its expansion across Western Europe. In recent months, it opened its first stores in France, Belgium, Austria and Britain, aiming to pry away some of the success of Aldi and Lidl there. Mere plans to open 300 locations in the UK within the next decade.
Of Mere, said Roberts, "this is a very much back to the future proposition, stripping the discount concept back to its bare bones and undercutting the market by 20-30%." But he said he was optimistic about the potential of the new crop of European discounters — with Lidl, Aldi and Mere in the vanguard — in the U.S.
In his mind, this is only the beginning of these latest entrants' growth in the U.S. "There's no reason why we wouldn't be looking at thousands and thousands of them trading across the country," he said.