Why sneaker reseller Impossible Kicks is concentrating on physical stores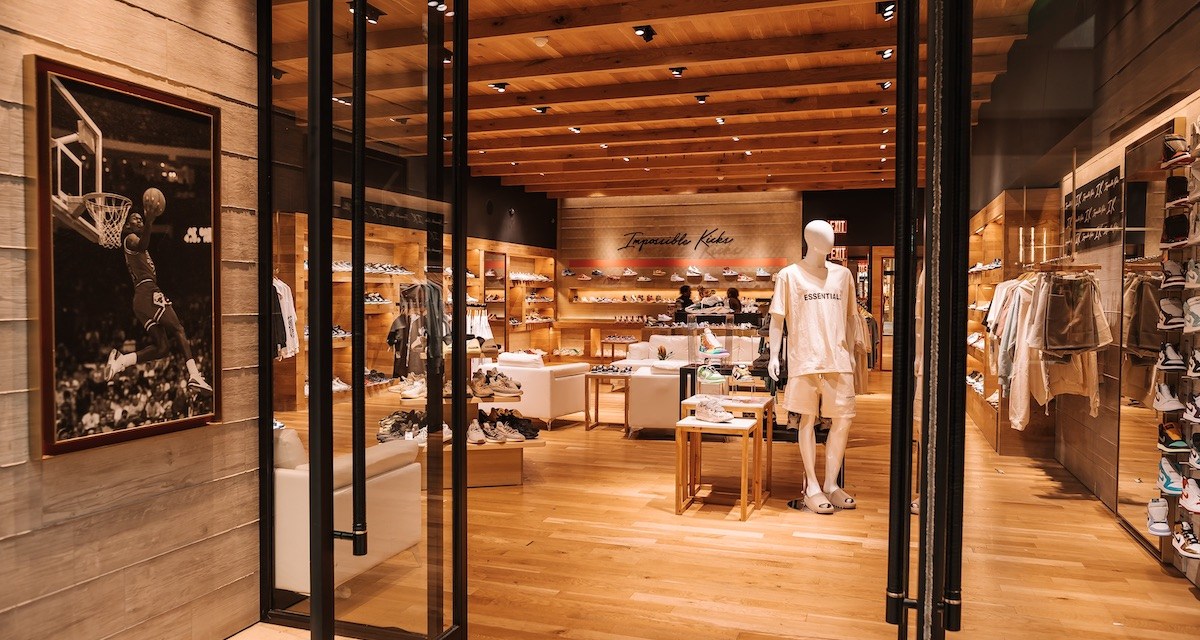 Impossible Kicks
While it's only a couple years old, Impossible Kicks has quickly found its footing in the crowded sneaker resale market, thanks to its growing fleet of stores.
Its first year in business, the company made over $15 million in net sales. This year, Impossible Kicks is set to nearly septuple that to hit $100 million. In addition, its fourth-quarter sales for 2022 were nearly three times what they were in the fourth quarter of 2021.
Physical retail has been instrumental to the company's growth. In fact, while Impossible Kicks does have an e-commerce site, 90% of its sales come from in-store purchases, CEO John Mocadlo told Modern Retail. Over the past two years, Impossible Kicks has managed to launch 17 brick-and-mortar stores, many of which are in malls and premium outlets. This year, the company is on track to open seven new stores in Florida, Nevada, California, Hawaii, Utah and Ohio, with one more to be determined. Today, the company calls itself the largest brick-and-mortar sneaker resale brand in the nation.
Mocadlo's background is not in shoes. In fact, he spent 23 years in the automotive industry. But, when Covid hit, his brother Wayne asked Mocadlo to come on board to help him launch a physical store for his sneaker resale business. The day Impossible Kicks opened its first location in January 2021 in West Hartford, Connecticut, "there was a three-and-a-half hour wait," Mocadlo said. "The mall said they hadn't seen a release like that since the iPhone 4S."
Over the next several months, the brothers rapidly expanded the business and managed to raise several million dollars from investors. The strategy was "to scoop up all the unrepresented secondary markets that have had explosive growth," Mocadlo explained, listing Austin, Texas, as an example. "Tourism always plays a big role. And then we also look for big business and infrastructure that's going up in the area."
Now, for 2023, "our strategy moving forward in these coming years is a lot of the primary markets," he said. "We're interested in maybe another store in Miami. We really want to get into the New York [City] market moving forward."
'It's easier for them to make the purchase'
More sneaker resale businesses have popped up in recent years as collectors look to add variety to their closets. Cowen estimated the global sneaker resale market to be worth $6 billion in 2020. It now expects that number to hit $30 billion by 2030, largely thanks to international growth. Sneaker resale especially exploded in 2021, when shoppers had more disposable income from stimulus payments. However, demand has cooled a bit over the past year or so, amid rising interest rates and inflation.
Still, sales are mounting, and many sneaker resellers have opened brick-and-mortar stores to appeal to customers. StockX opened a permanent store in New York City in 2019. Flight Club, which sells new and used sneakers, has three locations in New York City, Los Angeles and Miami. Overall, though, a lot of sneaker resale takes place online through companies like GOAT and Grailed. Since Impossible Shoes gets its sneakers two ways — by customers dropping off shoes and through wholesalers or bulk resellers — it finds physical retail particularly helpful.
"Sneaker resale has been very popular for the last several years," Mocadlo said. "But the problem for consumers is, you're either kind of pigeonholed to purchase online — which is fine — or, some of these resale stores are in such major markets that if you weren't in New York or Los Angeles or maybe even Las Vegas, you had no shot of seeing a retail store."
Many of Impossible Kicks' sales come from sneakers that resell for hundreds or even thousands of dollars. With that price tag, though, "a lot of people would say, 'I would really like to buy this $300 or $500 pair of sneakers, but it's coming online and I don't know if I really trust this entity that's selling it,'" Mocadlo said. "Now, when it's put in front of them… because we're pretty much all over the country now, they see it, they can touch it. It's easier for them to make the purchase and make the decision."
In fact, it wasn't until last September that Impossible Kicks created its e-commerce platform. The site offers hundreds of pairs of shoes, many of which are Jordan Brand and Nike.
Ultimately, though, "the in-store box model is extremely profitable," Mocadlo said. "Plus, it gives us the deployment to get the online product faster to the consumer… When you look at a big online conglomerate… the shipping time takes a long time. We've eliminated a lot of that by bringing the inventory closer to the consumer."
Historically, many sneaker resellers have taken precautions when it comes to their physical stores. When Rebekah Kondrat, founder of Rekon Retail, visited StockX's store soon after it opened, "it was like a museum," she told Modern Retail. "Things were under glass." That strategy is less common for sneaker resellers today, though; like many other shoe stores, Impossible Kicks has walls filled with racks of shoes that customers can pick up and try on.
"I think this is kind of that democratization of sneaker resale and street culture," Kondrat said. For Impossible Kicks, "whatever their strategy was for going into malls initially, I think they've probably reaped the benefit of it feeling more approachable and mainstream. It's not some exclusive velvet rope Supreme store that's on a corner in New York."
Today, Impossible Kicks has branched out beyond sneakers to include apparel like hoodies and pants. Its next step, what Mocadlo calls "phase three," is getting into watch resale. That aspect of the business is still in beta but has plans to launch later this year.