Why Pressed is going beyond juices for its new cafe menu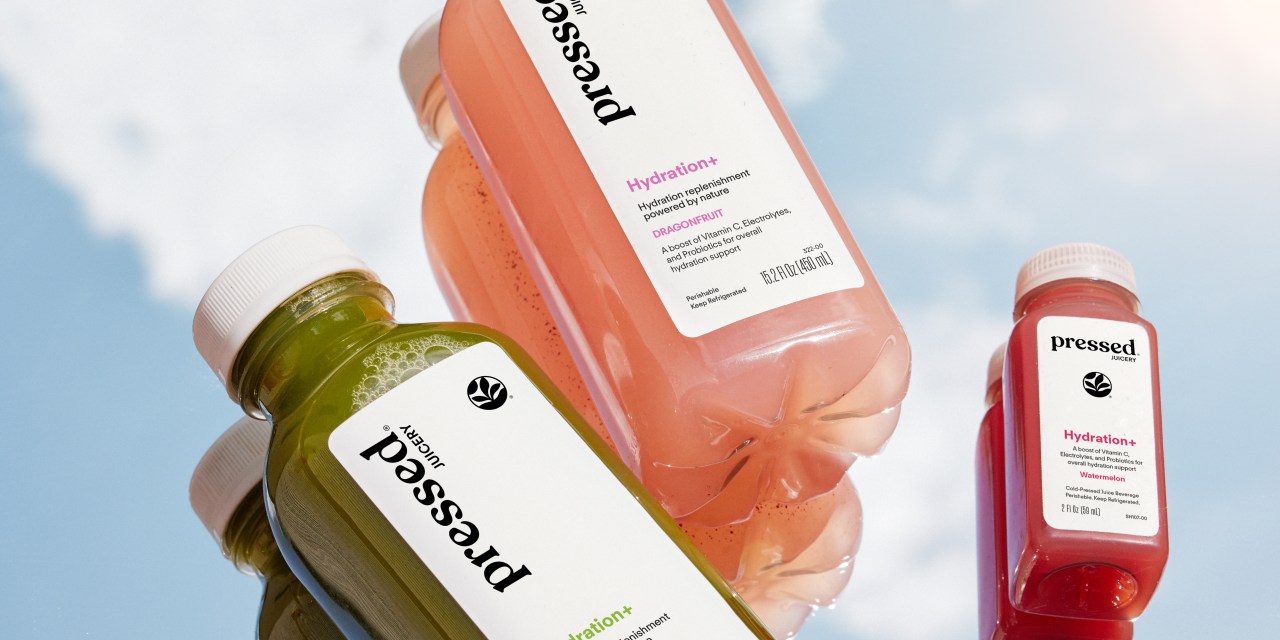 After 13 years of serving up health-focused fresh juices, Pressed is ready to dive into the business of clean eating with a new grab-and-go concept.
This fall, Pressed will unveil a new assortment of items at 11 of its Southern California juice cafes. CEO Justin Nedelman, who took the helm in June, said the goal is to create more opportunities for people to visit Pressed for different times of day, while remaining health-focused.
The initial menu includes ready-to-eat salads, chia puddings and small proteins like almond-crusted chicken strips. Some shops already offer acai bowls and dairy-free freezes, and the new grab-and-go concept will build on those offerings.
"Guests trust us. Whatever we sell, they trust, so we have to really be thoughtful about that as we're adding these salad options or protein-based options," Nedelman said. "We know that whatever we're going to carry, they don't really have to look at the ingredients to know it's going to be clean."
The rollout builds on the growing trend of health-focused start-ups and CPG brands looking to make products readily available. Startups like fruit jerky maker Solely, keto-friendly Catalina Crunch and prebiotic soda Olipop are heading into convenience stores or grab-and-go stands. For Pressed, which built its reputation on its popular juice cleanse programs, it's an opportunity to branch out beyond its core product category.
Nedelman is the co-founder of Eureka! Restaurants and former chief real estate officer of franchisor FAT Brands Inc. that operates chains like Fatburger and Johnny Rockets. While Pressed runs online sales and has a wholesale footprint in around 3,000 locations, Pressed's physical locations are at the core of its business model and located in high-traffic locations where people are likely to be seeking out quick snacks.
Pressed is headquartered in southern California but also has shops in Texas, New York, Pennsylvania and Washington. Locations include busy downtown cores, upscale plazas, and major metro shopping districts like D.C.'s Georgetown and Uptown Dallas. This month, the 112th location is opening in Boca Raton, Florida, which is its first foray into the state.
"If you look at some of our real estate, it's prime-prime-prime retail. We've got really underutilized boxes," he said. "We need to be selling more products in our stores … we can't just sell awesome juices."
Abhinav Kapur, founder of restaurant data provider Bikky, said there's increasing demand for on-the-go meals. Before the pandemic-induced lockdown era, about 50% of restaurant business was off-premise dining. That figure has now risen to 70%, Kapur said.
"That's a real indication that even QSR concepts are increasingly using convenience services like drive through, or to-go," he said."We're seeing that behavior more broadly."
He said Pressed's concept is a smart way to introduce more menu items because has the added benefit of being able to fit into its existing locations. Offering a full hot menu could require kitchen upgrades and a larger staff, while grab-and-go concept is easier to implement.
"That's all cold prepared, you don't need an oven, you don't need equipment," he said. "It allows you to expand your menu and keep the whole model efficient."
Nedelman said that the pricing on the menu items will be competitive — while a Pressed juice runs about $6.95, Nedelman said the idea isn't to offer "$18 salads."
"We're really thinking about how to bundle pricing. It's not always about the margin on every item. It's also about the overall, how do you grow the check average?" Edelman said. He envisions customers being able to get a juice and a salad for around $15 combined.
Pressed's growth strategy goes beyond the new menu items. While it currently sells 35 items in its locations, Nedelman said the company plans to do more product expansion and marketing pushes to drive sales around its "systems" that focus on different uses.
For example, the Hydration+ line launched this summer as a response to the demand for products with electrolytes. Other future areas of expansion include evening tonics. Like the meal offerings, the goal is to have healthy products that can meet a variety of diets, whether that's vegan, keto or low-calorie.
"There's more and more people that want wellness," Nedelman said. "We just want to be accessible."