Why CPG giants are expanding their popular brands into new categories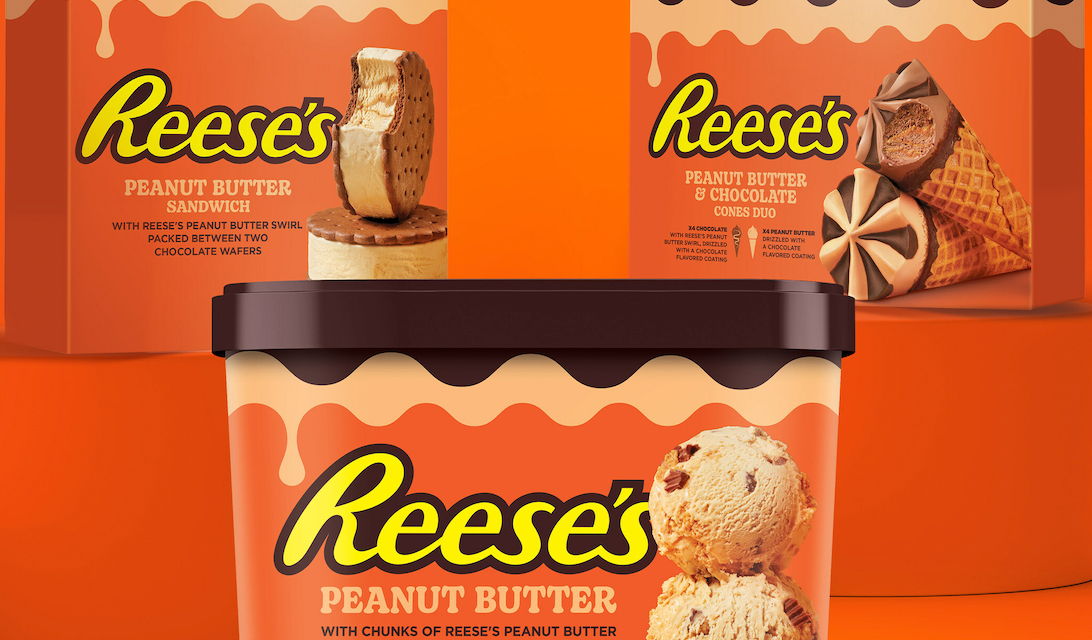 Hershey and Unilever
From Reese's-flavored ice creams to Old El Paso corn chips, CPG giants are expanding some of their iconic products into new sections of the grocery store.
Hershey and Unilever banded together to launch a new Reese's line of ice cream last month, which includes peanut butter sandwiches and peanut butter light ice creams. General Mills, on the other hand, brought its classic Old El Paso brand — known for its taco seasoning mix and taco shells — to the snack aisles for the first time through the release of the Tex-Mex-inspired corn chips Old El Paso Fiesta Twists.
"CPG companies rely on their brand strength. At the end of the day, their brand is what drives their sales," said Andrew Hogenson, global managing partner of consumer goods and retail for Infosys Consulting. "When they expand into new categories or when they co-brand it generates trust with new audiences."
Snacking has become somewhat of a small luxury for inflation-weary shoppers who've held back their spending habits. In fact, Hershey's saw a net sales increase of 15.6% in its most recent quarter, General Mills' organic sales grew 11% and PepsiCo delivered a 16% organic revenue growth. CPG brands, eyeing the opportunity to gain more share of shoppers' snacking budgets, are now increasingly bringing some of their well-known brands into new categories. 
One of Pepsico's strategies includes delivering "Packaging and flavor innovation across our product portfolio to address evolving consumer and societal preferences," PepsiCo executives wrote in their prepared remarks in October.
The strategy of expanding brands into new categories is by no means new. Instead of developing an entirely new brand targeting a specific category, snack makers can capitalize off of their existing brand equity. Additionally, with fewer spending dollars going around, CPG conglomerates are able to open up new revenue streams by expanding into new categories.
Indeed, by stepping into the freezer section with Reese's, Hershey and Unilever have a better opportunity to win more share in the ice cream market. Fortune Business Insights projects the global ice cream market to hit $97.85 billion by 2027 from $71.52 billion in 2021. 
Mars also wants a taste of the ice cream market. In January, the company further expanded three of its popular treats — Twix, Dove and M&M's — into the ice cream category.
"Consumers are looking for excitement and experience," Hogenson said. "Think of it as competitive positioning. So there's an offensive aspect to this." 
Being in more sections in the store also has some marketing benefits, said Carly Sutherland, a brand and communications strategy consultant. By being in multiple areas in the store, brands are able to capture more eyeballs, she said. 
Pepsi's snack expansion plan, on the other hand, involves having more products in the snack category — a tactic commonly known as a brand block. Pepsi told Food Dive that one of its growth plans this year is to carve out more products for its already popular brands. For instance, the company said it plans to launch Cheetos-flavored pretzels later this year following its success with the launch of Cheetos Popcorn in 2020.
"The question in our mind is how far do these brands stretch," Parth Raval, chief growth officer for PepsiCo Foods North America, said in an interview with Food Dive in January. "We have strong reason to believe that our brands play in multiple domains and we want to ensure that every time there's a snacking occasion that the shopper is looking to Frito-Lay." In November, the company already introduced bite-sized versions of its Doritos, Cheetos and SunChips snacks.
Additionally, CPG giants can also use product expansion announcements to remind shoppers about individual brands. "There are lots of opportunities to announce that they are now in a new category," such as media campaigns, Sutherland said. She added that CPG giants also have the opportunity to tap into nostalgia because people tend to "go back to that comfort food."
Katie Hagan, evp of insights and innovation at Mattson, said that brands don't have to expand to adjacent categories. Brands can enter a much different category as long as it makes sense for the customer experience, she said. 
For example, Old El Paso's products typically fit in a mealtime occasion but the company also makes salsas where chips can be dipped in. "They may not be adjacent in the grocery store, but they are a shared experience," Hagan said. "It's a pairing exercise." 
Category expansions of already popular brands don't always last. For example, Kellogg's Cinnabon Cereal was discontinued in 2018 because the cereal maker did not have a licensing agreement with Cinnabon anymore, according to a tweet from Kellogg's official Twitter account. The Cinnabon Cereal was just recently relaunched late last year. 
"If they make a wrong move and enter into a space that is a poor fit for their category, it could alienate their own consumer and cause confusion, which could denigrate the brand over time," Hagan said.