Q&A
// May 2, 2023 ■ 6 min read
Timberland's vp of North America on how the brand plans to grow awareness as it celebrates its 50th anniversary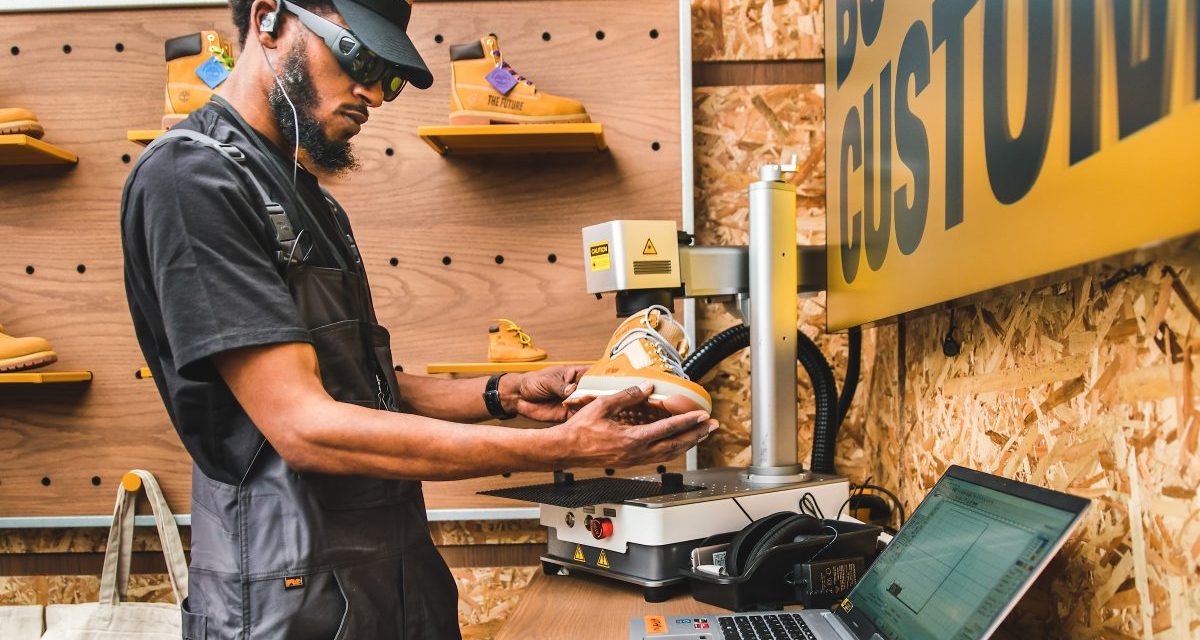 TDM.Space
This March, outdoor footwear brand Timberland opened a new global flagship store in New York City's SoHo neighborhood as it seeks to acquire extend its brand reach.
Timberland Vice President for North America Tracy Smith described the new store as "a physical manifestation of the brand framework" that Timberland stands for, which is rooted in work and the outdoor. The store offers on-site product customization and personalizations like laser etching and heat pressing embroidery.
Timberland is best known for The Original Timberland boot, which was first introduced in 1973 for workers to withstand the harsh elements of New England. Now, as the brand hits its 50th anniversary, Timberland is looking for new ways to engage with its existing community, as well as to engage with new customers. Smith describes the core Timberland customer as "the adventurous doer."
"We've spent the last two years really working hard from a consumer insights and segmentation standpoint to really focus in on who our core consumer is. And they're steeped in the work and outdoor," Smith said.
Timberland, which was acquired by VF Corporation in 2021 reported flat sales for the third quarter and clocked revenue of $595.5 million for the three month period ending December 31. To drive growth, Smith said Timberland is increasingly looking to add more products in the women's business and hiking space. And, to find new ways to drive brand loyalty.
In addition to the new Soho flagship store, Timberland also recently launched a new membership program called Community, which gives members access to product exclusives, prizes, launch events and birthday promo codes. The company has also increasingly started experimenting with more localized events, hosting its first hike club event in upstate New York a few weeks back.
In an interview with Modern Retail, Smith spoke about how Timberland has evolved over the years, and what its expansion strategy looks like as the brand turns 50. This interview has been edited for length and clarity.
Can you talk a little bit about this moment in time for Timberland and its overall retail strategy?
There's a huge amount of excitement all the way through the organization. This is something that we've been working towards and looking forward to for some time. This year is also our 50th anniversary of our original Timberland boots. So, the opening of the store in that same time frame is really our way of honoring the communities that have helped make the brand what it is today. Those communities come from work, from outdoor, both of those inspire the Timberland lifestyle, which is completely New York. We've always looked at New York as being our second home.
Are there any other locations that you're planning to launch Timberland stores in within the U.S.?
We certainly want to expand our offerings and our services. So, there are additional openings in our plan. We're honestly finalizing our plan right now, so there are a couple of locations that are under consideration, nothing that I can share right now. But, we definitely have openings that are scheduled for this calendar year.
Sales for Timberland were reported to be flat in the third quarter. What steps is the company taking to grow sales this year?
It's really about sticking to our strategy and using the 50th anniversary this year, particularly to catalyze our business. We're focusing on areas that we see as real whitespace currently. Notably, the women's business and the hiking space. These are the areas that we're going to lean into.
I think you're going to see our media campaign, our energy moments are collabs that we're going to utilize throughout the course of the year to celebrate our 50th anniversary and raise that brand awareness to help us acquire new consumers. That's our maniacally focused strategy for 2023 to drive growth.
What other investments is Timberland making this year?
We've just finished up an upgrade to our distribution systems — SAP systems and so forth. The SAP upgrade was really a software upgrade in distribution reporting. We're going to be moving to a new platform from an e-commerce standpoint next month as well. This is an upgrade to our existing platform which should make the consumer journey experience even more visual, more engaging, faster and smoother. We have store openings in our plan for this year, so, we're super excited.
What other investments is Timberland making this year?
We're fortunate to be owned by VF and be part of their portfolio. They believe in our strategy they believe in Timberland and where we're going. They truly appreciate the work that we've done over the past couple of years under Susie Mulder's leadership as our new Global Brand President, to really get focused and be very clear on what our direction is and where we're going. So, they're supporting us in the journey, VF is standing behind us to support our growth.
What's the brand strategy for 2023?
In-person foot traffic is part of it, but it's really part of a larger omnichannel experience and strategy. We're bringing the DNA to life through our social media, through our other media communications. We're looking at it as much more of a 360 degree strategy to bring our community together and reach our consumers. So, we want them to come to continue to come on the journey with us, help us catalyze the brand into the future and drive that strong, phygital retail presence. And we'll work to bring it into other cities, and that'll be a priority for us.
Let's talk about Timberland's first US-based membership program called Community. How did the idea to launch Community come about? How many sign-ups are you targeting in the first six months?
We configured it to be right with the launch of 550 [new flagship store]. It was super exciting to be able to launch the Community right at the same time. Consumers can come in and sign up for free on timberland.com as well as unlock benefits, early access to product launches, collabs, energy moments, sales, promotional periods, free standard shipping, birthday discounts, a whole host of amenities.
But then 550 kind of takes Community to the next level. So on top of all the other things that would be offered, let's say online, we're going to offer on-site product customization and personalization, you know, laser etching, heat pressing embroidery. This takes place in an area of the store that we're calling 'The Shed', which is actually like a spinoff or a mini-takedown of our prototyping lab and Maker Space that we have in our headquarters up here in New Hampshire.
I can tell you that our signups so far have really overachieved what our original goals were. Just for March alone, we were up over 40% of what our expectations were. And actually if we looked at that same period last year, the account creation, we were up over 250%. So, our consumers are really engaging and reacting to the launch of the membership program.
Is there any part of the business that gives you sleepless nights?
It's just the unknown. If you look at what we've all been through for the past three years now, a lot of these things could just not have been expected. You have your strategy going in, and if something comes across unexpectedly, then you pull back [and] you take a look at your strategy. If the strategy still fits, then we move forward boldly.
If we have to make adjustments we do but with everything that's happened in the past few years, thinking about global conflict, thinking about record high inflation rates, it's just the unknown.