ThirdLove plans to triple its store count by end of next year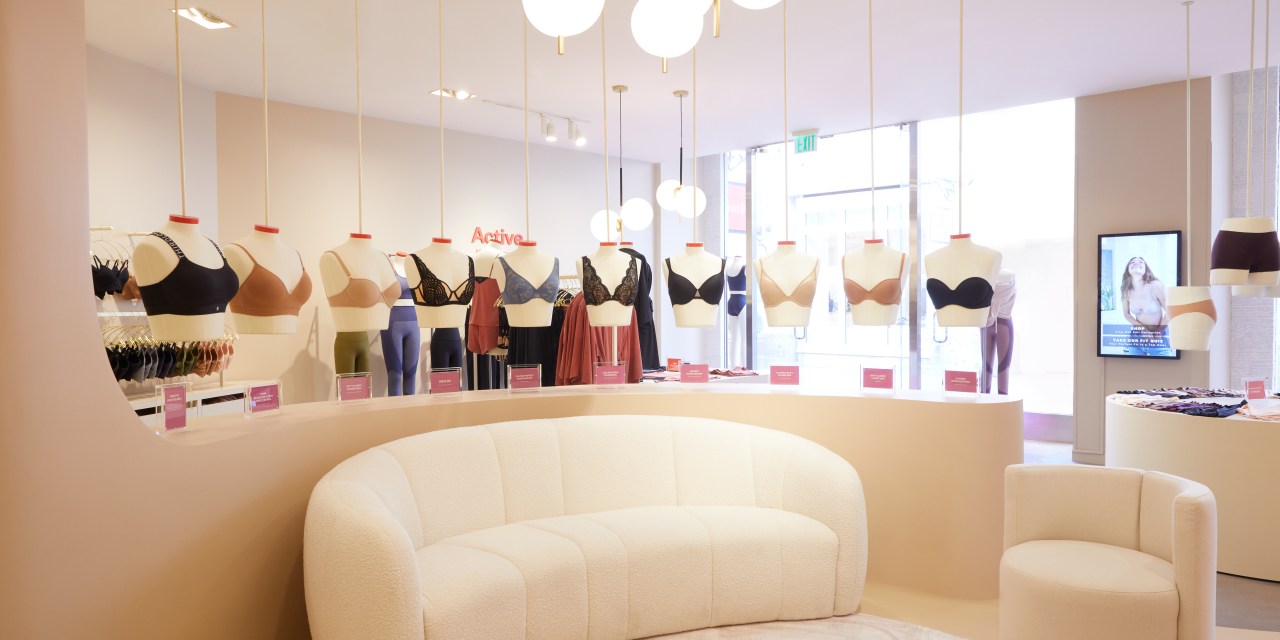 ThirdLove
Like many e-commerce-focused brands, DTC bra brand ThirdLove was able to survive the pandemic by reaching customers at home. After placing its retail ambitions on pause, ThirdLove is ready to open a series of stores in the coming year.
The new phase comes after nearly a decade of primarily online operations. The company will have a total of eight standalone stores by the end of this year, with another 12-16 planned for 2023. According to the company, it's seeking out high-traffic areas in both coastal and secondary markets, focusing on shopping centers where customers are already shopping. And unlike ThirdLove's first attempt at retail, it is placing less emphasis on high tech, and more focus on comfortable store environments and well-trained employees.
Veronique Powell, ThirdLove's vp of strategy and operations, told Modern Retail that bra shoppers are back to pre-pandemic buying behavior. That is, after lounging in comfortable, often wireless bras for a couple of years, they're back to purchasing more structured and formal styles. 
"Fortunately for us, being primarily digital meant we were able to adapt quickly," Powell said. To offset bra sales' decline in 2020, ThirdLove pivoted to promoting wireless bralettes, sports bras and loungewear at the height of the pandemic. But soon after, by 2021, Powell said that core bra sales stabilized. As women shopped new "going out" bras, Powell said, "We were able to reintroduce people to our styles and fits." 
Earlier this year, wireless bras and bralettes were part of 40% of ThirdLove orders. But more recently, that figure dropped to 30%. Meanwhile, wired bras made up 80% of ThirdLove's bra business during the first quarter of 2022, signaling a return of real-world wear. For the upcoming fourth quarter, ThirdLove expects its core wired bra revenue to increase 50% over last year's holiday period. 
The swing back to dressing up is also an opportunity for ThirdLove to circle back on its physical retail ambition, Powell said. Until now, nine-year-old ThirdLove has focused on growing its e-commerce business through its proprietary fit tech, Powell said. The brand first tested physical retail with a pop-up in New York City's Soho in 2019. That shop ended up closing during the coronavirus lockdowns in 2020. "It was a good experience for us, especially as we tested guided shopping," Powell said.
Now, the company is building permanent stores, with the hope of complementing its online presence. "Bras are still a big in-person shopping category, so it was just a matter of time before we decided when and where to expand across the country," said Powell.
At the end of 2021, ThirdLove's team reopened the conversation around retail. Currently, ThirdLove has four shops, all located in California. That count is set to double by the end of this year, with the company opening four new stores: in Boston, Washington D.C., Dallas and Scottsdale, Ariz. 
While the new store locations are based on digital customer data, Powell said ThirdLove specifically scouted locations within well-trafficked high streets and shopping centers. "It's important to consider the local retail scene and how we can integrate our brand into it," she said.
Dallas is a great example of a growing retail hub, Powell said, with many DTC-first brands opening stores in the area. This fall, ThirdLove is opening a store in Southlake — a city halfway between Dallas and Fort Worth. "It's in a relatively new shopping center with great restaurants and already robust foot traffic," Powell said. For the other upcoming stores, the company is seeking similar leases in shopping hubs popular with locals. "You can expect to see us in large and smaller cities throughout the country, with a few clusters in some cities," Powell said.
ThirdLove's store design philosophy has also shifted with the new wave of rapid openings, as browsing a store is different from scrolling social media or the brand's website, Powell said. "Bra shopping is an inherently vulnerable experience and many women have had bad experiences in the past," Powell said. 
"Our pop-up showed us that customers don't really want to interact with too much tech, and they prefer a human touch, when it comes to our products," she said. "So we scaled back the tech and decided to [focus on the] one-on-one experience," she said. In addition, ThirdLove is using warm colors and textures that feel comforting to the customer walking in. "We also made sure there is adequate privacy in the fitting rooms," she said.  
But the most important detail, Powell said, was hiring and training enough staff to put customers at ease as they shop for the right style and fit.
Manola Soler, a director at Alvarez & Marsal's Consumer Retail Group, said that for a brand like ThirdLove, the ability to translate its digital experience into the physical world will be critical to its success. That's because a lot of the brand's initial success hinged on the company's accurate online fit test and wide size range, Soler said. 
With the array of challenges — such as high fulfillment and digital advertising costs — more DTC store openings are on the horizon. "I expect to continue seeing DTC brands across categories branching into brick-and-mortar," Soler said.
For ThirdLove, its retail ambitions are part of the brand's overall mission to reach more bra shoppers, in general. "We also have wholesale and international on the roadmap," Powell said. "We want to be where people are already shopping, whether it's at bra boutiques and department stores."
It used to be an experiment for DTC companies to try retail through temporary pop-ups. But, Powell said, "we want these stores to be a permanent sales driver."