Retail media & private label are helping boost Kroger's margins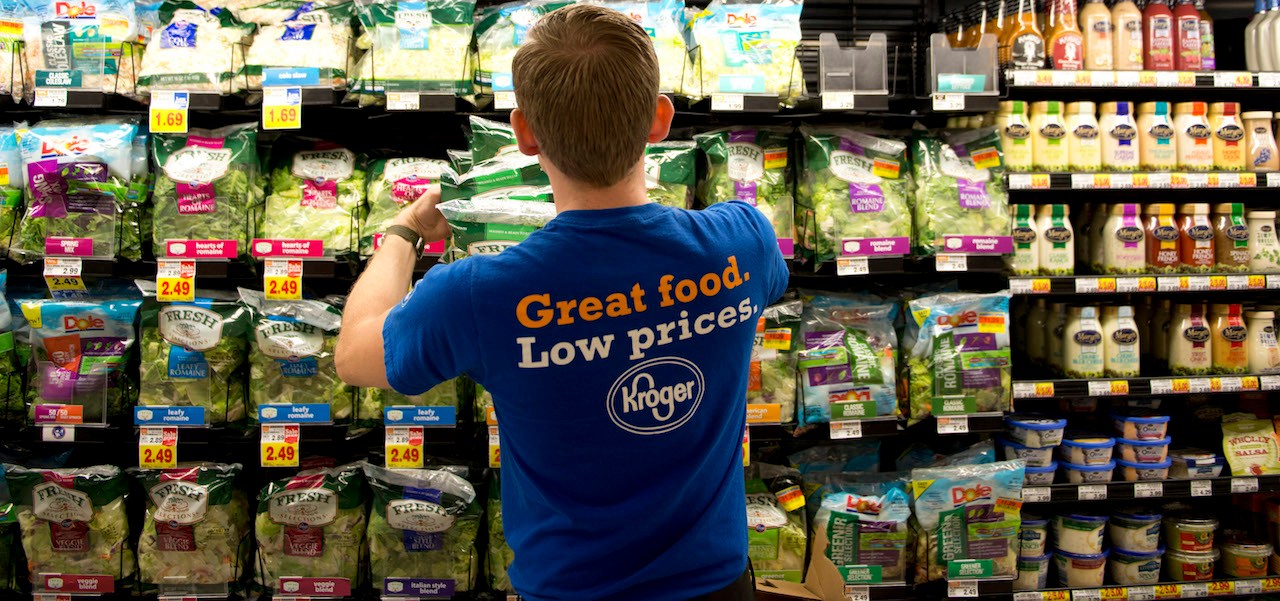 Despite increased promotions, Kroger managed to improve gross margins during its first-quarter earnings thanks to solid sales performance from its private label brands, as well as investments in alternative revenue streams like retail media.
In particular, the company's retail media division Kroger Precision Marketing reported a 13% rise in engagement from digital shoppers, the company said in its first-quarter earnings call.
In turn, "Retail media is leading the way," Kroger Chief Financial Officer Gary Millerchip proclaimed during the earnings call. "The significant traffic and data created by our food, health and fuel businesses continue to enable strong growth in alternative profits."
These alternative profit streams are helping Kroger generate more profit at a time when more customers are looking for promotions, and turning to coupons to manage rising prices. During the first quarter, "sales made on promotion increased approximately 380 basis points and digital coupon redemptions increased to 180 million," Kroger CEO Rodney McMullen said. But overall, Kroger's margins improved during the first quarter; net profit jumped nearly 45% year-on-year to $962 million from $664 million. Meanwhile, Kroger's gross margin increased by 21 basis points compared to a decrease of 26 basis points for the same period last year.
The company took a positive reading of the overall numbers. "Kroger's first-quarter results demonstrate the durability of our business model in a more challenged operating environment," said Millerchip. Kroger posted first-quarter sales of $45.17 billion, an increase of 1.3% year-over-year.
McMullen said even the customers shopping only in store are beginning their shopping trips through Kroger's mobile app or website — partially to scour for deals. They are collecting coupons online and creating shopping lists curated for their store. "We value this behavior as digitally engaged households are more loyal, spend nearly three times more with us and help grow our alternative profit businesses like Kroger Precision Marketing," said McMullen.
Retail media has proven to be a cost-effective way to grow revenue. "Our strategy to improve margins over time has many components, including utilizing technology to increase supply chain efficiency, improving Fresh capabilities, expansion of Our Brands, improvements in digital profitability and growth in retail media," said Millerchip.
Still, while the expansion of Kroger's advertising business was expected, Forrester senior analyst Sucharita Kodali says it isn't a big source of revenue for the company. "Kroger is a $150 billion company and advertising is not even a billion of it. So it's going to take a while before it can have a really meaningful impact that's visible," she said.
Kroger is looking to expand its retail media business in other ways this year. Last month, the company announced a rollout of Cooler Screens in its physical stores. "These innovative screens will replace traditional refrigerator and freezer doors with a digital overlay that will offer customers information on products as well as KPM curated advertisements," explained Millerchip. And in April, Kroger's retail media network announced a new collaboration with Disney to bring its targeting and measurement capabilities to Disney's portfolio of Connected TV ads.
But perhaps the move that is expected to provide the biggest boost to Kroger's retail media business is its merger with supermarket giant Albertsons; the new combined entity would be able to reach approximately 85 million households, the two companies have previously said. McMullen didn't give many updates about the Albertsons merger on the call, only to say that "integration planning has progressed nicely" and the transaction is expected to close in early 2024.
Beyond its advertising growth, Kroger's private-label business, called Our Brands, also saw gains during the first quarter. McMullen said Kroger's private-label portfolio grew thanks to inflation as consumers opted for cheaper alternatives to nationally branded options.
"As we've seen over recent quarters, our customers are saving through loyalty discounts, including weekly specials and yellow tag promotions, engaging in our broad assortment of Our Brands' products and redeeming personalized digital coupons and fuel rewards," McMullen said.