Once a sales lifeline, high-end restaurants and bars are growing their CPG lines with super fans in mind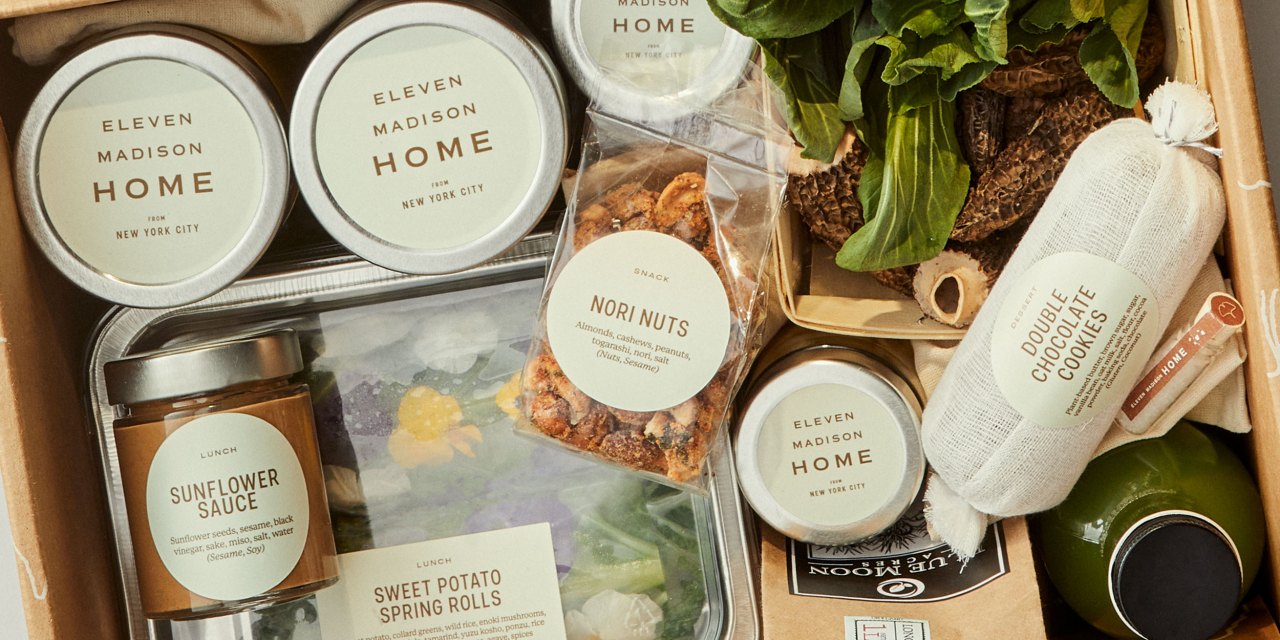 Eleven Madison Home
Restaurants and bars are grappling with how best to expand sales beyond their four walls — mainly by offering branded products to online shoppers.
E-commerce stores were just one of a number of lifelines that restaurants and bars turned to during the pandemic when dine-in business dried up overnight. While most of these dining businesses have experienced a return in visitors, many are still in recovery mode and planning for the future.
In turn, hospitality establishments like Death & Co. and Eleven Madison Park are trying to diversify their business models with new products and services targeting super fans who can't afford to visit regularly. The idea behind building out these online stores is to offer a taste of relevant products people can't get anywhere else. The strategy also acts as a marketing tool. While these e-commerce stores aren't likely to be large revenue drivers for these restaurants, they are still important for generating hype among new and existing fans wanting a taste of these sought-after places. However, e-commerce operations are also time and resource intensive to grow alongside the dine-in business.
Profitability is top of mind for many establishments. For instance, this year cocktail bar Death & Co. expects to generate about $500,000 in online store sales at 10% net income.
"That's a lot of work for $50,000," said Dave Kaplan, co-founder of the New York-based Death & Co. The goal is to make the e-commerce website more profitable over the next couple of years — and grow sales by about 20% every year.
Kaplan said the bar group, which opened in 2006, has been selling branded merch for years. However, Death & Co.'s team only ramped up e-commerce offerings in earnest over the past two years. Death & Co. is preparing to open its fourth location in Washington D.C. by the end of the year, and currently has bars in Los Angeles and Denver, along with the original New York location.
The bar's account currently has over 280,000 Instagram followers, where its bartenders often share behind-the-scenes content, recipes and mixology tips. This widespread fandom was a driving factor in Death & Co's decision to grow its online store. 
"We've always danced around creating merchandise, and early on we mainly focused on catering to industry folks' needs," Kaplan said. For example, one of the Death & Co.'s earliest releases was a rucksack-style backpack designed for carrying bartending tools. "But with the pandemic shutdowns, we decided to expand the idea of the marketplace to include elements of our core brand," Kaplan said. 
Over the past couple of years, Death & Co.'s marketplace began offering a wide range of bar tools and glassware, along with branded apparel and accessories. The bar's third cocktail recipe book, Death & Co Welcome Home, was released this fall. Since releasing the first recipe guide in 2014, the bar's collection of books have become some of its best-selling SKUs, both through its own website and on Amazon.
However, Death & Co. has also leaned heavily into partnering with retail brands to create products. One of its most popular collaborations to date is a collection of co-branded Amass candles and soaps, released in 2020. Another partnership, with men's boots brand Helm, continues to be one of the Death & Co. marketplace's bestsellers. The hospitality group's latest limited-edition collaboration, with DTC paper towel brand Cloud Paper, features a cocktail-themed set of reusable Swedish dishcloths. "This collab in particular taps into the process of making cocktails at home, including the assembly and cleanup," said Kaplan.
Cloud Paper founder Ryan Fritsch said the company was drawn to the collaboration due to Death & Co.'s dedicated, cult-like following. "We knew we wanted to do something cocktail driven for the holiday season from a design perspective, and partnering with the best of the best in cocktails with Death & Co was a no brainer," Fritsch added.
Even Michelin-starred restaurants are dedicating more resources to growing out their online businesses. 
Eleven Madison Park owner and chef Daniel Humm told Modern Retail the idea of creating Eleven Madison Home, its online brand of plant-based pantry staples and kitchen essentials that launched earlier this year, came from wanting to cater to people who can't always afford to spend hundreds of dollars at his restaurant. Currently, Eleven Madison Park's 8-10 course tasting menu costs $335 per person. "We understand that very few people can actually eat here," he said. 
The restaurant already sells Humm's cookbooks, but this is the group's first foray into a full-fledged online store. The delivery service launched in New York City in April, and expanded nationwide this past summer. 
The EMP home boxes feature ready-to-eat breakfast, lunch and dinners, along with soups and snacks, like Eleven Madison' Park's popular granola. The kits retail between $48 and $208. "They're generous boxes because we want people to feel they're getting the surprise and delights of the restaurant," Humm said. That said, it's not the cheapest meal option, Humm added — but will act as a complementary home service to the ultra-high end restaurant. 
"We see our brand growing by offering more of these experiences," Humm said. Eventually, Eleven Madison Home plans to offer a wider range of meal boxes, such as plant-based lasagna or taco assembly boxes. Still, the operation requires a dedicated lead chef, staff and its own fulfillment facility. "Of course it has my hand in it, but Home has its own research and development team that's heavily involved in the products," Humm said. However, much of the products' recipes are inspired by the restaurant's dishes. "So it [restaurant] will continue to act as the mothership," Humm said. Eleven Madison Home did not how many sales the at-home home kits have generated thus far.
Despite the fact that hospitality players aren't counting on retail to overtake their on-premise sales anytime soon, many restaurants are still eagerly launching their own CPG lines. This month, famed New York City-based Italian restaurant Rubirosa launched a direct-to-consumer line of pasta sauces and olive oil. The move follows in the footsteps of Carbone's jarred sauce line, which debuted last year. Other popular restaurants, like Momofuku and Bubby's, also launched CPG lines to reach at-home cooks.
Kaplan confirmed that Death & Co. has a number of upcoming product collaborations in the works for the coming year. However, he said that despite the resources the Death & Co. team have put into ramping up the marketplace, it's still just a small part of the overall business. 
"The e-commerce play is very time and labor-intensive, and it's a completely different business than the bar component," Kaplan said, adding that the marketplace is run through collaboration with a third-party vendor.
"It's never going to replace our core business, but we see it as a creative opportunity for higher customer engagement," Kaplan said. "But it has to be independently profitable to make the investment worthwhile."  
While they're not trying to change the overall business model, Kaplan said it behooves hospitality operators to diversify "as much as reasonably possible — whether it's through branded merch, packaged product lines, or books."