Merrell's latest Scrap collection diverts textile waste into new shoes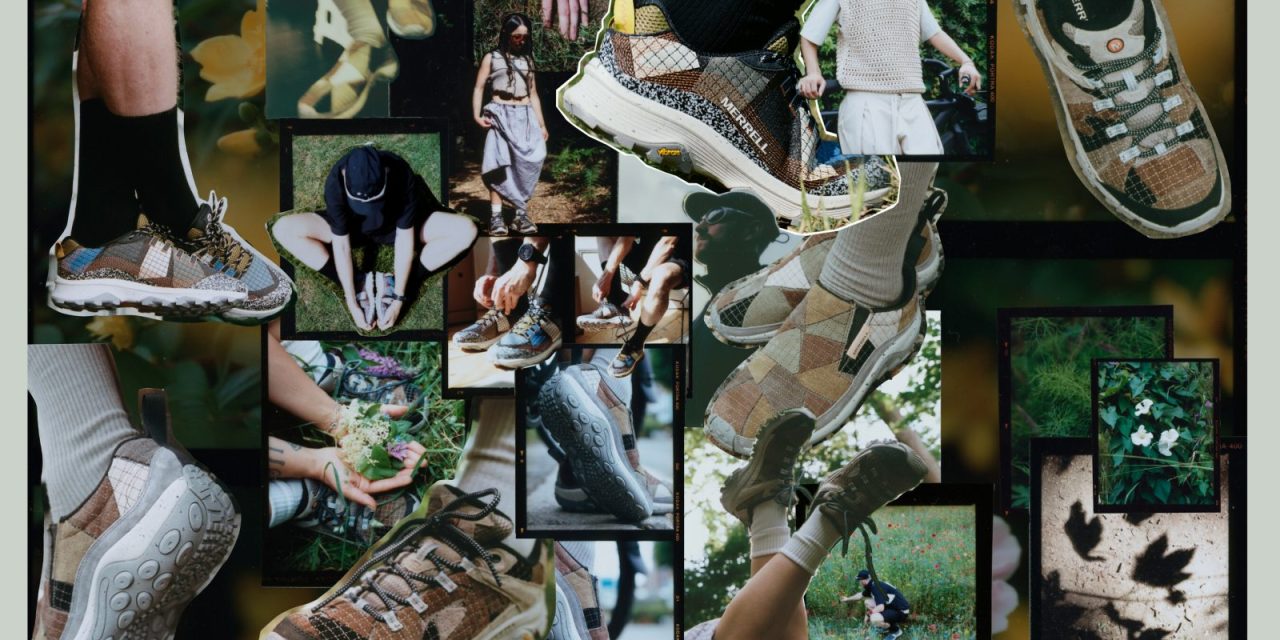 Merrell
The latest collection from outdoor footwear brand Merrell features three of its best-selling styles with one notable design change: each pair is one of a kind, stitched together out of leftover bits of fabric that would otherwise have been thrown away.
Regina Hill, marketing manager at Merrell, said the concept for the "Scrap" collection began percolating before the onset of the Covid-19 pandemic. The brand was coming up with ways to meet its goal of having 100% of its products come from recycled, renewable or organic materials by 2025. Using products like recycled mesh and recycled rubber to create laces and outsoles, Merrell is 70% of the way toward its goal.
The effort is a small-scale but notable example of how to deal with textile and materials waste, a persistent problem for companies in the apparel industry. Not only is the public becoming more aware of detrimental environmental effects of overflowing landfills, but a company's bottom line is also impacted by materials gone unused or unsold.
"We were making these products in our factory and we realized there was textile waste, which is a normal thing, but there's an opportunity to take that waste and reimagine it, and not necessarily consider it waste," Hill said. Textile waste often consists of leftovers of a sheet of material generated off of machines that are die-cutting parts for shoes. The waste is oddly-shaped scraps that would otherwise be tossed.
The Environmental Protection Agency found that 11.3 million tons of textiles were sent to landfills in 2018, representing nearly 8% of all solid waste. But it's difficult to ascertain how much of that comes from factory floors. Frank Zambrelli, vice chair of the industry trade group Fashion Makes Change and sustainability expert, said that there's little concrete information on how much textile waste is generated from fashion production. Some companies include it as a cost of doing business, he said.
"These are embarrassing and hidden elements inside every company, even inside companies with great accounting," he said. "There are silos built around these numbers, no one wants to open the closet on that very ugly secret."
But in the face of increasing shopper interest in eco-friendly and sustainability products, Zambrelli said there is a burgeoning opportunity for brands or third parties to come up with solutions to repurpose waste – providing they're willing to put in the extra planning and effort.
"It's still very challenging, because of availability and coordination," he said. "I think it's harder in many ways. But what I see is an openness and a willingness to make the proposition work."
A bulk of the products from outdoor brand Cotopaxi are made from repurposed or recycled materials, including the colorful Del Dia line of packs and bags made up of unused scraps from other brands manufacturing at a factory in the Philippines. There are also independent designers who make their own products, like Zero Waste Daniel who partnered with ThredUp on a collection made up of donated garments last year.
But there are also efforts that aim to take the scraps out of the factory of use elsewhere. New York-based Fabscrap or Oregon-based Looptworks that collect unused materials to be turned into other products of recycled materials. In 2021, LVHM launched Nona Source, an online platform that sells unused fabrics and leathers from its high-end designers.
At Merrell, Hill said the scraps are collected in bins at the end of the cutting lines. Those pieces are handcut into smaller, easier-to-use shapes, which are then stitched together in a patchwork pattern to form the upper soles of the shoes in the Scrap line. The rest of the parts of hte shoes are made from other recycled materials. The collection includes three styles in men and women's sizes – the low-slung hiking shoe Moab 3, the trail running shoe Moab Speed, and the slip-on Jungle Moc.
Merrell didn't tally up how much material was diverted into the collection, but Hill said that it was material generated from other production runs. Part of the challenge, Hill said, was coming up with a design that used the scraps in a way that fit Merrell's rugged outdoor aesthetics and still performed as well as its traditional line of products.
"As much as we want to be sustainable, we don't compromise on style," she said. "That was the key point here, to be able to merge the style and fashion piece, and knowing you can look good, do good and feel good a the same time."
Mayrclire Manard is the CEO with Cluey Consumer, a resource for shoppers to learn about a company's social and environmental policies. She said that it is important for brands pushing sustainable practices to have an educational component. For example, a "closed loop" manufacturing practice doesn't mean much to someone who isn't familiar with the term — but explaining how the product diverts materials from the trash might land better.
"There needs to be an aligned incentive," she said. "A big way in which brands can get reception on a new product line is how they sell the story around what it means to the consumer."
Merrell plans on marketing the Scrap collection on its website, as well as in promotions for Zero Waste Week which runs through Sept. 8. Hill said as an outdoor brand it's important for Merrell to consider what it means to protect the outdoors — and that means experimenting with new ways to make products out of recycled or repurposed materials.
"We wanted to put our name out there and put our name in the ground," she said.