'Make sure your business has a reason to exist': CPG brands prepare for a challenging 2023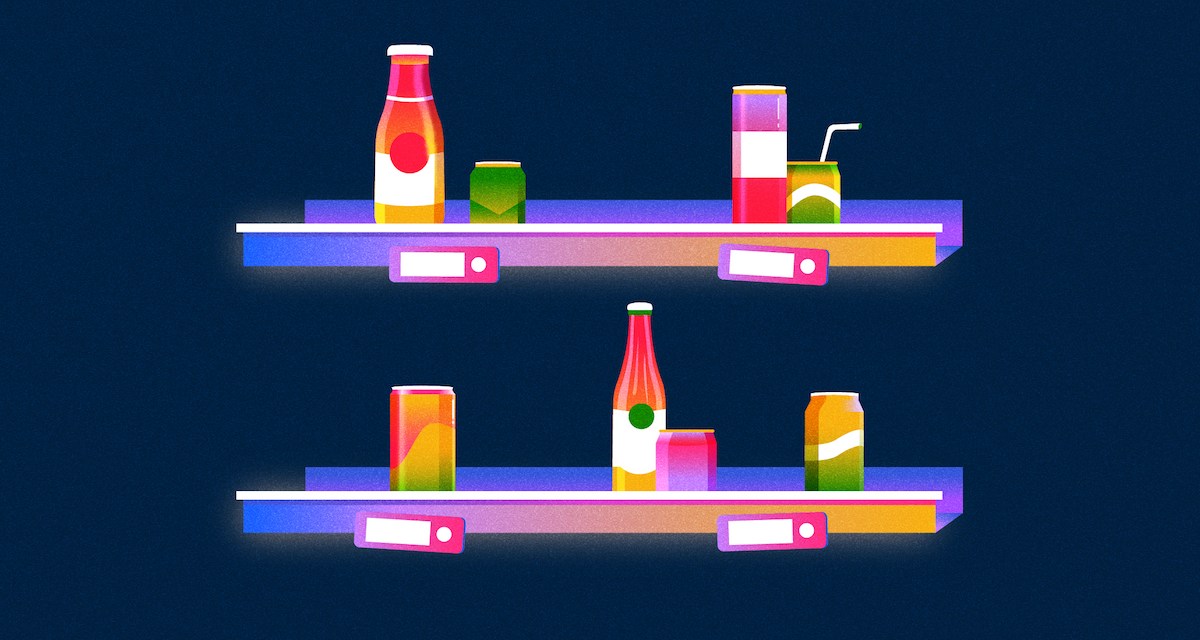 Ivy Liu
After a couple of years of hyper-growth, consumer packaged goods startups are navigating choppy waters.
Over the past couple of years, many CPG startups have experienced whiplash courtesy of the pandemic. First, many of them had to pivot to online sales when many people stopped shopping in grocery stores. Then, they had to turn their attention back to stores, with many of them facing supply chain shortages right as business was booming. Now, inflation threatens to further put a dent in their sales.
With venture capital drying up compared to years past, the CPG boom is slowing down and digitally-native brands are ready to batten down the hatches. They're trying to ramp up retail distribution by wooing buyers with new products, and enticing price-conscious shoppers to buy their products in stores through the use of digital coupons. While, at the same time, monitoring cash flow carefully. According to investors and founders who spoke to Modern Retail, 2023 will mark a turning point for CPGs — and, in turn, highlight which brands will survive and which will fall by the wayside.
Some brands still managed to close out the year with additional funding to fuel their next growth phase. Last month, prebiotic soda brand Poppi announced $25 million in new funding, led by exiting investor Cavu Consumer Partners to fuel its expansion following 2022's 148% year-over-year growth. 
Allison Ellsworth, co-founder and chief brand officer of Poppi, attributed the large round to Poppi's already established omnichannel footprint from the past two years alone. "We're no longer in the proof of concept phase, so now it's about building on our momentum," said Ellsworth. Poppi will be going from 18,000 doors to 30,000 in 2023, and is also testing multi-packs at Walmart and Costco.
"We were talking to them [Cavu] for a while because they're very involved in the business," said Ellsworth. Cavu co-founder Rohan Oza first invested in Poppi back in 2018, when the brand appeared on Shark Tank, and has been an advisor since. "It helped that there are no guesses about when we need funding," Ellsworth said, who added that the company tested the waters by seeking funding from other firms before settling on its previous investor.
"Half the battle is making it to the other side over the next 18 months"
Of course, not all startups are currently lucky enough to draw major funding to help them get through the next year. As such, venture capitalists are advising emerging brands to get creative with their distribution and marketing.
Logan Langberg, partner at Imaginary Ventures — which has backed the likes of Simulate and Daily Harvest — said "the next 12 to 18 months will be a grind." He's currently advising CPG founders to not be afraid to cut spending and prolong cash runway, "even if growth declines."
Most recently, Imaginary led a $10 million Series A round for frozen dumpling brand XCJ, which Langberg pointed to as an example of a vertically-integrated DTC brand primed for its next growth phase. "Personally, I'm spending more of my time on growth, but we will continue to invest in companies from seed through late stage," Langberg said.
Langberg also noted that while having an early path to profitability and retail distribution isn't a requirement for seeking investment, brands will become more valuable in 2023 if they streamline shipping and paid acquisition costs. For example, "If you were a DTC business, it's okay to test potentially cash accretive channels like Amazon," he said — while stressing testing new marketing channels like TikTok and influencer partnerships. 
Langberg also advises founders to seek alternative financing to bridge runway gaps. "If there is interest from family offices or other alternative capital, take it and continue building," he said. 
Indeed, options like taking on debt are becoming an increasingly popular way for emerging brands to extend their runway while VC activity is stagnant. So much so, a number of vendors have sprung up to cater to businesses in need of small and medium-sized loans.
Ignacio Semerene, co-founder of loan discovery platform Bags said that in the past few months the company has attracted dozens of new CPG companies in need of cash flow. In the past 90 days, 23% of Bags' inbound requests have been for purchase order financing, with CPG being the top category. Bags primarily matches women and diverse-founded brands with lenders, and most recently helped brands like beverage startup Droplet and supplements maker Juna secure cash; The company expects to increase the brands on the Bags platform in the next few months.
"Consumer brands will face some notable headwinds in 2023, including a slowdown of available venture capital to support brand growth," Semerene explained. "Brands that want to survive and thrive over the next year and beyond need to focus on establishing an authentic brand and community, growing revenue to cash flow positivity, and avoiding the pitfalls of expensive credit card debt through strategic financing that they're planning for now."
A continued focus on product and retail expansion 
As such, the goals for many CPG brands going into 2023 is to cut production and fulfillment expenses, in tandem with expanding their presence in big-box stores to reach more shoppers. 
Part of Poppi's new funding will go to new cost-cutting tactics, which will help scale the beverage into more stores. For example, Poppi is in the process of transitioning from shrink wrapped to printed label cans. The company will also convert to a direct store delivery (DSD) model by the end of January. The fresh capital will also support new hiring at a time when food and beverage startups are scaling back. This follows the naming of a new CMO and new CEO Chris Hall, who came on board from Talking Rain Beverage in April. 
Other brands are making a go at expansion by reinvesting pandemic-era revenue back into the company.
Tahini brand Soom Foods began as a food service company in 2013, and pivoted to DTC and retail distribution during the pandemic, where it experienced double digit growth. The brand's biggest nationwide expansion was Whole Foods Market and Amazon in 2021, but the next year will be focused on product innovation in the hopes of landing on more shelves. 
The brand will be expanding into new pantry-focused categories — with the goal of bringing the tahini to new shelves beyond the nut butter aisle, according to Soom founder Amy Zitelman. Additionally, Soom plans to roll out a series of limited time offers and brand partnerships in 2023, and are currently mapping out partners and categories they want to tackle.
Part of this involves also launching a new coupon program to generate more brand awareness and bigger cart sizes, Zitelman explained. This will include steep discounts (buy one, get one), which will be promoted through geo targeted Facebook ads for those within 10 miles of a Whole Foods location. Even though this will cut into the brand's margins, this is meant to drive sales momentum at Soom's early retailers at a time when customers are watching their grocery bills.
"I think shoppers are ultimately thinking about one thing when choosing to spend money on something: their perceived value of the product," Zitelman said. Soom's website positions its product as high-quality tahini that uses more premium sesame sands compared to other U.S. brands.
"Young brands are more likely to sell a product that a shopper could live without, a nice to have vs. a need to have," she added. "So the ratio of value-to-product is susceptible to increased price consciousness during an inflation or potential recession."
Another food startup, allergy-friendly snack brand Blake's Seed Based, is also plotting heavier retail distribution in 2023. "At Blake's Seed Based, we're making an aggressive and strategic retail push in 2023 as we try to double our store count," founder Blake Sorenson told Modern Retail. Many of these additions have been a long time coming. "Retail has always been super competitive because every brand wants a piece of the shelf and it can take years to knock down some retailers," said Sorenson. "We've been working on some retailers for over four years and are hopeful this might be our year."
The brand first launched in 2018, and entered retailers like Sprouts and Walmart over the past two years.
Similar to brands like Omsom, Blake's Seed Based redesigned its entire portfolio specifically to help it stand out on shelves. "This included using bright colors on our new designs and putting a wave that connects on all of our products, so they're cohesive on the shelf," Sorenson said. 
"Additionally, we're getting buyers to put out our different product lines — snack bars, crispy treats and chewy granola bars — next to each other to create a brand block," Sorenson said. This tactic has been popular for digitally-native brands, which often ask retailers to merchandise their products under one hub. "Lastly, off-shelf opportunities continue to be an incredible way to drive trials," Sorenson said of branded display fixtures. "We're doing a huge shipper push with all of our retailers to gain off-shelf placement." 
Sorenson said with consumers' wallets getting tighter as inflation continues, startup brands in premium, better-for-you space face even more pressure to prove their value proposition in 2023. "In every retail chain, we make sure we're supporting each account in the right way to win over our target shoppers," he added. This ranges from using digital coupons, in-store promos and demos, along with temporary price reductions to drive Blake's Seed Based trials.
Imaginary's Langberg said these types of moves are likely to show which brands can survive future obstacles, including further inflation and recessionary periods. And while overall VCs are participating in smaller funding rounds, he said the right brand can still attract attention.
"We are looking for brands that have built strong operational foundations of impressive gross margins, organic growth, high repeat, with less reliance on paid acquisition," Langberg said. "Most of all, make sure your business has a reason to exist — If there is real innovation in product and brand, then capital will follow."