How startups like Supernatural and Spiceology are building out foodservice programs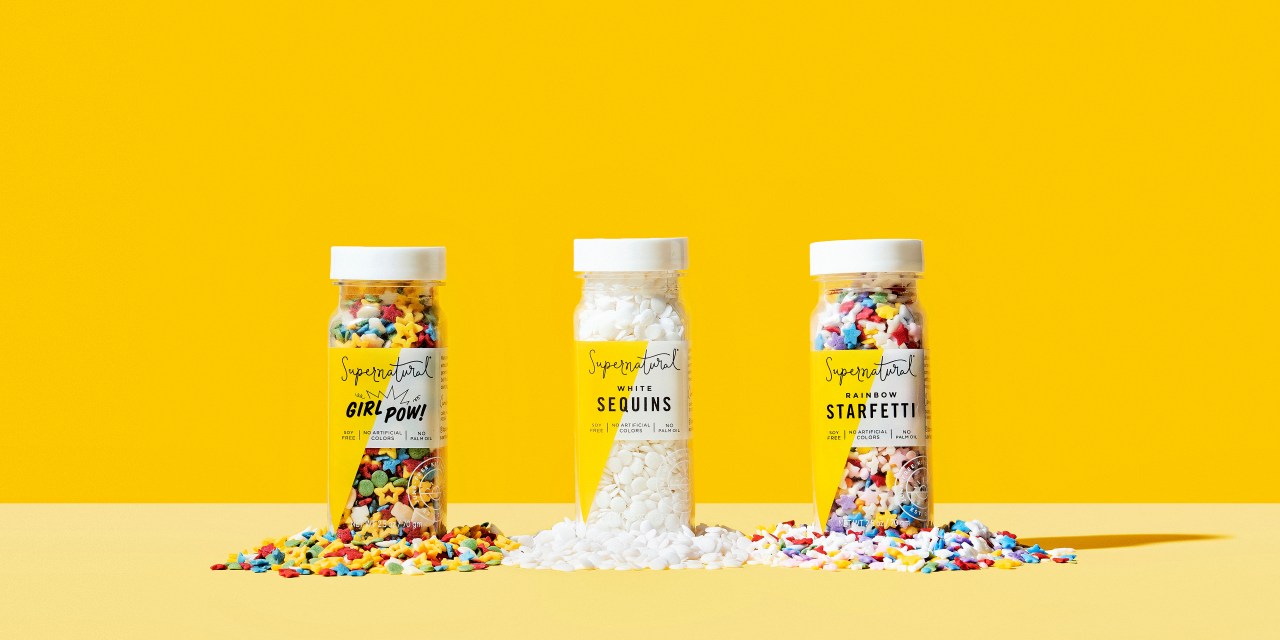 Supernatural
More DTC brands are branching out with foodservice business-to-business sales channels.
After experiencing direct-to-consumer and grocery growth over the past few years, baking brand Supernatural and the seasoning brand Spiceology are now building out B-to-B businesses to supply restaurants, bakeries and even other food brands. 
This week, baking brand Supernatural, which sells products like sprinkles, food coloring and frosting, debuted its B-to-B channel. Some of Supernatural's inaugural foodservice partners include Milk Bar, King Arthur Baking and plant-based snack startup SnackConscious. For these brands, the foodservice strategy has a two-fold benefit: providing them with a new sales channel, as well helping them find new customers from restaurant partners. 
Supernatural, which launched in 2017, experienced over 700% year-over-year direct-to-consumer growth between 2020 to 2021. And with the launch of its bulk business, founder and CEO Carmel Hagen said she's hoping it will catapult the brand as a supplier for bakeries, ice cream shops, and other CPGs.
Supernatural will supply Milk Bar with custom sprinkles that are corn, gluten and artificial flavors-free. Going forward, Milk Bar will be using Supernatural sprinkles in its cookie recipes. Additionally, Milk Bar founder Christina Tosi has joined Supernatural's board of directors.  
"More than ever, people are willing to pay more for natural ingredients — but not that much more," Hagen said. This prompted the company to test a series of recipes during the R&D phase with a new U.S.-based manufacturer before launching an exclusive sprinkle with Milk Bar, Hagen added. "After a few years of consumer-facing growth, we finally got big enough to work with a manufacturer willing to co-pack unique formulations for us," Hagen said. 
Still, one of the big challenges with launching a brand new channel is balancing manufacturing lead time with the need for bigger warehousing for bulk orders.
"Fulfilling foodservice orders requires a lot of investment," Hagen said. To aid with the launch of the B-to-B arm, Supernatural brought in a consultant who previously worked on Bob's Red Mill foodservice business. The company also had to build a website portal to start automating these large orders. Currently, the Supernatural bulk portal allows buyers to place orders starting from 25 pounds up to a few thousand pounds.
Hagen said that attracting large chains is great, but not the only goal. "We see scoop shops and ice cream shops as a great B-to-B fit," Hagen said, saying that independent operators are likely to seek out better-for-you ingredients. Supernatural's foodservice launch accounts include regional scoop shop chains like NoBaked Cookie Dough, San & Wolves Filipinx Bakeshop and Colorado-based Sweet Action Ice Cream.
Part of the B-to-B opportunity also includes cross-promoting Supernatural alongside major brands, as is the case with King Arthur Baking. Hagen said King Arthur had been in touch with her for years, and previously used Supernatural sprinkles in gift sets for influencers, PR and events. This year, the legacy baking brand is partnering with Supernatural for its holiday collection, purchasing thousands of pounds of Supernatural sprinkles to use in the co-branded bundles. King Arthur will also start to use and sell Supernatural's sprinkles at its Vermont bakery, Hagen said.
Another direct-to-consumer brand, Spiceology, is doubling down on its foodservice channel. The spice and seasonings brand first tested selling it in 2017 among independent chefs, but over the past year added bigger quick-service restaurants like Shake Shack and Mod Pizza. 
This fall, Spiceology extended its partnership with Shake Shack to create more menu items. The partnership first began in January, with the burger chain using an exclusive Spiceology blend for its buffalo chicken sandwich. Currently, the company has a few dozen restaurant accounts using its products. 
Tony Reed, Spiceology's senior director of innovation and partnerships, said the Shake Shack collaboration also proved that foodservice can act as a marketing opportunity, Reed said. "We were able to use our logo in some of the Shake Shack marketing campaigns," he added, which helped create awareness of the spices brand among Shake Shack's big customer base. 
Reed said that part of why the brand is able to attract major players is the food startup's nimbleness and ability to unique, cost-cutting ingredients that bigger suppliers can't offer — especially during supply chain hiccups. "For example, we're utilizing vinegar powders, a trending ingredient in the food world, at scale," he said.
Reed said that another emerging ingredient Spiceology has experienced demand for from chefs and operators is mushroom powder. "We've also launched a white label blend program for chefs that helps cut time and costs," Reed said. The company is also working with brands on providing proprietary spice blends; Earlier this year, Spiceology collaborated with Maker's Mark 46's on whisky brand's four-spice blend launch.
B-to-B has become an increasingly popular channel for DTC brands looking to diversify revenue and increase order volume. Last year, home essentials brand Public Goods began ramping up its partnerships with hotels, restaurants and coffee shops – supplying them with Public Goods bath and kitchen products. Similarly, cocktail mix brand Owen's Craft Mixers has been on a mission to grow its hospitality-facing business by supplying bars, restaurants and stadiums. 
Still, resources are perhaps the biggest challenge for small challenger brands going up against national food suppliers. For instance, this year Spiceology hired another person to help operate the partnerships side as demand spiked. "I wish we had more bandwidth to create more of these restaurant relationships," Reed said. "But, we want to go into each year with one or two new quality partners that can help us grow while introducing our products to their customers." 
For Supernatural, which is just starting out as a food supplier, Hagen says there are endless possibilities to growing this arm of the business. 
"I'm hoping word-of-mouth will help us land more accounts in the coming year," she said. "Ultimately, I want Dunkin' and Tim Hortons as customers."