How Express is using its Edit stores to 'reinvigorate the brand'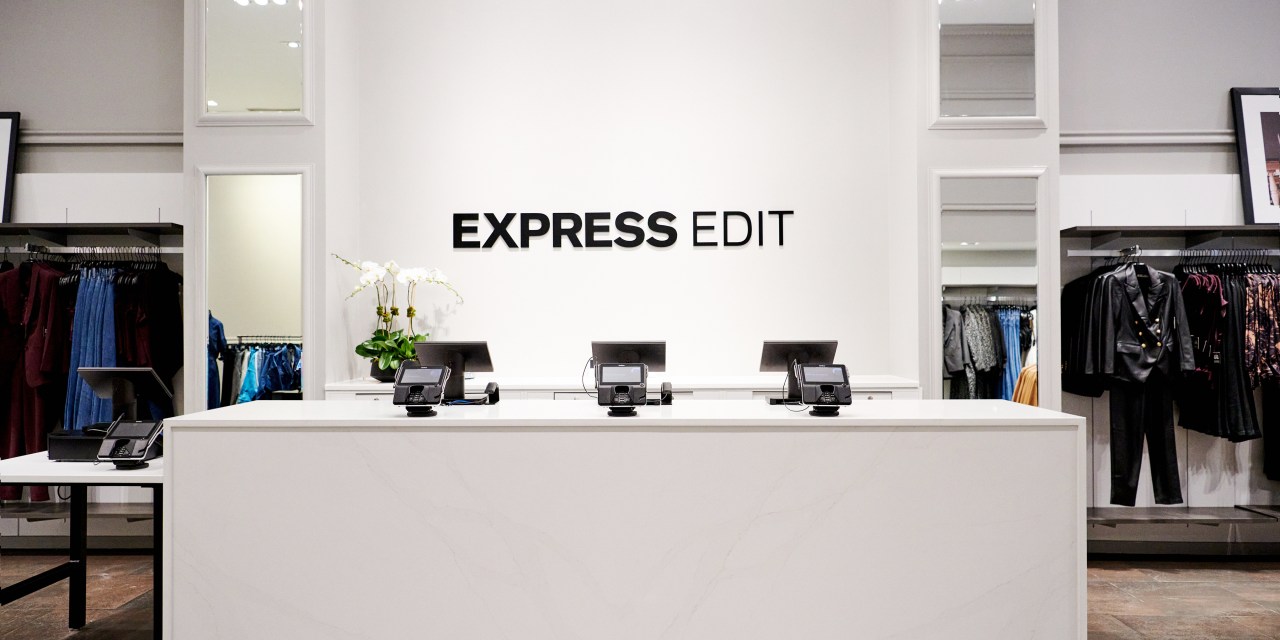 Express
For Express, the key to reaching new customers lies in its Edit concept stores.
Express Edit stores have a much smaller square footage than the company's main fleet, are located in high-traffic areas outside the mall and have an assortment tailored to whichever neighborhood it's in. It recently opened two Express Edit stores in New York City this month, in SoHo and the Flatiron District. By the end of the year, the company plans to double the number of Express Edit stores to 11.
Founded in 1980, the fashion retailer's Express Edit stores are a stark contrast to the company's mall-based history. The idea of Express Edit came from the company's fleet optimization plan, which aims to boost productivity in its stores. Express CEO Tim Baxter told Modern Retail that Express Edit was designed to win new customers and win back old ones. Express operates over 566 stores across its portfolio.
"Part of the ExpressWay Forward Strategy is transforming Express from being known as a store in the mall to a brand with a purpose powered by a styling community," Baxter said.
Roughly a year after the first Edit stores opened, Baxter said the plan is working. About half of Express Edit shoppers are new to the brand and about 20% more are customers who haven't shopped at the brand for years. The company's second quarter comp sales grew 1% from last year, marking its fifth consecutive quarter of positive same-store sales growth compared to pre-pandemic levels. Its consolidated net sales increased 2% year-over-year in the second quarter to $464.9 million.
"It really exemplifies what we're trying to accomplish from a customer perspective," Baxter said. "It also is, obviously, a really important way for us to reinvigorate our brand."
Each Edit store has a slightly different assortment based on local styles and trends within the area — a strategy that bares some resemblance to neighborhood retailers. The F Street location in Washington, D.C., for example, has an assortment skewed toward tailored clothing because it is located close to government buildings. Meanwhile, the new New York City stores have items that lean more towards casual styles like denim and knot tops as well as modern tailoring. 
The company said that it has a dedicated team at its corporate headquarters that are in charge of customizing and localizing Express Edit's assortment. Additionally, the company gains feedback from store managers, associates and field leadership to ensure each store accurately represents the style of each neighborhood. 
After initially opening a handful of stores last year, Baxter said the company learned which aspects of the store work, such as the size of the store. The company said a roughly 4,000 square-feet space was the ideal amount of space. Express Edit stores also have a more personalized approach to the styling and fitting room experience, which Baxter said the company has begun applying in some of its banner locations.
Express isn't the only company offering a shopping experience tailored to the needs of the local community. Kohl's said it is planning to open a concept store in Tacoma, Washington in November, with a product mix that leans toward an active outdoor lifestyle that's common in the area. Academy Sports and Outdoors' Panama City location in Florida, on the other hand, specifically offers a variety of fishing equipment that other locations might not.
"With an edited assortment, you get a much more accurate response to the product," said Gabriella Santaniello, founder of retail research firm A Line Partners. "You can do what they call a read and react so they can see what the customer likes and what they don't like." She said concept stores are a common method retailers use to generate excitement from customers.    
However, scaling these highly curated concepts can be hard to pull off, said Ethan Chernofsky, vp of marketing at Placer.ai. Retailers could have SKU proliferation issues due to stores having a different mix of products. Additionally, companies must have systems in place to properly monitor trends in different locations.
Still, Chernofsky said this is a direction many retailers are headed towards. "It is not about being one-size-fits-all anymore. Most one-size-fits-all brands are either dying or have already died," he said. "It's not just about convenience. It's about finding brands that we fall in love with and connect with."
Express is also updating stores across its entire portfolio. The company launched a pilot program to test out new customer experience strategies at 25 stores. The company is expanding the program to 70 stores in September. 
"We learned so much about styling experience, fitting room experience and customer service that we are applying those things across our entire fleet," Baxter said.