How Brunt and Case are gathering feedback from construction workers to build a new boot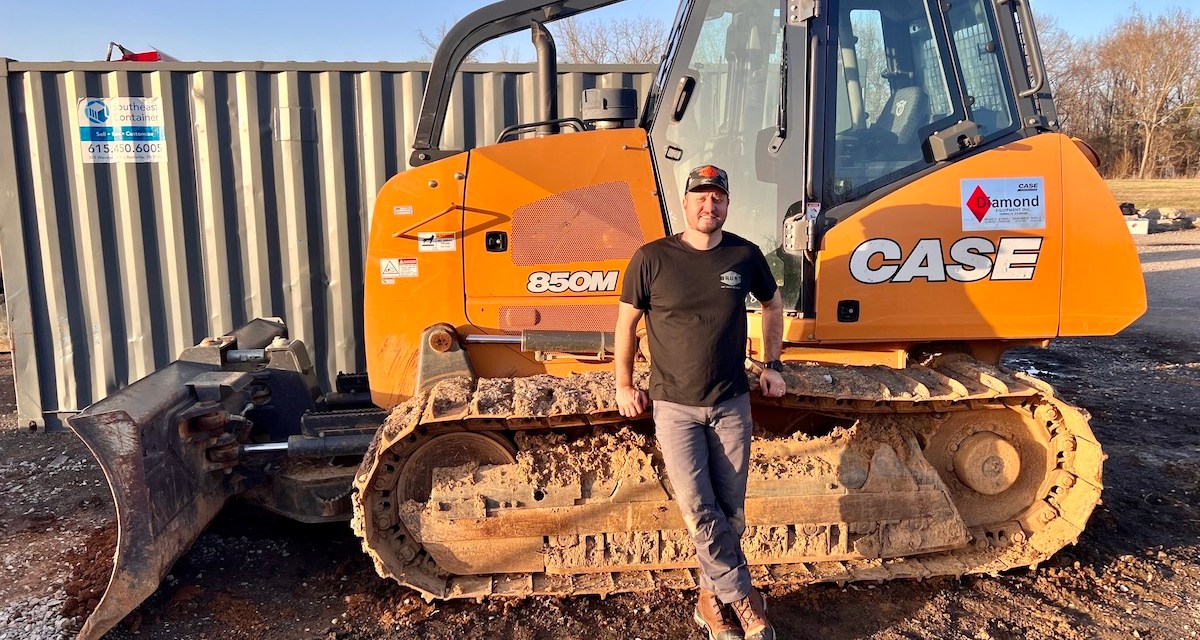 Via Eric Girouard
In an example of "when old meets new," a 181-year-old construction giant and a three-year-old workwear company are teaming up to create what they call "the ultimate operator boot."
Case Construction, which produces equipment such as compactors and forklifts, and Brunt Workwear, which produces boots for those in the skilled trades, are building a new shoe together that will debut in early 2024. In order to do so, the two companies will be gathering feedback from construction workers at one of the construction industry's largest trade shows.
The collaboration comes at a unique time for both companies. Case, which was launched in 1842 and began with machines that thresh grain, is in the midst of a new brand campaign to modernize its image. Brunt, meanwhile, has never partnered with another brand before on developing a product, but is looking to an established name like Case to reach new customers. While they wait to develop their new shoe, Brunt and Case have already begun selling a co-branded line of boots that come in two styles and two colors. They retail for $139 and $149 on Brunt's website and have high visibility yellow laces, a color that Case is using in its marketing campaign.
While Case has offered apparel before, it saw boots "as a natural extension" of its creative strategy, Rebecca Bortner, marketing director at Case, told Modern Retail. "We have a mentality of being operator-first focused as we think about the engineering of our machines," she said. "So what's good for the operator, the person who's piloting the machine, what do they need — everything from comfort to enhancing their productivity. And so the concept came about… [of] really thinking about boots as a part of that."
Although Case could have picked another legacy company to pair up with, it was drawn to Brunt's digital prowess, such as the way Brunt "come[s] across in all of their materials and the authenticity of their social presence," Bortner said. Bortner had seen Brunt's posts on LinkedIn and read about the company in business publications. "It stands out as such an energetic, humble and genuine brand that it just felt like a really good culture match for us," she said.
Bortner told Modern Retail that she reached out to Brunt via email and that its CEO Eric Girouard "responded right away." The two jumped on a phone call and soon made plans to build a boot unlike others on the market. Girouard told Modern Retail that it was "an honor that they chose us from the field of potential partners that they could have reached out to… For us to be on someone of this magnitude's radar is just super impressive."
The two officially kick off their partnership in Las Vegas on March 14 at CONEXPO-CON/AGG, the largest construction show in North America. There, Brunt will have a booth within Case's booth to collect feedback from workers about what they'd like to see in a boot. From there, Brunt will begin working with safety footwear designers on prototypes or flat designs, Girouard told Modern Retail.
In late summer, Brunt will go to Case's Tomahawk Center in Wisconsin, where heavy equipment officers will test the product. Brunt will then tweak the boots accordingly, conduct wear testing and fit testing and bring the boot to market. "This is a process that we run when we build all of our boots originally, except we're usually working with an individual in some specific trade to build boots that they wear," Girouard said.
Partnerships like the one between Brunt and Case can have "significant benefits" for both brands involved, Melissa Minkow, director of retail strategy at CI&T, told Modern Retail. The partnership introduces each one to the other's audience, which could be helpful for future sales. In addition, customers might have a "built-in level of trust" with one company that could spread to the second company, she explained. "Let's say, construction workers who are used to using Case equipment and prefer it… see this boot partnership, they kind of automatically will trust Brunt, because they will associate and carry over the trust that they have with Case to that Brunt brand," she said.
While every co-branded partnership is different, the ideal scenario is one in which both companies are "equally involved" and take the time to "really understand the demographics and the use cases for the audience," Minkow said. "If the intention is that they'll be wearing this boot when they're operating Case machinery, then to know how that machinery works and to understand the unique needs… of each boot is so fundamentally important," she added.
"I think there's just so many specific needs for this group that I'm really glad that the businesses are so closely in communication," Minkow added.