How brands like Graza are dealing with olive oil price hikes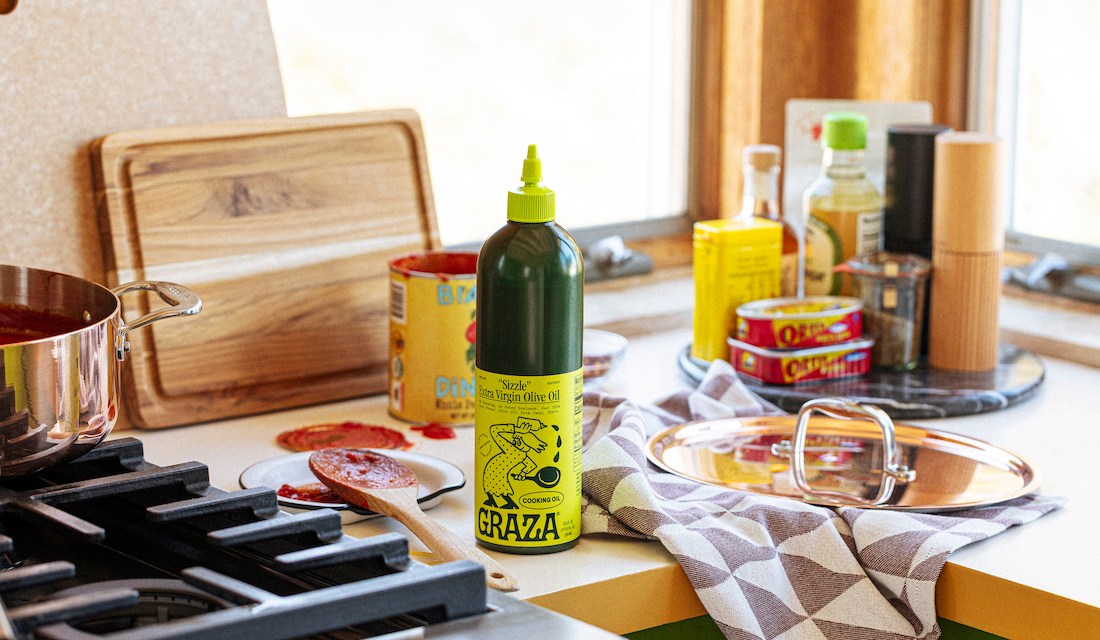 Graza
Olive oil prices are hitting record levels as dry weather impacts olive harvests in Europe, causing some boutique food brands to alter their formulations, or raise prices.
On Sept. 7, Graza increased its prices from $15 to $16 a bottle due to having to pay more than double the amount it was for olive oil imports since it started doing business in early 2022.
"If you let math run its course we would have doubled our prices. So we're still operating as efficiently as humanly possible for a young growing business, which is hard to do. But we raised our prices by $1," said Graza co-founder Andrew Benin.
The U.S.D.A said global prices for olive oil topped a record $8,900 per ton in August, "driven by the realization of off-year growing cycles and extremely dry weather in much of the Mediterranean." The overall production levels are down from the prior year, and the five-year average, the USDA says. Before this year, the record was $6,242 per ton set in 1996. Similarly, the International Olive Council that tracks price hike from key producing regions showed in September 2023 that the cost for extra virgin olive oil from Jaén, Spain, was 104% higher compared to the prior crop year.
As a result, Graza is one of the many brands being forced to reckon with how to maintain margins in the face of increased costs. The effects are global, with shelf prices increased 40.6% across brands at chains like Asda, Morrisons, Sainsbury's, Tesco and Waitrose, according to a recent analysis from The Grocer using Assosia data.
So far, Benin said, Graza brand hasn't seen a slowdown in sales as its per-bottle price increase begins to roll out. And overall, the brand is still growing, with the product slated to be in about 7,500 stores by the end of the year, including 3,000 Target and Walmart locations.
But even as brands pivot, the effect of supply chain price hikes ultimately hurt the end consumer, Benin said.
"Price increases throughout the supply chain are going to stack on to the last person in the chain, which is the end consumer," he said. "In olive oil, we're already operating at such a premium over other refined cooking fats like canola or soybean, or peanut or corn or even refined avocado oil, and so we can't go higher."
While there has been more rain in top-producing areas in recent weeks, there's no immediate signs of prices easing in part due to the production schedule. And though olive oil on the shelves now may been produced before the scarcity hit harvests, shoppers could see more price hikes through 2024 should conditions continue.
"While the intense price hike in the market will assist in further tempering demand this season, carrying to the next year will be scarce, especially in the [European Union],'" the USDA wrote in a briefing. "This will keep prices elevated into 2023/24, especially if the next harvest is similarly impacted by poor conditions."
With hopes to keep price hikes at bay, Graza's Benin said the brand dealt with smaller margins before deciding to do the $1 increase. The company also looked to find operational cost savings in areas like marketing and shipping.
"We took it on the chin for a long time, we had tighter margins," Benin said.
Katina Mountanos, founder of Kosterina, an olive oil brand that also makes vinegars and olive-oil-based skincare sourced from southern Greece, hasn't raised prices yet but is monitoring the situation. She launched the brand about six years ago, specializing in high-end oil that is squeezed from early harvest olives that provides a high polyphenol content, associated with antioxidant benefits.
Kosterina has long-term contracts in place with farmers in the region of Koroni, Greece, with guarantees on what to buy that supply most of the olive oil for its products. Because of those contracts, it locks in prices. Additionally, Mountanos said she feels somewhat insulated from the price hikes because of having multiple products than extra virgin olive oil.
But the status quo could change. Kosterina's organic everyday olive oil that sells for $18 for a 500 ml tin — one of its more affordable olive oils in the lineup and a hero product — uses olive oil that isn't part of a price-locked contract. If increases continue, Mountanos may have to raise the price next year.
"We're a small company. So we're not really in a place where we can take a huge loss on an item that has very high velocity, which that one does for us," she said. "The sad thing is that the increasing olive oil prices are going to push people, consumers and restaurants to use lesser quality and much less healthy alternatives."
In the face of potentially increased costs, Kosterina has expansion plans in place. In addition to its DTC sales, the brand is also growing its wholesale operations. It's set to be on shelves in Sprouts in early 2024 and will be packaged in an aluminum tin, which allows for low pricing. The tin will sell for $23, compared to $30 for a similarly-sized glass bottle, Mountanos said.
Beyond price hikes, the current situation is leading some brands to find new oil sources. Graza, for example, typically sources from Jaén, one of Spain's most olive-rich producing regions. But the drought led Graza to purchase from other regions like Cordova due to supply issues.
"There's a lot of ways to make your products cheaper," Benin said. "The cost and the work is in doing it right and challenging some of these bigger players at scale with single-varietals, single-origin, product. That's the art in it, and we're proud to pay that cost."
Still, startups hope the rising prices won't dampen demand. Kosterina's Mountanos expects sales to perform well in the fourth quarter because of the holiday gifting season. Kosterina offers gift boxes and has a corporate gifting service that helps drive awareness and repeat business.
And Kosterina continues to put out marketing efforts that show the wide variety of uses of olive oil, and educate consumers on how it's made, best practices for bottling and storing and health benefits.
"We're trying to educate the people that cooking and baking and consuming olive oil are actually extremely healthy," Mountanos said. "Our goal definitely is to keep the price as accessible as possible while still maintaining these very high quality standards."