Following its acquisition by L'Oréal, Aesop continues its retail footprint expansion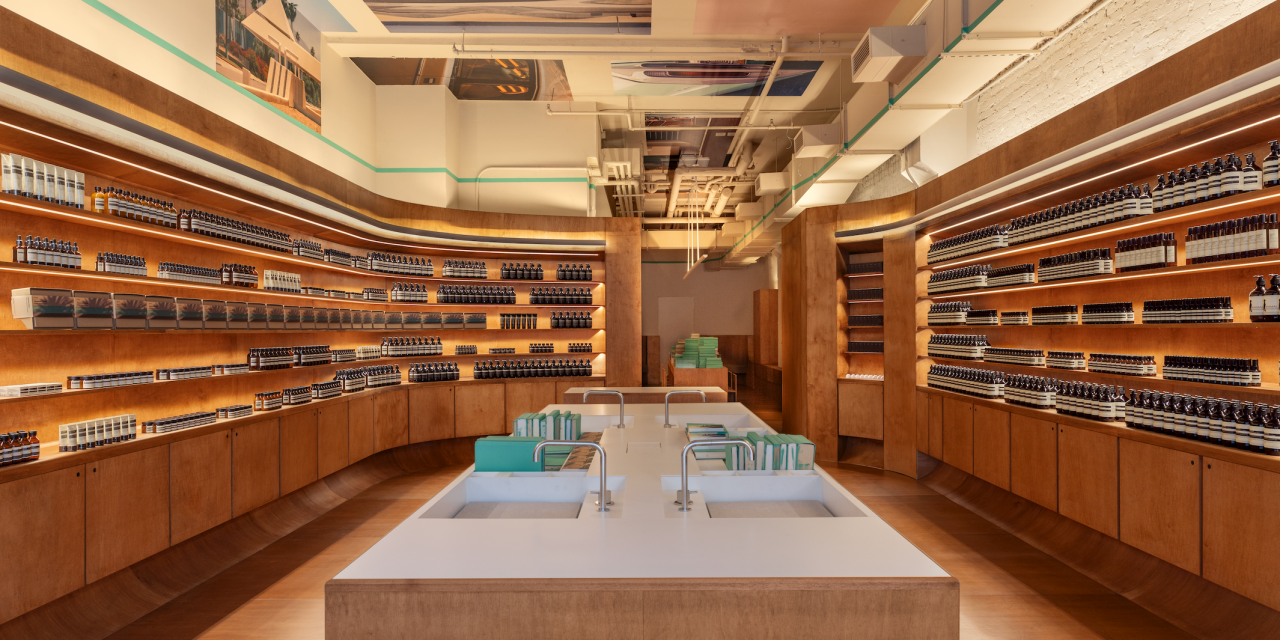 Aesop
Luxury beauty brand Aesop has been on a store-opening spree.
This year, the company opened four new stores in New York City, bringing its total store count in the city to 14. Abroad, the company unveiled a new store in Rome, Italy in July and Hong Kong's Causeway Bay in May. Towards the end of the year, it plans to open one more store in the Seattle area.
The Australian brand is setting its eye on expanding its physical footprint. Sylvie Kilduff, regional general manager at Aesop, says the brand sees New York City as the "door" to allowing Aesop to expand its presence in the United States. In April, Natura & Co announced that L'Oréal was acquiring Aesop in a deal worth $2.5 billion — the largest acquisition the beauty giant has made on record.
"Aesop sees New York as a strategic expansion step to tap into a broader American audience and market," Kilduff said.
Founded in 1987, Aesop is headquartered in Melbourne, Australia and has well over 100 unique formulations, including popular products like the Resurrection Aromatique Hand Wash, Purifying Facial Exfoliant Paste and Geranium Leaf Body Cleanser. From 2012 to 2022, Aesop's sales have grown from $28 million to $537 million. At the time of its acquisition, Aesop boasted 395 stores in 29 markets.
Apart from stores, the company has also built partnerships with hotels over the years. Last year, it partnered with the Waldorf Astoria brand to make some of Aesop's signature products the in-room toiletries for the hotel and resort properties.
In the U.S., the company currently has stores in 16 states, including Illinois, Pennsylvania and Texas. Kilduff said that apart from New York, Aesop sees more opportunities for retail expansion in places like Los Angeles and San Francisco. The company opened its first store in the U.S. back in 2010 in New York's Nolita neighborhood.
"We're very selective in how we open our stores," Kilduff said. "We typically make sure first that we have the right visibility for the brand and good foot traffic." She said the company is mainly looking at opening stores in cosmopolitan cities and cultural hubs, where most of the brand's shoppers typically live.
Many of Aesop's stores follow a uniform format, with warm lighting and sinks for customers to sample products in. They are usually around 1,000 square feet in size. Aesop's new Gansevoort Street store in New York, however, is one of the company's largest stores to date at 2,000 square feet, according to landlord Aurora Capital Associates. Kilduff said that the company plans to invest further in these large-format stores.
"It's allowing us to express the brand in a fuller way," Kilduff said. "In the case of Gansevoort, it allows also for a much more immersive experience. If you have a chance to go to the store, you will [see that] it has multiple spaces." Aesop also has a large-format store in London's Regent Street, which opened last year.
Rebekah Kondrat, founder of Kondrat Retail, said that stores play a crucial role for a brand like Aesop. Over the years, the brand has built a cult-like following among millennial shoppers who saw the brand as aspirational. Kondrat said a larger store format gives room for shoppers to explore the brand without feeling the watchful eyes of store associates.
"The advantage of having a large format is you have a lot of [room to] play in terms of your store layout and your merchandising," Kondrat said. "If you have a 500-square-foot jewel box, there's not really a lot of options."
Kondrat added that by having so many stores in one city, Aesop can be efficient with its staffing. If one store runs out of product, she said another store could share its inventory. However, by having too many stores in one area, the brand also runs the risk of cannibalization.
Aesop's Kilduff said that each store is an avenue for the brand to connect with communities in different neighborhoods. She added that the company regularly hosts events and community-based initiatives in its stores, such as the 2023 Aesop Queer Library, where Aesop provides free books by LGBTQ+ authors.