DTC Briefing: What startups can learn from wholesale-reliant brands' attempts to go DTC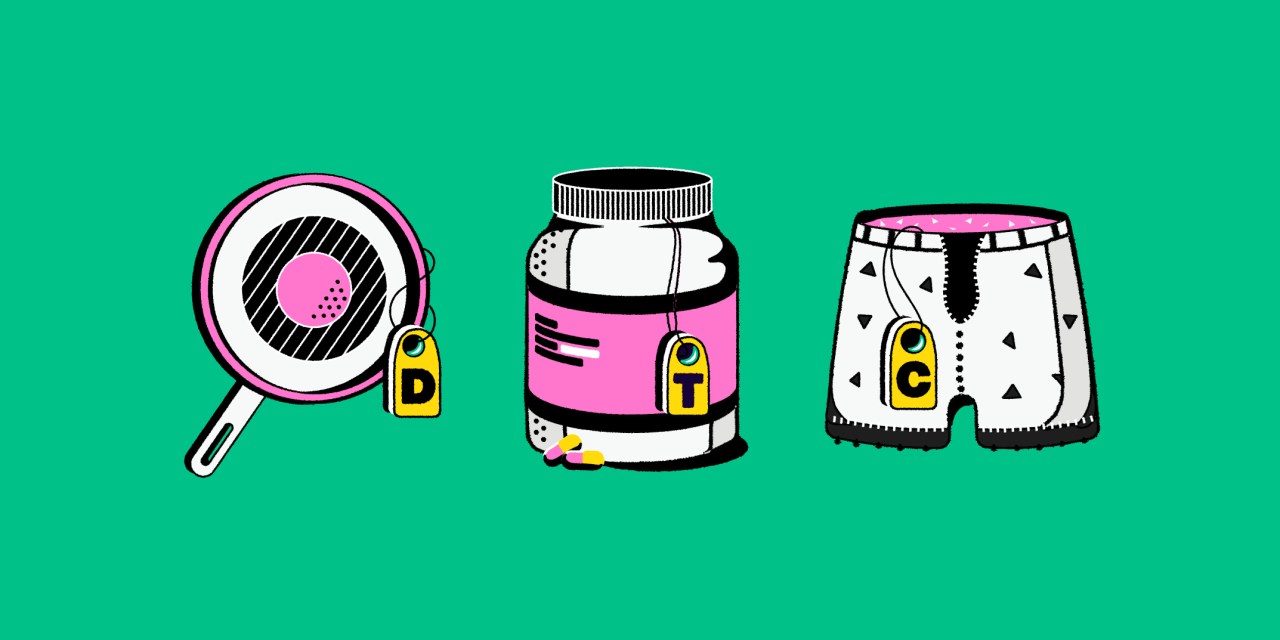 Illustration by Ivy Liu
This is the latest installment of the DTC Briefing, a weekly Modern Retail column about the biggest challenges and trends facing the volatile direct-to-consumer startup world. To receive it in your inbox every week, sign up here.
As more so-called direct-to-consumer startups look to grow their wholesale businesses, legacy brands are moving in the opposite direction.
This retail earnings season, more brands like Brooks, Steve Madden and Under Armour are breaking out sales statistics for their DTC businesses, as growing these divisions is becoming a top priority. Privately-held Brooks said it generated record global revenue in 2022 thanks in large part to its DTC business, which grew 16% year-over-year. Canada Goose, meanwhile, unveiled a new five-year strategic plan earlier this month, in which the company called for its DTC business to generate 80% of its sales by fiscal 2028. Before going DTC, these retailers previously sold largely through a myriad of department stores, big-box retailers and specialty chains in their categories. 
For brands that have spent years building out their DTC divisions, like Nike and Levi's, they've been able to gain greater control over the direction of their businesses. In the most recent quarter, direct sales — including through both owned stores and e-commerce properties accounted for roughly 41% and 39% of Nike and Levi's revenue respectively.
According to a report from Insider Intelligence, "established" brands — defined as those that didn't start DTC — are on track to do $138 billion in e-commerce sales from their own websites this year. That's more than three times the amount of revenue that DTC startups are expected to bring in from their own websites in 2023. Those statistics are indicative of a growing realization in the retail space: legacy brands, not startups, are increasingly setting the blueprint for what a modern DTC brand looks like.
Not every legacy brand has been able to grow a DTC business successfully, but those that have share similar qualities. They have a strong brand identity that enables them to withstand the short-term hit their businesses will take from scaling back wholesale partnerships. They've also invested in building out a variety of retail concepts, and experimenting with new digital sales tactics.
Read on for more about what startups can learn from legacy brands that have gone DTC. 
A large owned-store network is a necessity
One of the biggest steps many legacy brands are making to grow their DTC businesses is opening more of their own stores. Canada Goose, for example, plans to more than double its retail footprint in the next five years.
Many of these legacy brands are taking a similar approach to startups when building out their store networks: testing out markets first with pop-ups or experiential concepts, and opting to open stores in cities or states where its brand loyalists are most likely to be located. Canada Goose said that, right now, it doesn't have any plans to open stores in warmer weather states like Texas, Virginia and Florida. 
But what makes the store networks of legacy brands different from those of DTC brands is that they are able to open a larger fleet more quickly — thanks to a bigger balance sheet — and have a greater variety of store concepts.
Nike, for example, has experimented with a variety of store concepts over the years as it has sought to build out its DTC business. Nike has built out one of the biggest DTC businesses among established brands, reporting $5.4 billion in direct sales during its last quarterly earnings report in December. 
In 2018, it opened Nike Live, a story that was exclusively for customers who had downloaded Nike's app. Other store formats Nike has experimented with over the years include include House of Innovation, the company's name for its multi-story flagship stores in major metropolitan cities, and Nike Style, a store concept that the company first experimented with last year in Seoul that's more focused on lifestyle products like apparel and accessories, and has a content studio. 
In its hometown of Toronto, Canada Goose opened an experiential store concept called The Journey, where customers can test out what one of the brand's jackets feels like in a fake snow storm. 
While young DTC startups may be years away from being able to afford a multi-story flagship in a major metropolitan city, these concepts still speak to the challenge that, more broadly, modern brands face in building out a retail fleet: what makes a store successful depends on the market.
Dan McCarthy, assistant professor at Emory University's business school, noted that investing heavily in a store fleet often requires legacy brands to build out teams with different areas of expertise. (McCarthy, it is worth noting, sold his data analytics startup Zodiac to Nike in 2018). 
"For example, site selection — I think the first handful of stores can be relatively easy to select, but that is not a trivial thing to do," McCarthy said. "And then obviously the management of a fleet of stores." 
An embrace of traditional brand marketing
Andrew Lipsman, principal analyst at Insider Intelligence, said that some of the brands that have been able to most successfully build out their DTC businesses, such as Nike, Levi's and Crocs "have strong and very identifiable brands."
In January, Levi's said that it posted record fourth-quarter DTC sales in the U.S., with direct sales now making up nearly a third of Levi's business. Meanwhile, Crocs reported during its fourth quarter earnings that DTC revenue was up 62% year-over-year. 
Lipsman said that one of the biggest advantages digitally-native startups like Warby Parker, Casper and more had over incumbents was that they were able to master customer acquisition through social media. However, as customer acquisition costs through channels like Facebook and Instagram have increased, the tide has once again shifted. Building out a successful DTC business today requires not only mastery of digital customer acquisition, but also brand marketing. 
While there's no one uniform definition of what constitutes a "strong" brand, Lipsman said that what unites the legacy brands that have been able to successfully go DTC is that they have strong brand awareness, and products that customers actively search. Like Nike with its sneaker drops, these brands churn out exclusives that customers are clamoring to get their hands on. 
They've also been able to successfully partner with influencers or other hot companies to grow their brand cachet, as Crocs has done with its collaborations with Justin Bieber, Post Malone and more.
In other words, "these are traditional brand marketers first," Lipsman said. 
A willingness to experiment with digital acquisition strategies beyond paid media
The legacy brands that have embraced DTC aren't just building out sleek websites with seamless returns — those are table stakes for today's DTC brands. They're also investing in unique digital experiences that help them acquire customers online, without having to resort as heavily to paid social media marketing.
"One of the benefits of that is it can allow you to keep your customer acquisition costs low on a per-purchase basis," Lipsman said. 
Nike, for example has essentially built out its own media properties with its suite of mobile apps — which include its core Nike app, SNKRS, Nike Run Club and Nike Training Club. In 2021, the company said it had over 300 million app users, the last time Nike broke out such a number.
Levi's, for its part, has invested in digital tech to help keep its return rates low — something that's critical for apparel business in particular. Last year, it added new sizing features to its website, such as a predictive fit algorithm that will suggest a particular size for customers based on height, weight and gender. Levi's also offers app users access to some exclusive collaborations, as well as customization features. 
All of this experimentation comes at a cost. In 2019, at the height of its "Nike Direct" initiative, the company spent $1 billion in investing in "new capabilities and consumer concepts."

While these tactics aren't something that DTC startups are able to replicate overnight, they speak to the fact that running a modern DTC business now entails investing in multiple online and offline growth initiatives at once.
As McCarthy put it, "it is not cheap to really build out a successful DTC business." 
What I'm reading
Lively

founder Michelle Cordeiro Grant is back with a

new startup

, an energy drink brand called Gorgie. 

Why some DTC brands like

Stix

and

Susan Alexander

are

reducing their influencer marketing budgets

.

The Financial Times has a

deep dive

into the struggle of the soul of the

B Corp

, as some early supporters allege the certification has gotten too accessible.
What we've covered
Inside the rise of the

founder-influencer

: The founders behind

Stryx

,

Fly by Jing

and more sound off on how more startup CEOs are feeling pressure to grow their social media followings. 

Jewelry brand

Verlas

decided to give

Pinterest advertising

another go this holiday season, and said it has been able to use the social media platform to successfully reach more male users looking for gift ideas. 

As

Olaplex

seeks to calm online furor about the effectiveness of its products, more brands are

facing lawsuits

alleging false or misleading advertising, which could harm their brand perception in the long run.