Earnings
// January 26, 2023 ■ 4 min read
Levi Strauss posts record Q4 DTC sales in the U.S.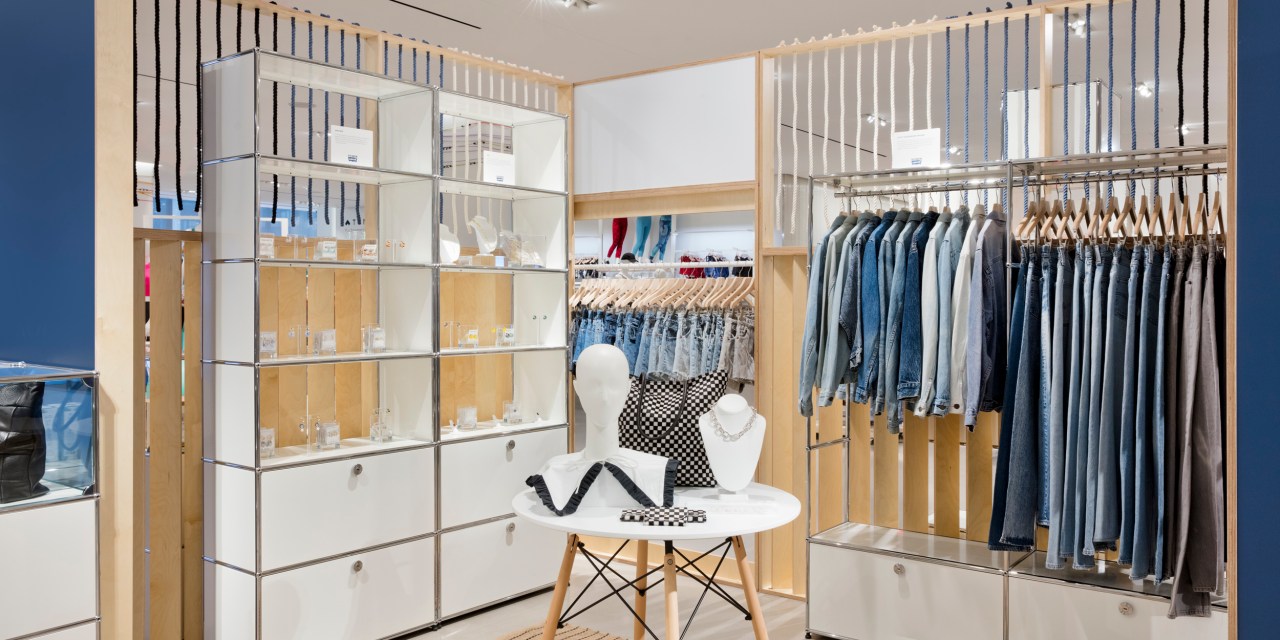 Levi Strauss & Co. is making progress on growing its DTC business as it gears up for the 150th anniversary of its classic 501 jean.
In the U.S., Levi's direct-to-consumer business broke a record for fourth-quarter revenue from stores and e-commerce, according to CEO Chip Bergh. Excluding Russia, where the retailer has suspended sales since early last year, Levi's quarterly global revenue from DTC was up 10% on a constant-currency basis. Globally, DTC sales jumped 18% during the 2022 fiscal year, mostly in the Americas and Asia, Bergh explained on an earnings call Wednesday.
The jeans maker has made growing its DTC channels a priority for several years. Globally, it bumped up its number of owned-and-operated stores by 19% over the course of the year, and it now has more than 130 NextGen locations with a smaller footprint. This quarter, sales from DTC stores and e-commerce made up 31% and 8%, respectively, of Levi's total revenue — a 2 point increase on both sides from the third quarter. The company wants to expand its DTC business to make up 55% of total sales by 2027.
Wholesale, however, proved one of the biggest challenges for Levi in the U.S. In the Americas, Levi's net revenue from wholesale declined 10%, due to "supply chain challenges and retailers rebalancing inventory in the U.S.," according to the earnings release. Bergh said that globally, wholesale was down 4%, "largely because we were unable to fulfill approximately $40 million in orders due to capacity challenges at our U.S. DCs [distribution centers]." During the third quarter, Levi slashed its guidance for the year, citing supply chain issues.
Year-over-year, Levi's revenue for the fourth quarter was down 6% on a reported basis, and its gross profit was $887 million, compared to $974 million a year ago. However, for the full fiscal 2022, its revenue was up 7% on a reported basis, reaching $6.2 billion.
Industry-wide, demand for denim is holding up, although it slowed down from the first half of 2022 to the second half of 2022, Sunny Zheng, an analyst at the global advisory and research firm Coresight Research, told Modern Retail. Many shoppers had pent-up demand for jeans at the beginning of 2022 after wearing athleisure and activewear in 2020 and 2021, Zheng explained.
Coresight Research estimates that the jeans market grew 6% in 2022, faster than its estimate of mid-single-digit growth of the total clothing market. For 2023, "we expect the market to decline slightly, but still outperform the total clothing market," Zheng said. Coresight Research foresees the jeans market fully normalizing in 2024 and beyond, although Zheng added that "we do not expect the share of jeans versus the total market to recover to levels closer to those seen before the pandemic."
With this in mind, Levi has been able to make progress on diversifying its merchandise away from denim jeans. Nearly 40% of Levi's 2022 revenue included clothing in other categories, such as chinos, active leggings, tops, dresses, footwear and accessories. Revenue from women's clothing — a particular area of focus for Levi — grew 13% for the year.
Zooming out, Levi's earnings are "quite mixed," Jessica Ramírez , senior research analyst for Jane Hali & Associates, told Modern Retail. Based on denim's popularity in the first half of 2022, the first half of 2023 "does seem a bit tough, because there are tough comparisons year over year," Ramírez said. However, she added, the second half of the year could pick up. "Their brand has really good strategy [and] definitely resonated with the consumer. So that bodes very well for them."
Levi is confident, as well. "With exciting initiatives planned through the year, including rolling out a robust and innovative product pipeline and a powerful brand marketing campaign, we remain well-positioned to continue to grow market share and drive category growth in the year ahead," Bergh said. The company is also making headway on leadership changes, bringing in Michelle Gass as president and promoting Harmit Singh to chief financial and growth officer.
To mark the 150th anniversary of its 501 jeans, Levi will be doing a series of limited-edition product drops, one of which includes the 1873 XX waist overalls, the very first pair of Levi's blue jeans ever sold. The company is also launching vintage fits of its men's 1954 501 jeans and its women's 501 jeans from 1981. Additionally, Levi is partnering with celebrities and influencers around the 501 and will run advertisements during the Grammys next weekend.