DTC Briefing: How strategic acquirers have changed their views on digitally-native startups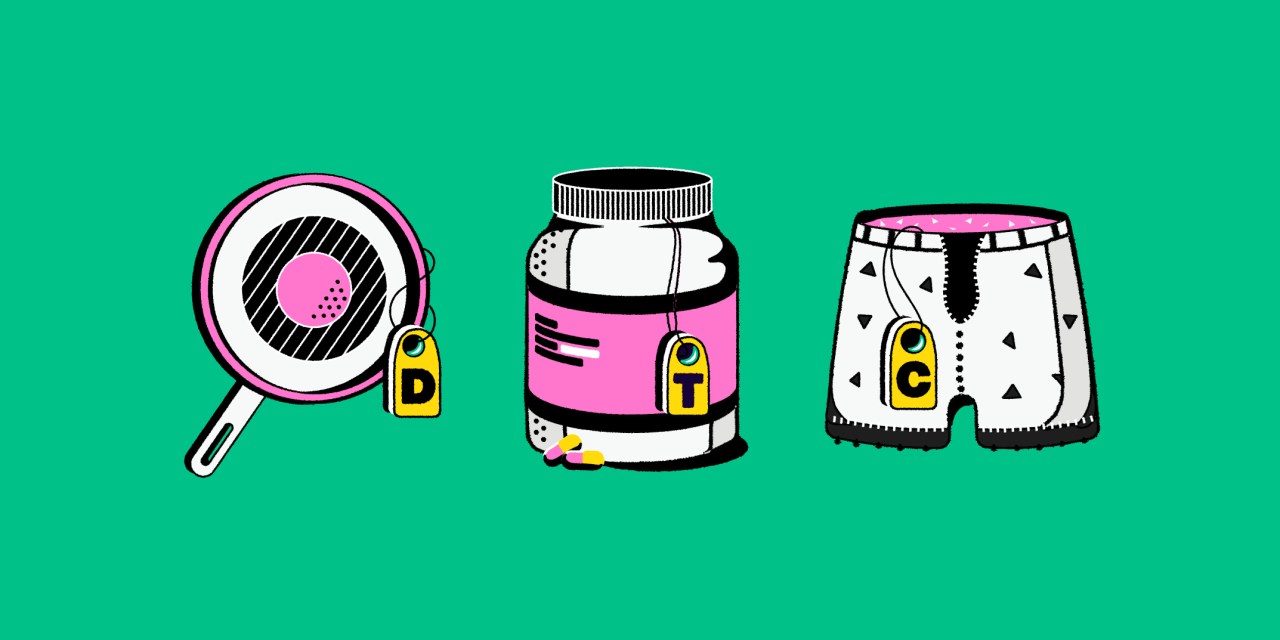 Illustration by Ivy Liu
This is the latest installment of the DTC Briefing, a weekly Modern Retail+ column about the biggest challenges and trends facing the volatile direct-to-consumer startup world. More from the series →
Retailers are increasingly looking to offload some of the direct-to-consumer startups they've acquired over the past five years, which could spell trouble for brands looking for an exit. 
Earlier this month, Walmart announced that it was selling Bonobos, the menswear startup it acquired in 2017, to brand management firm WHP Global and Express. In 2017, Walmart bought Bonobos for an eye-popping $310 million. But five years later, the big-box retailer offloaded the startup for just $75 million. And last week, multiple news reports emerged indicating that Lululemon is looking to sell Mirror, the at-home fitness startup it acquired in 2020. 
Put together, these moves indicate that big retailers now have a different standard when evaluating whether a certain startup makes sense for their portfolios. As investors and investment bankers told me, strategic acquirers are prioritizing profitability now much more than ever before. And, they're also looking to acquire brands that help them reach a new demographic, but also fit much more straightforwardly with the retailer's core competency. That is, retailers want to see a very clear path as to how they can efficiently scale any startup they acquire, such as by helping that brand get in more retail doors, or improving their supply chain. 
"I think strategics are much more careful and skittish about what they invest in," Arash Farin, managing director of The Sage Group told me. 
The old playbook
The mid 2010s were marked by a few runaway DTC success stories: Unilever acquired Dollar Shave Club for $1 billion in 2016; Walmart followed that up a year later by acquiring Bonobos. 
In both cases, these large conglomerates made it clear that they were acquiring Dollar Shave Club and Bonobos in order to learn how to build and scale new brands entirely online. 
"In addition to its unique consumer and data insights, Dollar Shave Club is the category leader in its direct-to-consumer space. We plan to leverage the global strength of Unilever to support Dollar Shave Club in achieving its full potential in terms of offering and reach," Kees Kruythoff, then-president of Unilever North America, said at the time. 
Meanwhile, Walmart acquired Bonobos not only to get access to the brand — the big box retailer also said at the time that founder Andy Dunn would be in charge of launching and scaling new digitally-native brands for Walmart. 
But Dollar Shave Club and Bonobos were both plagued by profitability concerns. "Dollar Shave Club has not delivered the results we were expecting. The economics of the direct-to-consumer channel changed," Unilever's press office told Business Insider in a statement in 2022. Unilever executives said they also found it more difficult than expected to expand Dollar Shave Club into non-razor categories. Unilever still owns Dollar Shave Club, but founder Michael Dubin departed the CPG conglomerate in 2021.
Bonobos, meanwhile, was still unprofitable as of 2019, at which time Recode reported that Walmart was looking to sell off many of the digitally-native brands that the company had acquired years earlier, like Modcloth and Eloquii, the latter of which Walmart also sold off last week. At the time, Walmart executives believed they could learn from these digitally-native brands how to launch new lines and scale them online.
But ultimately, Walmart discovered that it was more efficient to scale new brands that could leverage Walmart's reach both in store and online. Dunn helped Walmart launch Allswell, a new luxury mattress brand was sold through a separate website. But these days, although Allswell still maintains a separate web page, it can be found on the main Walmart website. 
In other cases, like Lululemon's acquisition of Mirror, strategics acquired DTC brands to enter entirely new categories. Lululemon hoped to boost sales of Mirror by selling it through the apparel retailer's already vast store fleet. But Mirror has struggled to gain wider adoption in part due to its hefty price tag. In the time that Lululemon has owned Mirror, it has slashed the price of the at-home fitness device to $995, down from $1,495.
Farin said that what has changed now compared to the early 2010s is that there are more competing DTC startups than ever before, in various categories from jewelry to footwear. "How do you tell one brand from the other? How do you know where there's loyalty?" he said.
Therefore, he said, acquirers are increasingly scrutinizing NPS scores, a high repeat purchase rate, an LTV curve that is "moving up and to the right" in order to determine brand loyalty. And, they are also increasingly prioritizing metrics like first order profitability. 
Jackie Dunklau, partner at consumer growth equity firm Aria Growth Partners, meanwhile, said that she feels like the sentiment among strategic acquirers today is "I don't want to take a big risk anymore, I want to do acquisitions that are really down the fairway for us."
What she means is that strategics are looking for acquisitions where big brands can leverage their existing knowledge in areas like supply chain or international retail distribution in order to scale a brand.
Dunklau said that while she also feels like strategic acquirers are no longer looking to acquire startups solely for the sake of teaching them how to sell online, that bigger retailers are looking to startups to help them figure out where young consumers are discovering new products – that is, on social media – and what makes them loyal to certain brands. 
"I feel like that's what attracts [strategic acquirers] to DTC," Dunklau said. "Now, you have to layer on top of that, like, does this make sense for my core business capabilities?"
The new case studies
There are a couple of recent success stories for brands looking to better understand what big retailers are looking for. Last fall, Victoria's Secret acquired digitally-native lingerie startup Adore Me for $400 million. Around that same time, CPG conglomerate Church & Dwight acquired Hero Cosmetics (which Aria Growth invested in) for $630 million. 
In both cases, part of what attracted big brands to these startups was their unit economics. Hero's trailing 12 months EBITDA at the time it was acquired was $40 million, with a 40% EBITDA margin. Adore Me, meanwhile, said it has been profitable since 2018. In a press release, Victoria's Secret touted Adore Me's 1.2 million active customers, its home try-on option, and its subscription offerings as features that made Adore Me an attractive acquisition target for the lingerie giant. 
Hero and Adore Me's offerings also weren't that far off from what Church & Dwight and Victoria's Secret already sell. While Church & Dwight didn't have an acne patch product, it said it would fold Hero into its existing Specialty Hair and Skin portfolio. Meanwhile, Adore Me has proven popular with Gen Z, a demographic that Victoria's Secret increasingly wanted to reach.
In its press release announcing the Hero acquisition, Church & Dwight said its main focus would be on expanding Hero's limited distribution by leveraging the CPG conglomerate's existing "U.S. retailer relationships and international footprint." Meanwhile, the focus for Victoria's Secret was on leveraging "Adore Me's expertise and technology to continue to improve the Victoria's Secret and PINK customer shopping experience and accelerate the modernization of VS& Co's digital platform. 
Despite these success stories, the other big wrinkle DTC startups have to contend with right now is how the appetite of strategic acquirers could change should the economy worsen. 
"People aren't expecting a lot of deal flow and a lot of M&A to happen. No one's feeling like, oh, man, I have to go show, acquisitions or I have to go deploy capital or do anything," Dunklau said. "[Acquirers] are just being really patient and wanting to make sure it's the right fit." 
What I'm reading 
Beauty Independent interviewed over a dozen beauty executives and investors, including the founders of

Three Ships Beauty

and

Mad Rabbit

, to talk about what

product-market fit looks like to them

. 

Ad Age looks at how DTC brands like

Jolie

and

Outlines

are

trying to disrupt the shower

.

One week after Amazon CEO Andy Jesse's letter to shareholders, indicating that the e-commerce giant would deprioritize

Whole Foods

going forward, the company announced

layoffs

in its upscale grocery chain. The layoffs impacted Whole Foods' corporate division, as the grocery chain consolidated regions. 
What we've covered 
Away

is opening its

first new retail store

since 2021. The new store, opening next month, will be in San Jose California. The luggage brand says more new stores are on the way as it makes retail expansion a big priority this year. 

Some agencies told Modern Retail that their clients are cutting

Pinteres

t advertising spend altogether. As the economy worsens, brands are deciding what marketing channels they can live without, and for some

Pinterest isn't making the cut

. 

Fitness studios and spas are becoming increasingly popular

retail partners

for health and wellness brands like

Bearaby

and

Atwater Skin

. 
Want to discuss this with our editors and members? Join here, or log in here if you're already a member.