DTC brands are partnering with wellness studios for brand awareness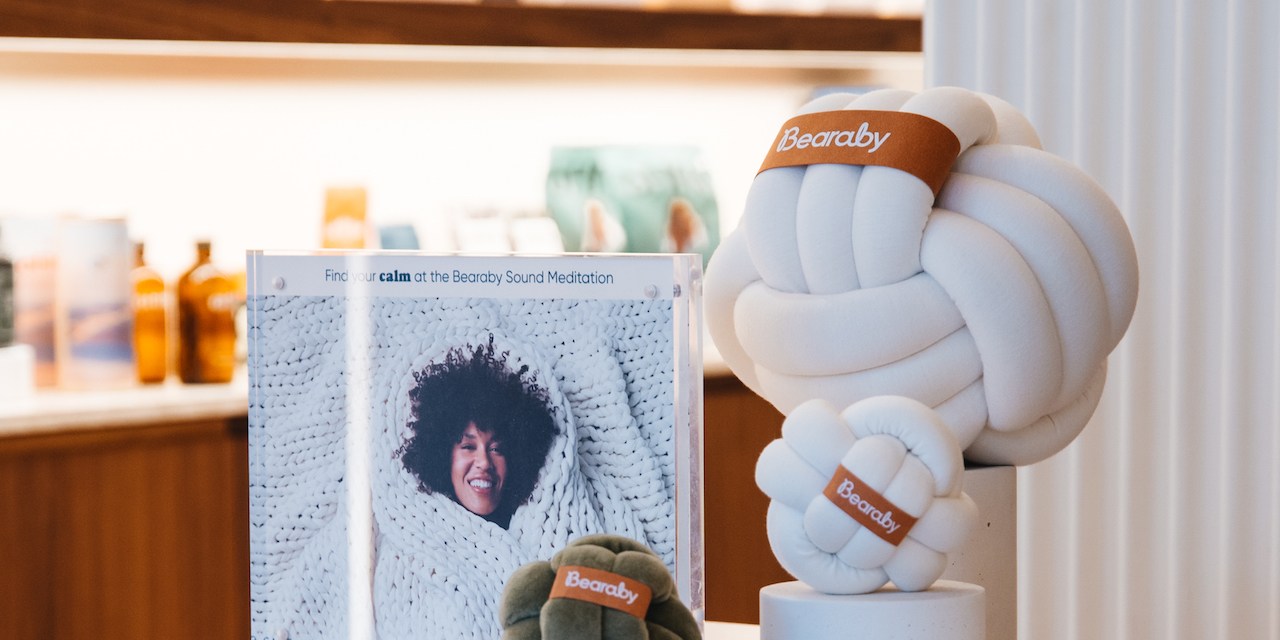 DTC companies are looking to wellness destinations as a discovery channel.
This month, direct-to-consumer weighted blanket brand Bearaby unveiled a partnership with Sage + Sound in New York City, a studio that offers spa services and wellness workshops. The collaboration brings Bearaby's products to Sage + Sound's meditation classes and merchandises them in the studio's shop. 
With this partnership, Bearaby is experimenting with a new way to tell people about its products. Rather than simply placing its hand-knit blankets on retail shelves, Bearaby is instead trying to tell people about the benefits its products offer during mindful activities and relaxation sessions. For other DTC brands that are trying to diversify the types of retail formats they enter, spas and wellness spots put their products in front of an audience already seeking out health solutions. 
Indeed, Bearaby founder and CEO Kathrin Hamm told Modern Retail that the company is trying to find more creative ways to reach potential customers. Last December, Bearaby hosted a New York City "nap pod" holiday pop-up, where customers can try the weighted blankets while relaxing during shopping trips.
Now, the brand wants to further harness the power of the latest wellness trends to showcase the products. Starting April 20, the company is hosting a sound meditation series at the newly-opened studio Sage + Sound. The partnership entails the use of Bearaby's blankets during the meditation classes, as well as merchandise displays of Bearaby blankets and accessories in Sage + Sound's storefront. Classes run through June and cost $55 per session. 
"By hosting regular wellness classes and building a network of brand ambassadors, we can tap into the growing interest in wellness practices and connect with customers on a deeper level and foster a loyal community of wellness enthusiasts," Hamm said. 
Hamm noted that meditation studios have grown in popularity in large cities like New York,, in reaction to increasing interest in mindfulness and other wellness practices. "This trend has opened up new opportunities for home wellness brands like Bearaby to connect with customers and offer them immersive wellness experiences," she added. Following the unexpected sales spike from the holiday pop-up, meditation was a good next step to offer "a more sensory-focused experience," Hamm said.
The company plans to roll out the meditation program nationwide, and is onboarding 40 more studio partners this year.
Hamm said the displays at the front section of Sage + Sound offer another point of sales for the company. The majority of Bearaby's business is still online, and the Sage + Sound presence allows visitors to touch the blankets firsthand and learn more about them from staff. The products are displayed alongside other DTC health and wellness brands sold at Sage + Sound. They include digestive health supplements brand Arrae, along with sexual wellness brands Maude and Foria.
"Since announcing the partnership, we've received overwhelmingly positive feedback and expect our upcoming classes to be fully booked with a waitlist," Hamm said. "We even had someone call in from Vermont saying they were so excited that they are planning a trip into the city for an upcoming class." 
For Sage + Sound, the partnership presents another unique offering by the studio, which opened in December. In an email statement, co-founders Lauren Zucker and Lacey Tisch said Bearaby being a female-founded brand with a sustainability mission shares similar tenets to Sage + Sound's ethos. "Bearaby's weighted blankets also add an element of physicality to the already elevated sound meditation experience we offer in The Study, enhancing the overall experience even further," the duo said.
A number of wellness studios and startup day spas have also started stocking products from direct-to-consumer brands. Meditation and yoga center The Well — which has locations in New York, Miami and Connecticut — carries a curated selection of DTC health and beauty brands. The variety features products from immunity support brand Beekeeper's Naturals and Wthn, a brand that specializes in acupressure and Chinese acupuncture tools.
Vspot, a women's sexual health studio, is another wellness spot that is looking to carry more products from startups. Vspot for example, recently began carrying products by feminine care brand Ina Labs, which launched in October. At Vspot, the idea is to build a marketplace that gives visitors a wide array of brands to choose from during their Vspot treatment visit; Vspot also has its own line of feminine care products, which will now sit along a number of new DTC brands.
At the same time, Ina Labs — which sells a variety of intimate skin care products — is strategically choosing retail partners that can educate customers on the benefits of clean intimate care. Susan Goldsberry, co-founder and chemist behind Ina Labs, said studios like Vspot are "an ideal partner for consumers to discover intimate skincare products because of its highly specialized, educational approach to serving women's intimate health."
In addition to the educational component, partnering with health and wellness studios also offer brands an opportunity to reach customers in places they might visit more frequently than say, a department store.
Men's skincare company Atwater Skin launched online last August, and is adding health and fitness spas to its retail mix as it expands. The company's latest partnerships are with Thrive Barre and Fitness in Westchester, N.Y., The Greenbrier resort in West Virginia and Coachella Fitness Concepts in Palm Springs. The brand also recently launched department stores Nordstrom and Saks Fifth Avenue. 
Chris Salgardo, founder and CEO of Atwater Skin, said that "men's personal care usually takes a backseat to women's in mainstream retail placement," which is why the company wanted to diversify its discovery and acquisition strategy.
"By using these key outposts, Atwater is not only driving awareness of our offerings, but has direct access to engaged consumers who are investing in self care," Salgardo said. "It's a destination where folks can see, feel, trial and experience a curated edit of like minded brands that serve each partner's demo and ultimately drive conversion."