DTC Briefing: As startups look to recalibrate, Peloton's restructuring serves as a cautionary tale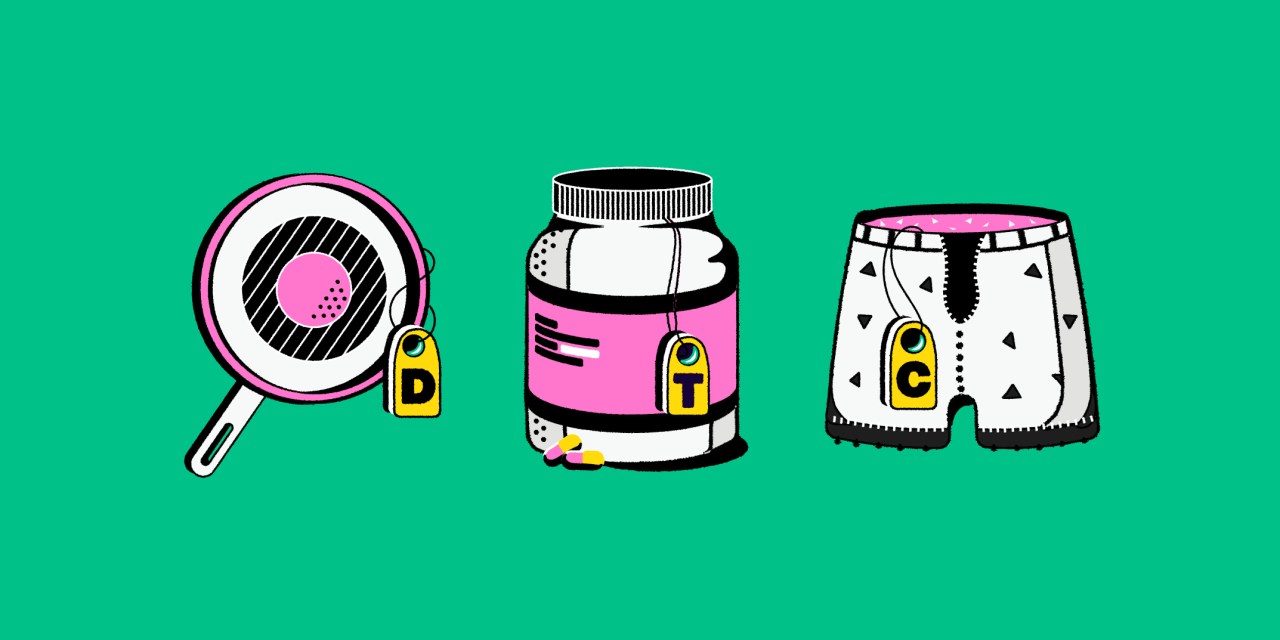 Illustration by Ivy Liu
This is the latest installment of the DTC Briefing, a weekly Modern Retail+ column about the biggest challenges and trends facing the volatile direct-to-consumer startup world. More from the series →
This is the latest installment of the DTC Briefing, a weekly Modern Retail column about the biggest challenges and trends facing the volatile direct-to-consumer startup world. To receive it in your inbox every week, sign up here.
Startups across all sectors are having to make deep cuts this year in response to shifting consumer demand and venture capital funding drying up. But perhaps no startup has had to pivot more than Peloton. 
Last week, the at-home fitness startup held its fourth round of layoffs this year, cutting 500 jobs. Just days before, Peloton had announced two new distribution deals with Dick's Sporting Goods and Hilton. It was big news for a company that, until this year, had previously only sold its products through its own websites and stores. 
Peloton CEO Barry McCarthy, who joined the company as CEO in February, tried to put a positive spin on the layoffs, proclaiming to CNBC that with this most recent round of job cuts that "the restructuring is done after today's announcement. Now, we're focused on growth."

Peloton is perhaps the poster child of just how drastically fortunes have reversed for startups that saw a huge pandemic-led sales bump. During its fiscal fourth-quarter earnings in August, Peloton reported revenue of $679 million, compared to $937 million during the same period a year ago. Equity research analysts say that Peloton has had to make the most drastic course corrections because of how much it overinvested in not just inventory, but also in manufacturing and logistics – costly investments that are more difficult to undo. 
Other e-commerce giants like Shopify and Gopuff have resorted to layoffs this year. But Peloton has had to make some of the most drastic cuts, most quickly. The coming months will prove which other e-commerce like Peloton, have to resort to multiple rounds of layoffs, and which ones are able to successfully course correct on the first try. For startups that came of age during a time when e-commerce sales were booming and venture capital funding was easy to secure, they are having to learn a new muscle during this age of austerity: how to make meaningful cuts. 
"Most restructurings don't happen quickly," Simeon Siegel, an equity research analyst at BMO Capital said. 
A quick primer on how Peloton went from pandemic success story to cautionary tale: after its 2019 IPO, Peloton quickly became a beneficiary of more people working out at home during the pandemic, allowing it to hit increasingly eye-popping record numbers. Peloton reported its first-ever quarterly profit during its fiscal fourth-quarter earnings in September 2020, while also reporting sales growth of 172%. 
At that time, Peloton's biggest problem was that it couldn't get enough product to enough people in time. In what was deemed a forward-thinking move at the time, it decided to buy Precor, a U.S.-based manufacturer of fitness equipment, in a deal valued at $420 million. Peloton also announced during a February 2021 earnings call that it would invest $100 million more into air and ocean freight deliveries. 
"At that point, it just felt that for a company that was small and growing, they got excited with all the capacity coming through," Jessica Ramirez, retail research analyst at Jane Hali and Associates said.

Then, in the middle of 2021, things started to change. During its 2021 fiscal third-quarter earnings report, Peloton once again reported record revenue of $1.26 billion, but then reported that it expected sales to fall to around $915 million the following quarter. Over the course of the next year, Peloton went from reporting year-over-year double-digit sales growth during its quarterly earnings, to single-digit sales growth. And eventually, during its most recent fiscal fourth-quarter earnings, losses widened to $1.24 billion, while revenue fell 28% compared to the quarter a year prior. 
In response, Peloton has been cutting from nearly every department. It's been unwinding some of the manufacturing changes it made during the pandemic, while the most recent round of layoffs hit the marketing department the heaviest. 
For companies like Peloton that reacted too optimistically to pandemic-induced growth, Siegel said that the question on analysts and investors' minds have become, essentially: did they over-invest in inventory, or did they over-invest in infrastructure? 
While investing too much in inventory often results in a "painful markdown season," Siegel said that it is a problem that can be solved much more quickly than investing too much in infrastructure, like logistics and manufacturing capability. 
"Unfortunately, Peloton did both," Siegel added. 
Now, in order to both offload inventory and to get more cash while its losses are mounting, Peloton is striking more wholesale deals. That started in August when Peloton announced that it would start selling its exercise equipment, accessories and apparel through the country's largest online retailer, Amazon. Then, last week Peloton picked up the pace by touting its new partnerships with Dick's Sporting Goods and Hilton. 
"What is happening is this incremental desire or willingness [from Peloton] to sell through channels they would have not otherwise sold through – which one can argue further dilutes the brand," Siegel said.

By announcing these new wholesale deals the same week that Peloton announced job cuts, McCarthy is trying to put a positive spin on Peloton's future – specifically, that the company is still growing, and it's able to put the era of cost-cutting in the rearview mirror. 
Other startups have taken a similar tone in their layoff announcements: that they got over their skis, essentially, but that now, truly they are on the proper growth trajectory. When rental service Rent the Runway announced it was laying off 24% of employees in September, co-founder and CEO Jennifer Hyman said in a statement that "These actions are intended to accelerate our path to profitability while allowing us to continue to deliver more value to our customers and drive strong revenue growth." 
When Shopify cut 10% of its staff in July, CEO Tobi Lutke admitted in a memo to staff that Shopify got it "wrong" when it responded too optimistically to pandemic-induced e-commerce growth but added that "our opportunity is massive and it's still early days for Shopify." 
One of the biggest challenges still facing Peloton and other pandemic winners, Ramirez said, is the fact that consumer demand is still difficult to forecast. All retail companies are having to contend right now with the fact that inflation is leading many consumers to cut back on discretionary spending, and it's unclear whether a recession will still hit in the coming months.

But, she added, "even for consumers that have been pretty strapped for cash, their priorities have gone to event-driven categories" like travel. That means that it is unclear when the pendulum will shift back to Peloton's favor, and have more money to spend on physical goods. 
Thus, it's difficult to forecast if McCarthy's proclamation is correct — that the cost-cutting is over. Many of the e-commerce startups that are having to make drastic layoffs right now have never operated in an economic environment that has changed course as much as it has over the past two years, and are in uncharted territory when trying to predict what demand is going to look like next year. 
"I think it is very clear…that [Peloton] pulled forward their demand they didn't expand it," Siegel said. "At the end of the day, the question is how many people on a net basis are looking to buy a piece of Peloton equipment that haven't before?"
What I'm reading
Retail Dive has a deep dive into what the 2022 downturn in deals means for the future of

DTC startup exits

. 

Following

Adidas

' announcement last week that its partnership with Yeezy is under review, Footwear News looks at how a

potential split

from Kanye West's brand could impact the sportswear giant's sales. 

Impossible Foods

laid off around 6% of its staff last week, the latest

restructuring move

from the plant-based meat startup.
What we've covered
What to know about

Naver

, the South Korean

technology company

that just acquired

Poshmark

. 

Why brands like

E.l.f

and

American Eagle

are creating original songs to accompany their

TikTok videos

. 

How

Too Good to Go

–  an app that connects users to participating restaurants and grocery stores offering leftover food – uses TikTok to both promote its business and tackle the i

ssue of food waste

.