As e-commerce sales cool down, retailers are pulling back warehouse costs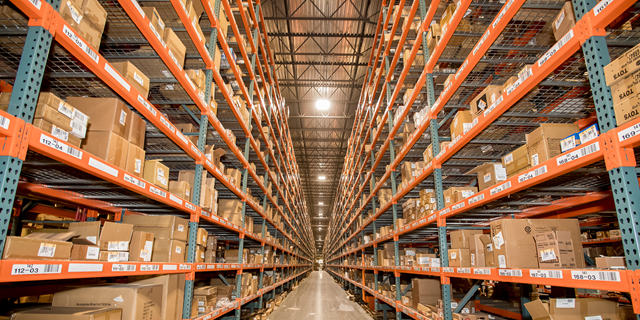 Target
When e-commerce sales skyrocketed in recent years, so did the investments retailers made in warehouse facilities to fulfill orders. Now, retailers are beginning to realign their warehouse operations to reflect the slowing online shopping demand.
For many retailers, that means conducting mass layoffs and even closing down facilities altogether. Earlier this month, Walmart confirmed that it is laying off 1,458 workers at an e-commerce fulfillment center in Atlanta, Georgia. Amazon also left 353 workers without a job when it closed two warehouses in the Baltimore, Maryland area, effective Oct. 25.  
These closures and layoffs are a stark contrast from last year when retailers were opening up new warehouses left and right to facilitate the growth of online shopping. Experts said some retailers had been too optimistic about the rapid e-commerce growth that they didn't anticipate the slowdown to come so soon. These warehouse closures and layoffs indicate how retailers are attempting to reduce overall costs and optimize their operations. 
"They got so excited about the accelerated growth in e-commerce that they just assumed perhaps that that level of growth would continue post-pandemic," said Catherine Lepard, partner at Heidrick & Struggles' Chicago office and managing partner of its global retail practice. "And that's not the case. It's gone back to a little bit more of the norm."
Compared to 2020 figures when it was rising 45%-50%, a Digital Commerce 360 analysis in August shows that e-commerce spending has now been growing by single digits for four quarters in a row. Lepard said consumers also have less discretionary spending due to the inflationary environment that many retailers hadn't anticipated.
Mass layoffs come for warehouse facilities
Warehouse workers were in high demand last year. Walmart was even offering warehouse workers weekly bonuses last year to entice them to stay on the job as it prepared for the holiday season. Now, the company is retooling things. After announcing the layoffs, Walmart told Reuters that it is now planning to convert the Atlanta fulfillment center to support the Walmart Fulfillment Services business. 
Amazon, on the other hand, has been pulling back the growth of its fulfillment network, which impacted 66 active or planned U.S. facilities, according to data from consulting firm MWPVL International. "We have slowed our 2022 and 2023 operations expansion plans to better align with expected customer demand," Amazon CFO Brian Olsavsky said during the company's second quarter earnings call.
Some retailers had attempted to grow their e-commerce network too fast and too much. For example, Gopuff said in July that it cut 10% of its global workforce and closed 76 warehouses after the pandemic-driven online boom emboldened the company to open several fulfillment centers in recent years.   
For others, the slowdown of e-commerce sales presents the perfect opportunity to focus on transforming these warehouses into high-tech fulfillment centers. Suzy Davidkhanian, principal analyst at Insider Intelligence, said that as more components of the distribution center become more automated, the jobs offered at warehouses will start to look much different. 
"It's a very natural reaction," she said. "Every company is cost cutting, and they're probably looking at all of the different components of their business to see what makes sense."
For example, HelloFresh announced that it would be closing down its Richmond, California earlier this month, which would reportedly leave roughly 600 without a job. The meal kit company said in a statement to Modern Retail that the California facility has an inefficient layout and outdated refrigeration systems.   
"Given the outdated state of the facility, HelloFresh will focus its efforts on its newer, more efficient sites and shift the production of EveryPlate to our other distribution centers," HelloFresh said. The company added that it "remains focused on profitable growth through strategic investments in infrastructure, technology, and high-efficiency operations to best serve our dynamic customer base."
Nordstrom, on the other hand, said that the recent layoffs that occurred in a fulfillment center in Cedar Rapids, Iowa in October was part of the company's plan to adjust its supply chain network, a spokesperson told Footwear News. The layoffs will impact 222 employees.
Still, retailers have to be wary of making drastic changes to their supply chain networks, said Ted Vaughan, assurance office managing partner in BDO's retail and consumer products practice. He said that the retail and economic landscape has experienced some dramatic swings in recent years, which would make it difficult for retailers to predict the manpower needed in warehouses, citing how executives have admitted that they incorrectly assumed that certain shopping behaviors would continue.
"There are a lot of continuing changes that have been difficult to predict," he said. "What you cut now may be difficult to regain if you need that capacity in the next year."