Why one brand is launching a DTC site after years of selling at national retailers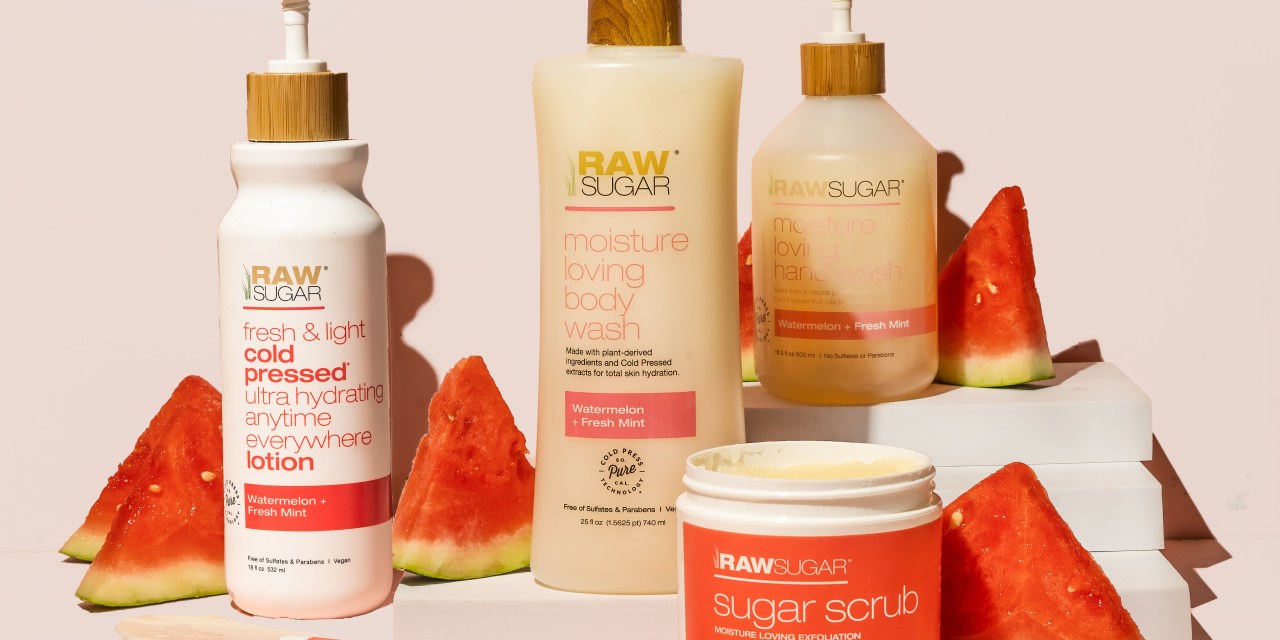 Raw Sugar Living
At a time when direct-to-consumer businesses are trying to diversify their businesses, natural beauty retail brand Raw Sugar Living is launching a DTC channel to cater to a specific segment of its customer base. 
Raw Sugar Living made its direct-to-consumer debut this month, nearly a decade after its 2014 launch. Back then, the brand was created by Donda Mullis and Ronnie Shugar via a partnership with Target. Today, the brand's products are sold at numerous national chains, including Wegmans, Meijer and, most recently, Walgreens. The company launched with a small collection of cold-pressed, cruelty-free hand soap and body wash. Over the years, Raw Sugar moved into adjacent categories, such as haircare, hand and body scrubs and natural deodorant.
The DTC launch marks the first time customers can buy directly from Raw Sugar Living. Until now, the company's website did not have a shoppable component. The Southern California-based company, which has surpassed $100 million in sales to date, is hoping to scale digitally through its own website and an official Amazon store later this year. But for Raw Sugar Living, the new DTC channel is specifically designed for its most loyal customers – and will offer them exclusive discounts, bundles and rewards.
CEO Michael Marquis, who joined the company from Johnson & Johnson in March, told Modern Retail that the new digital presence is meant to supplement the brand's existing retail availability. He also noted that the move is against the current trend, in which many digitally-native brands are plotting their retail partnerships.
"The great DTC experiment is over," he proclaimed. "We're now in the post-privacy and pandemic changes, so we're looking at e-commerce to serve the right purpose." 
Marquis said that the brand's official website sales will not change its financials and profitability goals, but complement them. "It's [DTC] not going to overtake the business we do in retail," he said. "While DTC brands are fighting to make their way into retail, we feel lucky to have that foundation as an advantage." 
For its DTC channel debut, Raw Sugar Living started off with a curated set of products "that we can fulfill quickly," Marquis said; Currently, this includes 20 of its bestselling products, such as the body butters and deodorants. In the coming months, the company will add the entire portfolio. 
"We think the right role for DTC is to cater to those loyal to the brand," Marquis said. Those use-cases can vary — from targeting certain demographics to curating DTC-exclusive collections. "For example, some products can be hard to find at certain retailers, so the website will offer them more easily," he said. The website will also act as a hub for emerging Raw Sugar Living categories, such as the company's rapidly growing kids product business. "That's a line that might not work in certain retailers where there isn't a kid shopping behavior," he added.
To draw repeat orders, Raw Sugar launched a rewards program on the website, in which customers can earn points on purchases, reviews and social media engagement — which can later be redeemed for discounts. Another initiative the brand is building out is its clean beauty content, where customers can learn about the brand's mission and get environmentally-friendly skincare tips.
Raw Sugar Living began preparing for the launch in March, by designing the new website and scouting for fulfillment warehouses. To support the new expansion, the company also opened a new Midwestern distribution center dedicated to direct-to-consumer orders. "We also hired great talent that had experience driving digital marketing," Marquis said.
Meanwhile, Amazon will play a different role, which the company is evaluating to launch by the end of the year. "If you don't participate in the Amazon ecosystem, resellers will do it for you," Marquis said. "It's not a great way to have our brand show up there." 
As for marketing, Raw Sugar Living is counting on its existing social media following, as well as its retail networks. "We have hundreds of influencers promoting Raw Sugar Living that we'll utilize," he said. The brand currently has over 150,000 Instagram followers and 10,000 TikTok followers, which the brand accumulated organically over the years through its retail presence.
Raw Sugar Living will still invest in social advertising across the go-to channels like Meta and Google, but digital customer acquisition won't be our "be all, end all," Marquis said. Instead, he said, retail advertising networks that players like Target and Walgreens have built out are currently a better fit for the brand's marketing efforts. "Our strategy is to watch and see what new platforms are worth it," he said, "We're not going after the shiny new object if it's not the right fit." 
Established brands launching a shoppable DTC website is nothing new — with many companies having built the channel during the start of the pandemic. Typically, establishing a DTC presence allows wholesale-focused brands to reach new pools of customers and have more control over their customer experience. 
Manola Soler, senior director at Alvarez & Marsal's Consumer Retail Group, said "I see the DTC move as completing the digital ecosystem for the brand, and as a potential recruitment tool."
Given the lifestyle angle of the site, Soler said it would make a smart launching pad for a broader product offering as well. However, with so many changes impacting direct-to-consumer businesses, there are challenges to consider. Soler said that for a DTC website to be worth the long-term investment, "the channel has to compete and deliver on fulfillment speed, shipping cost and other consumer-facing value drivers like loyalty points." Otherwise, many shoppers may opt for shopping Raw Sugar Living on the Target website, where shipping minimums are lower, she noted. 
For Raw Sugar Living, the idea is to take on a more "considerate approach" to direct-to-consumer sales, while also keeping retail partnerships going strong. "All in all, we want to have the right products for the right people at the right place," Marquis said.  
Get the latest news and analysis with the Modern Retail daily newsletter. Sign up here.