Why Michaels is launching its first branded credit card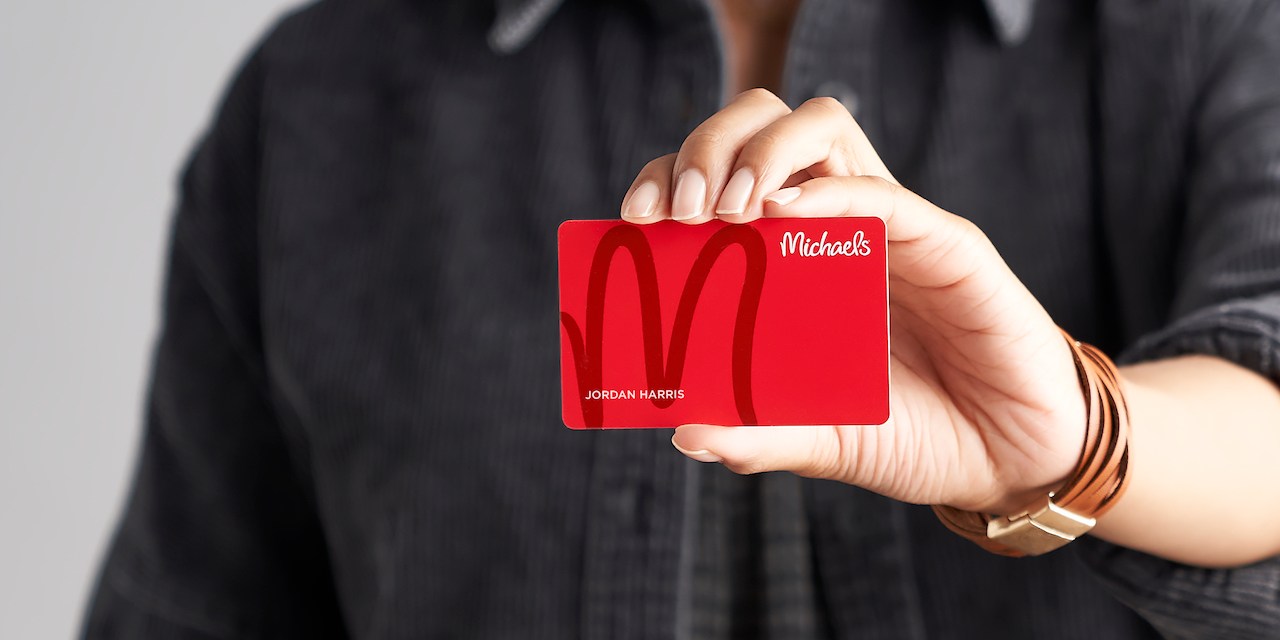 Michaels
Michaels is launching a new credit card as a way to court its most active shoppers. 
On Wednesday Michaels introduced a private-label credit card, the first ever in the company's 50-year history. The launch is part of the arts and crafts retailer's strategy to encourage frequent shoppers, such as teachers and business owners, to keep coming back to Michaels for all their supplies.
The card offers 9% in rewards points on every purchase, along with perks like free shipping, special financing opportunities and exclusive discounts throughout the year. The credit card addition comes after Michaels overhauled its rewards program in May. With the streamlining of the program, the retailer now targets two tiers of customers, which receive either 3% or 6% rewards points on purchases. Members become eligible for the 6% tier by spending $300 over a 12-month period.  And now, by opening and using the new credit card, rewards members will get 9% of the purchase back in credits that can be used for future purchases. 
Heather Bennett, Michaels' executive vp of marketing and e-commerce, told Modern Retail that the card's launch was based on feedback from customers. This cohort, she said, wanted even more rewards for exclusively shopping at Michaels for their crafting and DIY supplies.
"For retailers, it's more important than ever to earn loyalty, and our program can be a huge differentiator to people who shop with us," Bennett said. She said that Michaels' previous rewards strategy focused on accumulating points and periodical offers such as $5 vouchers. "So we've revamped the program to simplify it into two tiers," Bennett said. 
"We have tens of millions of rewards members, and we've seen an increase in purchases since the revamp," Bennett said. The company did not disclose exact membership figures of Michaels Rewards, which first launched nationally in 2016.  On average, Michaels Rewards members shop with the retailer three times more non-members, she said. "We thought: how do we extend the loyalty program and give them even more value?" 
Bennett said that with more customers trying to save money on non-essentials these days, the retailer is seeing usage of the overhauled rewards program surging. This year, Michaels hopes the growth of its loyalty program will help retain customers and encourage bigger basket sizes. Bennett said that "the rewards overhaul is part of our ongoing work to transform ourselves into an omnichannel retailer." 
With the new branded credit card, which can only be used at Michaels' stores and its website, the retailer hopes to attract power shoppers looking for even more savings. "Creating the card came down to listening to customer demand," Bennett said.
"As we think about who we're targeting with this credit card, we see opportunities with the likes of teachers or professional business owners in need of bulk supplies," Bennett said, adding that the ongoing growth of Michaels' trade business is proof there is demand for repeated large purchases.  
Aside from Michaels rewards credits, cardholders also get perks like 20% off their first credit card purchase and free shipping on online orders. "The credit card will also be a big part of our seasonal offerings and have exclusive benefits for certain releases," Bennett said.
During the onset of the pandemic, Bennett said many people were looking for DIY hobbies to try at home — which helped organically boost Michaels' sales. By the end of 2020, the company posted $1.92 billion in fourth quarter sales, up from $1.72 billion the previous year. At the same time, e-commerce sales more than doubled. In March 2021, the company was acquired by Apollo Global Management in a $3.3 billion deal, and was taken private.
"Now we want to transition into helping our shoppers nurture these hobbies," Bennett explained. "Whether it's through new offerings like the credit card, or making crafting a more social activity with in-store workshops." 
Moreover, she said that "our in-store experience is a big part of the retention strategy." This is particularly true of traffic generated through in store events. Recent examples include Michaels' free makebreak crafting sessions on Sunday, which rolled out last year. "We'll be adding events to more locations this year," she said. "We'll also continue offering virtual classes, which have surprisingly remained popular."
Mary Pilecki, a Forrester analyst covering loyalty marketing, said that these days most customers expect rewards for shopping at a specialty retailer. So to stand out from the competition, brands are having to streamline their rewards tiers to create what she calls "profitable loyalty." This means focusing on giving the biggest rewards to top-tier shoppers. 
Recent examples of this include changes made by Starbucks and Dunkin'. This month, Best Buy changed its My Best Buy rewards structure so that only Best Buy credit card holders get points on every dollar spent. "Brands are modifying their rewards programs to make sure the benefits are distributed equally between the customer and the brand," she said.
But the launch of Michael's private-label credit card comes as shoppers have grown weary of opening store credit cards — which tend to have high interest rates and big late fees — for one-off purchases. Other shoppers have gravitated toward more brand-agnostic cards as well as buy now, pay later checkout, which many retailers now offer. In 2022, Forrester credit card user surveys showed that when selecting a new card, 43% of respondents prioritize flexible rewards and benefits, while 41% go for cash back or statement credits. Another current challenge for retailers, Pilecki said, is getting customers to sign up for credit cards at a time when they're trying to manage debts and cut back on spending. 
However, Pilecki said there is still room for branded credit cards, depending on the retailer and its customer base. For Michaels, Pilecki said an exclusive credit card makes sense for targeting shoppers that prefer to buy all their crafting supplies there. It's also a go-to stream of revenue. "Credit cards have always been valuable to retailers because brands get a cut from transaction and late fees," she said.
Michaels will be heavily promoting the new credit card to existing rewards users, both online and in-store. Bennett said that Michaels is already seeing early success signs and positive customer feedback from the debut.
The card soft-launched in stores in January, and applications have now been live for the past few weeks. "We're already beating internal goals for signups," Bennett said.