Why Made In went in-house for its video content strategy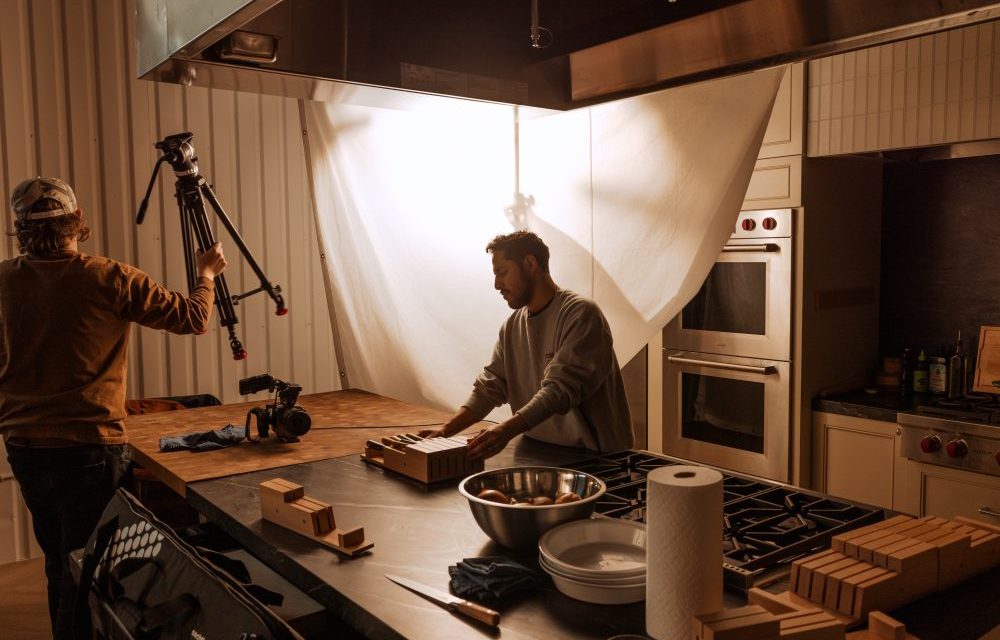 Made In
Black marble countertops, a stainless steel double oven and a six-burner range gleam under a full lighting rig. This could be the set of a cooking show, but it's the new video production studio at the Austin, Texas, headquarters of cookware brand Made In.
This year, Made In built the kitchen as a place to film professional chefs using their products in action. The idea was to extend a video strategy that developed during the lockdowns of coronavirus pandemic, when Made In hosted cooking show-style Instagram Lives with chefs and bartenders as a way to fundraise for their out-of-work staff.
"The connective tissue between our restaurant customers and our home customers is that you're using the same tools," said svp of marketing Lindsay Jackson. "We don't have a professional line and home cook line, it's the same tool. So with a little bit of technique, the right ingredients and this kind of chef expertise, you can make those things at home."
Made In, launched in 2017 as a DTC kitchenware brand, counts more than 2,500 professional chefs among its customers. Its in-house video content strategy has developed to feature many of those chefs cooking their favorite recipes, as well as how-tos like the difference between a saucepan and a saucier or proper care for carbon steel cookware. With a team of five new hires and multiple uses for its B-roll, the video strategy is a rare example of an in-house creative team that doesn't rely on any outside agencies.
Jackson said the cost savings are substantial, sparing at least half a million on hiring a creative ad agency that it would've had to contract with if it did't have its own video staff. The produced content with chefs is primarily viewed on YouTube where Made In has more than 49,000 subscribers — but the work ends up appearing in multiple marketing channels including social, email and a holiday TV spot to air later this year. Product description pages are also decorated with B-roll close-ups of pans to demonstrate how they are used, as is the top of the Made In homepage. 
Jackson also said an in-house video team allows the brand to be more nimble. If a chef has a great insight into how to use a particular pan, for example, the team can quickly shoot that and get it up online.
"It's the same team, same video apparatus, the same studio, that also allows us to move at the pace of e-com," Jackson said. "Rather than like, 'Oh, good insight, we'll brief our agency for that next season.' We're like 'Good insight, go shoot that for the PDP.'"
So far, the company said the strategy is improving conversions and generating traffic. Emails with video content see three times the conversion of those with doesn't, while older blog posts updated with videos have a 100% traffic lift once the video is added. Though the brand would not share overall revenue growth, it sees "statistically significant increases in user conversion" when videos are used on the product description page.
Jackson also said having these elements sent to new customers following a purchase also helps generate brand loyalty.
"Our return rates go down and our LTV goes up every time I can get someone to cook with a new pan within the first week of purchasing it," she said.
Prior to the coronvirus pandemic, Made In didn't have much of a video strategy aside from a few sporadic YouTube posts created by an in-house staffer. But Jackson said the brand began experimenting more during the pandemic. When restaurants shut down, it meant many of their chef partners who buy their products were out of work. The brand decided to put on "family dinner" shows on Instagram Live, offering a virtual tip jar to chefs or bartenders that would demonstrate a particular recipe. Originally scheduled for a week, the series became so popular it ran every weeknight for 14 weeks. 
As restaurants reopened, Made In ratcheted up its investment in the cooking show-style strategy. By mid-2021, it had hired five new team members, including veteran storytellers from places like Bon Appetit, to broaden its content operations. Then in late summer, it launched a new page on its site to house all the recipe content in one place.
In addition to the test kitchen shoots, the team goes on the road quarterly to shoot from restaurants. One such video features Chef Michael Cimarusti of Providence, a two-Michelin-starred restaurant in Los Angeles. In a 13-minute piece, Cimarusti explains seafood sourcing for wild fish and demonstrates methods for cooking rockfish and scallops.
"That has been a huge kind of unlock for us, taking people that are believers in our product enough that they pay for it," Jackson said. "It's much more fun when you get to see the pans, and you can tell they've been using them for two years, and they use them everyday."
Polly Wong, president of marketing firm Belardi Wong, said smaller brands that produce high-quality content are a key way to engage customers — especially for brands like Made In that are in a competitive, saturated market.
"Their whole story is based on this sense of authenticity and credibility, and the videos help show that to shoppers," she said.
Many smaller brands achieve that authenticity by having ambassadors, customers or staff appear as faces of the brand in the videos. These "real people" aren't actors and have genuine excitement around the product, Wong said, whereas a larger brand might opt to hire a professional chef to do a video about its product.
Video is a sweet spot for cookware brands that want to show customers how their products are used, and such content frequently stars a celebrity chef. One example is Hexclad's partnership with Gordon Ramsey, which puts its products in his hands on his cooking shows as well as social media. DTC company Our Place, which has opened its first two storefronts in Los Angeles within the last year, has partnered with Selena Gomez for limited edition collections following the launch of her "Selena + Chef" HBO series.
But overall, it may only be worthwhile for brands to invest in setting up a content hub and studio if what they're shooting will drive long-term revenue. Wong said the rule of thumb is to use in-house made content on at least three channels in order to be effective.
"With the rising cost of marketing overall in the past couple of years, I think it's kind of beginning to be more compelling to create in-house," Wong said.