Why BloxSnacks is tapping YouTubers to appeal to Gen Alpha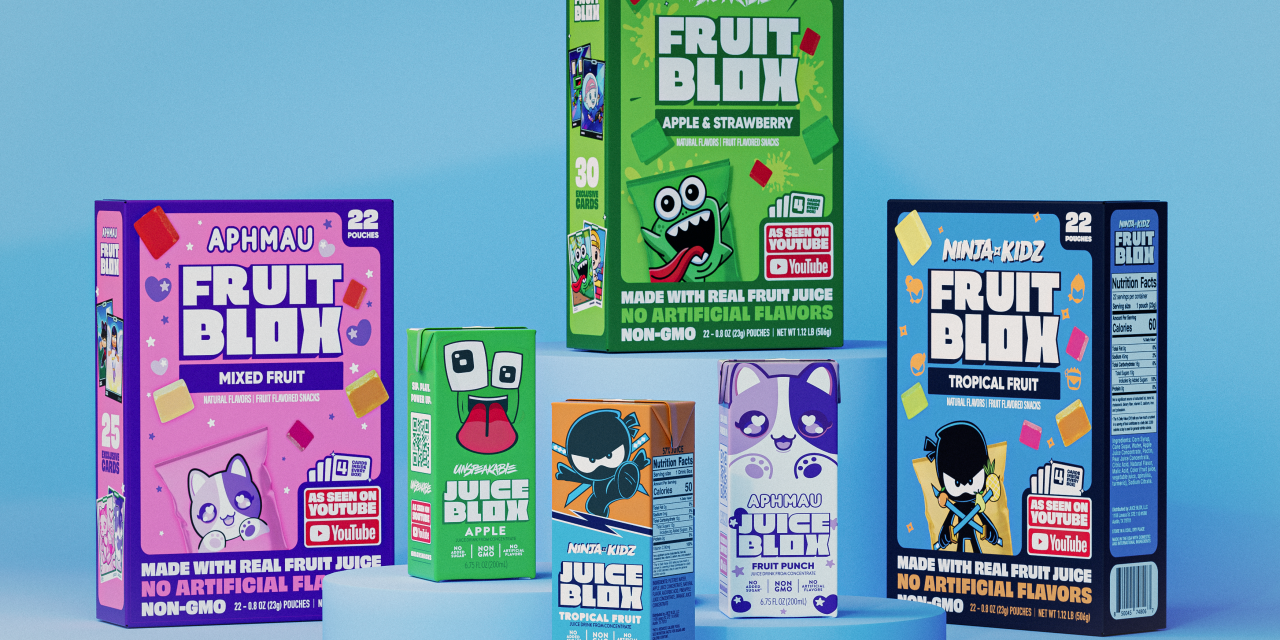 BloxSnacks
In the olden times, CPG brands plastered cartoon characters from popular shows on products in a bid to attract the attention of school-aged kids. These days, however, snack brand BloxSnacks is betting on content creators to appeal to the younger generation.
Each of BloxSnacks' products is created in partnership with a YouTuber, which is highlighted on the brand's packaging. The company, which sells juice boxes and fruit snacks, is currently partnered with three YouTubers — Unspeakable, Aphmau and NinjaKidz. These Youtubers — which have over 50 million subscribers combined — not only promote and post the products on their channels, but they also have a stake in the business. (BloxSnacks is co-founded by Aphmau and Unspeakable.)
"Licensed IP has been around for years when you think about the Kool-Aid Man or The Flintstones on Flintstones Vitamins," BloxSnacks CEO Jon Lesser told Modern Retail. "But no brand was really talking to kids the way that they engage with brands and content today."
Thanks to its partnership with YouTubers, Lesser said the company so far hasn't spent any money on traditional advertising. But BloxSnacks has amassed a combined 100 million views on all videos where its products were featured on the three YouTubers' channels. In its six months in retail, the company has garnered over a million dollars in sales every month.  
The company started selling products in April this year, and it already expects to be profitable by the end of the year. The company has six SKUs, which are available at 4,400 Walmart locations nationwide. Prior to holding the chief executive title at BloxSnacks, Lesser held senior executive marketing positions at CPG brands Kind and Daring.
Attempting to appeal to kids can be tough due to strict advertising regulations. A number of brands like Claire's and Walmart have worked around this by boosting their presence on Roblox or the Metaverse, platforms that tend to attract a younger crowd. Much like BloxSnacks, other brands have instead partnered with content creators. Back in 2021, Sketchers collaborated with Ryan's World, who has over 35 million subscribers, to release a line of kids' footwear.
Lesser said the brand is positioned to catch the eye of kids aged four to 12 years old — known to marketers as Gen Alpha — through its partnership with YouTubers that mainly have younger viewership. The brand initially partnered with Aphmau, a gaming creator who has over 18 million subscribers, and Unspeakable, a kid-friendly channel with over 16 million subscribers. The company added NinjaKidz, a channel with 20.7 million subscribers that creates family-friendly action skits, to its roster in August.
"If you go back 10, 20 or 30 years, taking a cartoon character and putting it on the front of packaging might have been enough [to get kids excited]," Lesser said. "Gen Alpha is more proactive in how they engage with brands and content today. They're going on YouTube, they're searching for their favorite content and they have a higher expectation of what brands will deliver."
BloxSnacks' YouTube partners have free reign over how they want to promote the products on their channels. The company has at least two meetings per week with these YouTubers to discuss plans for the brand. Unspeakable's "I Sent My Juice To Space!" video was one of the most popular videos where BloxSnacks products were featured. As the title suggests the video, which garnered over 6.8 million views, shows Unspeakable attempting to take the BloxSnacks to outer space.
Lesser said the company's model is based on how kids' media consumption has evolved. They're "no longer watching Saturday morning cartoons, but instead, they're self-selecting on YouTube who they want to watch." Every carton of its Fruit Blox snack also contains limited edition collectible cards.
Alessandro Bogliari, CEO and co-founder of marketing firm The Influencer Marketing Factory, said that attempting to capture the attention of school-aged kids can be challenging because their interests have also drastically changed from other generations.
"Gen Alpha can be easily bored because of the quantity of videos that they see," Bogliari said. "You need to be creative every single time." He added that brands should also try to gain the favor of the parents who are paying for the product.
BloxSnacks' Lesser said that the company looks for YouTube partners who are creating quality content specifically for kids. Lesser said BloxSnacks plans to partner with more YouTubers in the future to release limited-time offers or unique SKUs. Next year, it also plans to expand its distribution network. 
"YouTube creators who came on as co-founders, Aphmau and Unspeakable, really bought into the vision that we could very quickly reach millions of consumers," Lesser said. "They share that vision to quickly reach a mass audience but then do all the work needed to build a brand that has longevity."