What anti-LGBTQ protests mean for Pride Month campaigns going forward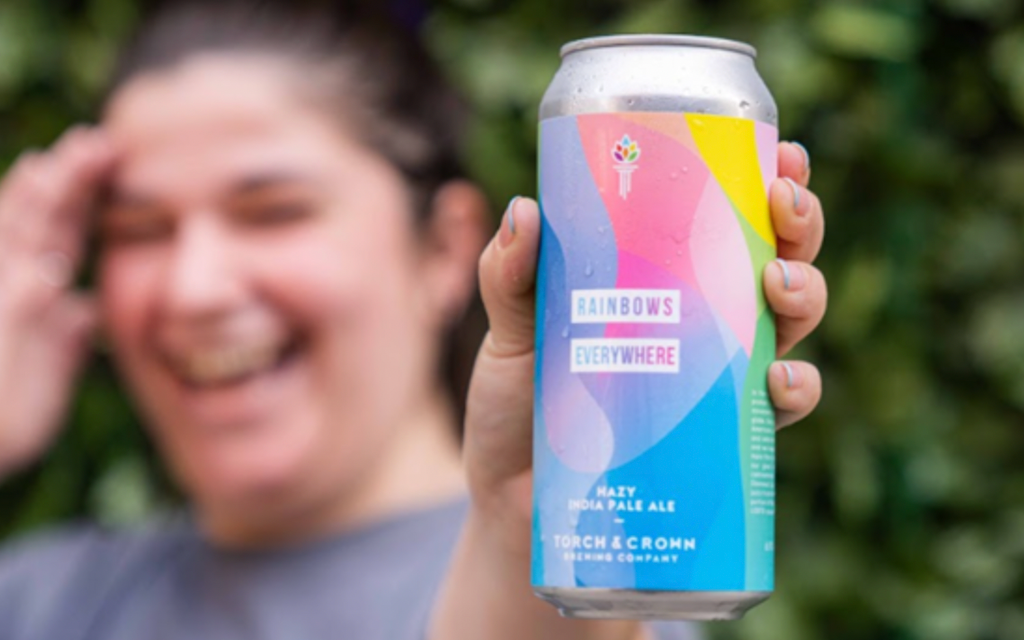 Torch & Crown Brewing Company
This June, some of the biggest companies received backlash over their Pride Month campaigns.  
Over the past few months, and particularly during Pride Month, some of the biggest brands have been the subject of social media ire. Essentially, this backlash boiled down to anger from some social media users and conservative commentators that these companies either featured transgender activists in ads, or carried products designed for trans people in Pride Month campaigns.
After featuring transgender activist Dylan Mulvaney on social media campaigns in April Bud Light was the subject of weekslong calls from conservative commentators to boycott the brand. Other companies, like Target, caved to criticisms over its Pride Month merchandise assortment by taking down in-store displays and pulling certain themed items.
Some companies, like H&M and Nordstrom, have stood their ground and kept their rainbow displays up. The North Face, which received extensive right wing backlash for its "Summer of Pride" campaign, starring drag performer Pattie Gonia," has doubled down in a statement, saying that "the outdoors should be a welcoming, equitable and safe place for all." Still, this backlash has had a chilling effect: U.S. and U.K. brands have released 27% fewer Pride-themed items this year compared to 2022, according to Edited. Meanwhile, Bloomberg reported that the number of times "Pride Month" was mentioned earnings calls and in filings was down for the first time in five years. 
In response, emerging brands are being more vocal than ever before – paving the way for them to lead Pride Month marketing efforts going forward. According to founders who spoke to Modern Retail, these timely campaigns are being met with much more enthusiasm from young audiences living in liberal areas of the country. While many corporations are pulling back on Pride initiatives, young startups – especially those led by queer, trans and nonbinary founders – view this as a time to be more vocal on the issue than ever before.
Bryan Janeczko, co-founder of StartOut, a non-profit with the mission of growing and scaling LGBTQ-founded businesses, said that LGBTQ-inclusive marketing for large brands represents higher stakes given their wide-ranging customer base. On the other hand, Janeczko said, emerging brands and startups "have a much better opportunity to succeed with inclusive marketing campaigns, as they're still building their brand and presence." In these instances, he said that adopting a progressive approach isn't usually an issue "if targeted at the right brand audience, especially when engaging with younger generations." 
Janeczko said that taking a stance as a corporation can be a great asset when attracting top, young talent that wants to work for a company with a purpose. This is why a number of startup founders continued to spearhead Pride Month campaigns amid the ongoing backlash. 
This month, oat milk brand Willa's organized a Pride campaign focused on charitable donations. During the week of June 13, Willa's donated 20% of proceeds from DTC sales to nonprofit Immigration Equality, an LGBTQ and HIV-positive immigrant rights organization. 
Willa's founder and CEO Christina Dorr Drake said the campaign was a way for the company to be actionable, at a time when queer and trans people face legal and social discrimination in the U.S. and abroad. This is the third year the brand partners with Immigration Equality, since Willa's launched in 2021.
Drake argued that the decision to donate is also good for business, contrary to many companies' concerns over showing support for the celebration. "Our Pride donation initiative drove our strongest day of sales on our site all month," she said. "Overall we had a very encouraging response and are grateful to Willa's fans for joining us in supporting this important organization." 
While the startup doesn't receive the same level of social media scrutiny as a big-box retailer, Drake said the company received "only two negative emails" from customers. In response, the Willa's team shared more information on Immigration Equality's mission with them. 
One trans non-binary founder explained that this year's events, and the way brands reacted to the backlash, shows that Pride support remains a revenue-generating tool for most companies. Kylo Freeman, a venture capitalist and founder of For Them, a gender expansive wellness brand that makes chest binders, said that in recent years there's been pressure on corporations and brands to go beyond performative gestures of inclusivity. Many have been able to do so through employee support and charitable donations. Freeman said that when they rescind these efforts, it destroys the trust they've built with their marginalized customer base.
"The community is disillusioned with brands motivated by opportunity rather than genuine desire to protect and uplift LGBTQIA+ lives," said Freeman, who uses they/them pronouns. And when companies backtrack their support, Freeman said "it insinuates that queer and trans lives are not worth protecting unless doing so is profitable." 
For Them's Drag is Divine campaign is one way Freeman is using theirs and the company's platform to fight back against recent anti-drag laws. Over the past few months, anti-drag legislation has passed or advanced in more than 13 states, with over 490 legislatures in 2023 alone. Freeman said that the For Them campaign "is putting a middle finger up" to the anti-LGBTQ+ law-makers. Beyond the ads, For Them also hosted events throughout Pride month to raise money for funds like the ACLU Drag Defense.
Some businesses with young, liberal customers aren't worried about backlash to Pride support. This month New York City-based Torch & Crown Brewing Company launched a limited-edition Rainbows Everywhere IPA, with 25% of sales going to the Ali Forney Center, which provides housing, essentials and resources to LGBTQ+ homeless youth. This marks the third year the brewery releases a Rainbows Everywhere as the centerpiece of its Pride campaign, in collaboration with the Ali Forney Center. 
Co-founder John Dantzler told Modern Retail that the new beer is the company's nod to 1969's Stonewall Uprising (with 6.9% ABV), which he said is "a vital part" of the city's fabric. The brewery's flagship location in the Soho neighborhood had drag trivia throughout the month, while its Union Square location had live music from queer performers. As far as backlash, John Dantzler said the brewery's New York market makes for a "self-selection" of attracting progressive customers. "We'll absolutely keep it going, and are proud to deepen our support of the Ali Forney Center with each year," he said.
Similarly, Willa's' Drake said "we don't intend to pull back our support in the future. She added that the company would also like to partner with more LGBTQIA+ friendly brands "to show support throughout the year."
Drake concluded that it's too soon to say exactly what the company's campaign will look like next year, "but we are confident in saying that we will still be echoing our support for the LGBTQIA+ community."