Research Briefing: Digitally-native CPG startups begin to favor traditional retail models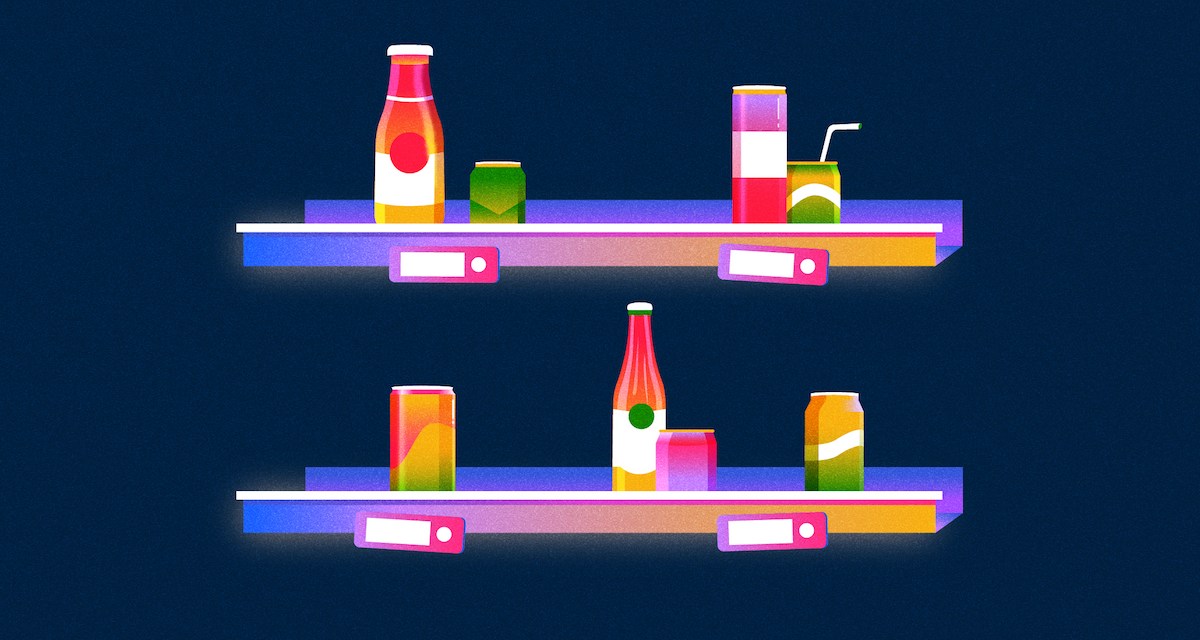 Ivy Liu
Welcome to the Modern Retail+ Research Briefing, your weekly curation of retail, technology and marketing research insights. Modern Retail+ members have full access to the research below.
In this edition, we share focal points from Modern Retail's recently released report on how digitally-native CPG startups have begun favoring more traditional retail models.
Interested in sharing your perspectives on the future of retail, technology and marketing?

Apply to join the Modern Retail research panel.
Food and beverage startups pull back from costly, complex DTC channels
Although online sales have historically grown brand awareness for startup CPG brands, the direct-to-consumer (DTC) bubble is close to bursting, pushing brands to consider alternate marketing methods. This year, Modern Retail+ Research's annual CPG report analyzes how startup brands have shifted focus from online customer acquisition to developing smarter retail models to drive revenue and awareness.

For example, food and beverage startups have partnered with a large number of retailers in recent years, with food most popular in mass grocery and beverage most popular in premium grocery, according to Modern Retail+ Research analysis. The trend points to growing headaches in shipping and fulfillment processes and shifts in shopping trends post-pandemic.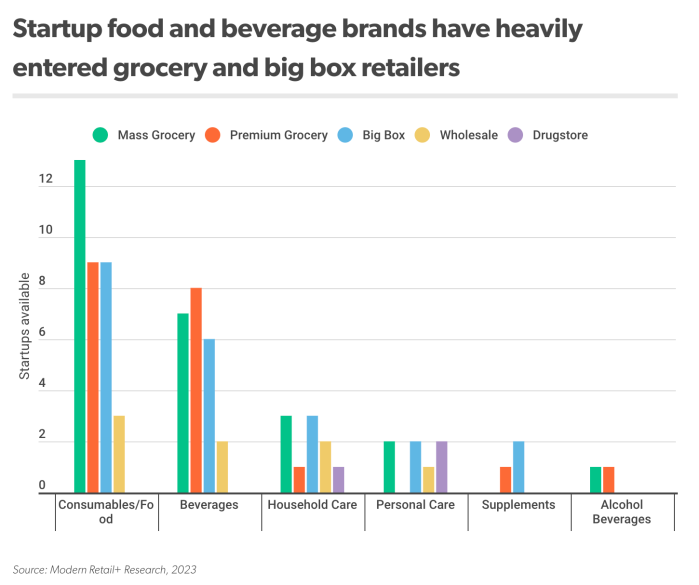 Meanwhile, CPG startups with less same-day demand from customers for order fulfillment than grocery products, such as household and body care products, continue to prioritize sales through their own brand websites and subscriptions. Instead of using online and store retail presence to drive sales, they use those placements to reach new customers by offering a limited line of products at retailers to introduce the brand. Many brands use the new network to emphasize their straight-to-your-door subscription memberships on the brand site.
Key findings:
Thirty percent of household care startups' retail partnerships are with big-box stores and mass grocery stores, respectively; and 29% of personal care startups' retail partnerships are with big-box stores and mass grocery stores, respectively.

Uniquely, personal care startups are also entering drugstores at a similar rate, with 29% of retail partnerships with CVS and Walgreens.

Wholesale is becoming a large part of the startup CPG playbook too, as emerging brands enter wholesale club stores in order to attract new customers at higher sales velocities. Brands are sold only in stores and limited to certain regions of the U.S., which is better for young brands looking to slowly scale up production of bulk-size orders.
READ FULL REPORT

See research from all Digiday Media Brands:
Modern Retail+ Research
Digiday+ Research
Glossy+ Research