Milk merch: Organic Valley launches branded merchandise with a sustainability focus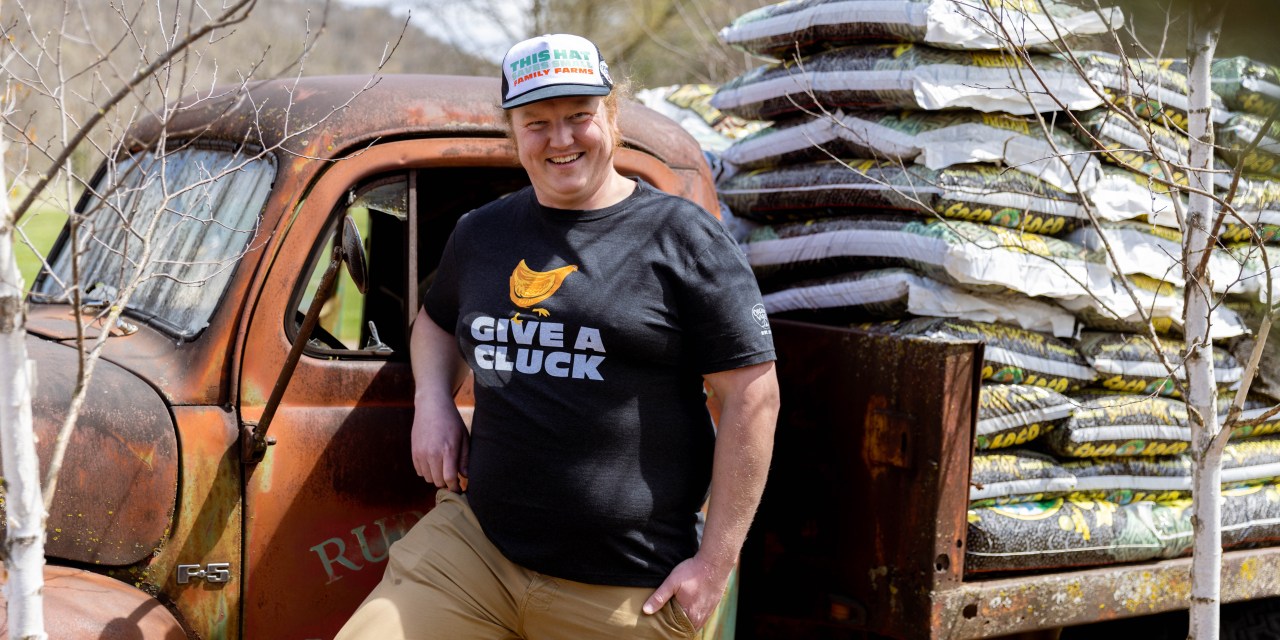 Organic Valley
Organic Valley is venturing into branded merchandise, a big leap compared to its typical dairy business. 
Last month, the farmer-owned cooperative launched its own branded merch store with 13 different items such as t-shirts, totes and hats. Staying true to its environmentally-friendly roots, Organic Valley's merchandise, which has to either be organic or recyclable, follows sustainable practices. The revenue generated from the Organic Valley merchandise store will all go directly back to Organic Valley's dedicated farmer members.
Lately, branded merchandise has been all the rage for companies ranging from Grillo's Pickles, canned water company Liquid Death and grocery store H-E-B. Not only does branded merchandise serve as an alternative revenue stream, but people wearing or displaying the merch also act as another marketing channel. For Organic Valley, the idea to launch its own merch came from fans who've been requesting branded items like t-shirts and sweatshirts for years.
Branded merch also serves as a channel for Organic Valley to communicate its values to people who might not know about the company's history. "We're a farmer-owned coop, and I don't know that people always understand what that means," Jaclyn Cardin, chief brand officer at Organic Valley, said. "We want people to, A, understand that and, B, if they think like us, be able to outwardly show their support."
Founded in 1988 to sustain family farms, Organic Valley claims to be the largest farmer-owned organic cooperative in the U.S, representing 1,800 farmers. Organic Valley's products — which include milk, butter and cheese, among others — are always organic and made without using toxic pesticides, synthetic hormones, antibiotics or GMOs. In July last year, the company reported a fiscal year net income of $25 million with a profit margin of under 2.5%. The fiscal year before that, Organic Valley reported a net income of $48.4 million. 
The launch of its branded merchandise comes alongside a growing population of people who care about where their food comes from, animal welfare and sustainable food production. Cardin said that the company is positioned to ride this wave of interest. 
"There's a growing trend out there of people who care about where their food comes from," Cardin said. "We decided to launch the shop as a platform for people to really express their values and support for small family farms by, literally, wearing it on their sleeves or their tote bags." The prices for its branded merch vary from a $30 t-shirt to a $3 sticker.  
Cardin said Organic Valley follows strict sourcing standards for its merchandise. The company prioritized working with U.S.-based companies where the manufacturing is done in the country, and the merchandise itself has to either be 100% organic or 100% recycled. The packaging materials are also recyclable unbleached, uncoated cardboard. Organic Valley is also using the farmers as models for its merch.
Organic Valley launched the website with a small collection of items. However, Cardin said, the company plans to unveil at least one new item per month, and have two to three new collection drops per year. Although branded merch is a new category for Organic Valley, its in-house design and omnichannel team worked together to brainstorm ideas. Organic Valley products are only available on its DTC website at the moment, but the company isn't ruling out the possibility of distributing them to other channels in the future. So far, company is using social channels like Instagram and Facebook to promote its merchandise.
"We wanted to start slow to make sure that we could get a really strong and sustainable base that we could then scale from as we learn about consumers' preferences," Cardin said. She declined to share the sales of its merchandise produced during the first month of its launch. 
Branded merch has the potential to generate a significant amount of revenue. For example, Liquid Death was able to sell $3 million worth of merch in 2021 and Grillo's Pickles merchandise is now a $200,000 business. For these brands, merchandise also helps set the tone for their aesthetic and communicate what values and communities they care about. 
"It's a great way to have customers act as your brand ambassadors," said Lauren Beitelspacher, associate professor in marketing at Babson College. "It's the ultimate positive form of word of mouth." 
She added that, through branded merch, companies can benefits from positive association if the person wearing it embodies their values. For this to work, however, the brand has to ensure that its target market responds.
For now, Organic Valley's Cardin said only time will tell whether branded merchandise becomes a larger revenue driver. 
"We would have a long way to go and a lot to grow to make this a significant revenue stream for us," she said. "But it's certainly not out of the question."