Influencers, bicycles and free burgers: Behind Whataburger's new collaboration with Academy Sports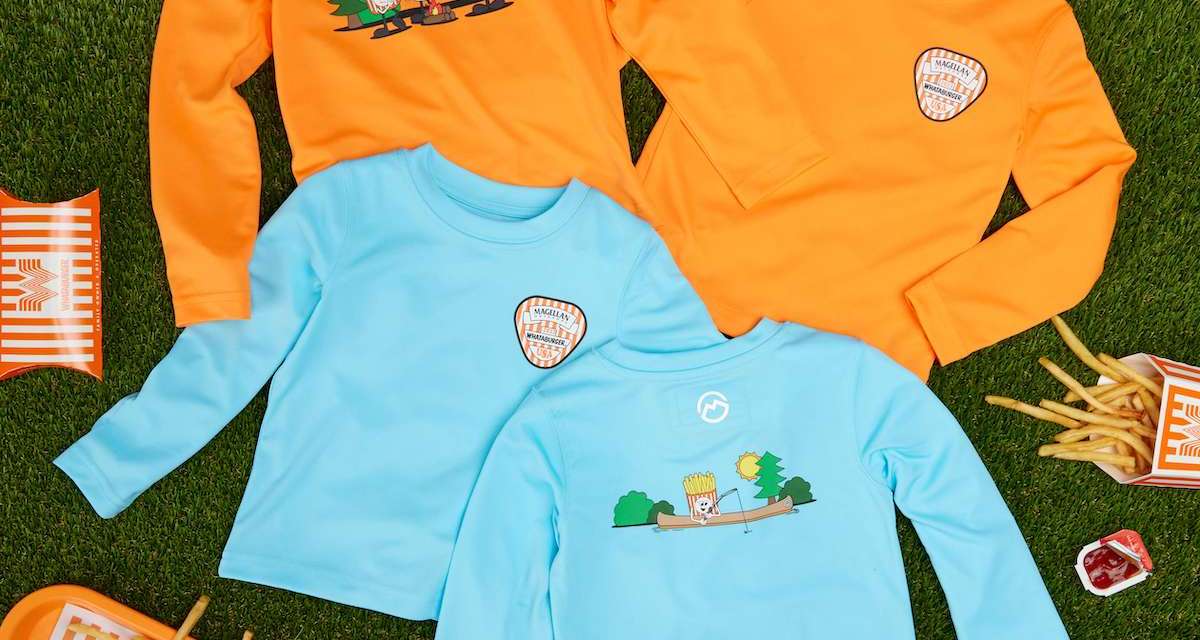 Burger chain Whataburger and sporting goods retailer Academy Sports + Outdoors are teaming up on a second batch of branded merchandise.
The two Texas-based companies kick off their latest collaboration on April 6 with more than 80 SKUs for sale, including tanks, mesh caps and "No. 1 W/ Chz" crew socks. Customers can nab the new merch online on the companies' websites or in person at an Academy Sports + Outdoors location. The collaboration specifically involves Magellan, an owned brand of Academy Sports.
While the companies' August 2021 line included apparel like fishing shirts and boat shorts, this second collection branches out into categories like drinkware, coolers, cornhole and cruiser bikes. It also includes clothing for girls and boys instead of just adults. Whataburger and Academy Sports wanted to expand the catalog to better sell items "that encapsulate that summer family vacation" and "create a lot of fun energy," Lawrence Lobpries, svp of marketing at Academy Sports + Outdoors, told Modern Retail.
Like the first time around, the new merch is being offered in a limited run. "The plan's to sell out again," Lobpries said. "We want it to be high heat, if you will." While Lobpries would not disclose revenue from the first collection, he said that sales "exceeded our expectations." "We were pleasantly surprised by the volume of sales but also the velocity," Lobpries added. Net sales for Academy Sports + Outdoors' third quarter of 2021 — which included August — increased 18.1% to hit a record of $1.59 billion, according to an earnings release.
Many companies, especially food and beverage retailers, are increasingly folding branded merch into their product strategies. In February, Panera rolled out a Fendi baguette-inspired handbag that blew up on TikTok, and last fall, supermarket chain H-E-B launched its own branded shop. These drops span all kinds of categories; in 2021, Dunkin rolled out a line of wedding gear that included "I Do Crew" tumblers and "This Bride Runs on Dunkin" robes. Whataburger has an online Whatastore that sells everything from table tents to fanny packs.
These products can be an effective marketing play for brands, thanks to their unique designs, exclusivity and/or nostalgia factor. They also act as advertising channels, because people with branded shirts or hats can become "a walking billboard" for that brand, according to Blake Droesch, senior analyst at market research firm Insider Intelligence.
However, branded merch isn't for every retailer, he stressed. "The secret ingredient is, it's only something that's really useful to a brand that already has a niche or a cult following." Whataburger especially fits the bill, he explained. It is "obviously a restaurant that's beloved in Texas," he said. "So that's the type of retailer or restaurant that's really ripe for taking advantage of an opportunity like branded merch." Some companies, like the canned water company Liquid Death, see a tremendous amount of sales from merch. In 2021, Liquid Death made $3 million from items such as dog toys and mini-fridges.
To market their collection, Whataburger and Academy Sports are offering fans the chance to win free Whataburger for an entire year, as well as additional prizes, menu items and discounts. They're also leaning more into user-generated content, tapping a network of influencers tied to each brand to post about the launch. Some of these are grilling, fishing or hiking enthusiasts, while others are celebrity partners or people excited about the products, Lobpries said.
On the whole, Whataburger and Academy Sports have tweaked their social strategy since the last campaign. When it came to social media for their first collaboration, the two companies "probably got a little too cutesy in our social dialogue back and forth," Lobpries said. "So, we think we have a much better approach this time as far as the calendar and the consistency of the language." Academy Sports + Outdoors' website has a countdown clock to the launch and teases that "Something Delicious Is Coming Soon."
Every branded merch collaboration is different, but it's crucial that the two companies involved have a common link, Insider Intelligence's Droesch said. Without that, "the customer base is not really going to gravitate toward or understand the intended appeal" of the collection, he said.
"We know a lot of Whataburger customers are big fans of the outdoors, so a partnership with Academy Sports + Outdoors… was a perfect fit for us," Rich Scheffler, evp and cmo at Whataburger, told Modern Retail.
The collection, according to the brands, also needs to have wider appeal. As Lobpries acknowledged, "we can't just export Texas everywhere." When planning this collection, it was important for the two companies to "make sure that we dial in not just the right items, but the right level of inventory, for the relevancy of the seasonality," Lobpries explained. "We're definitely taking all data sets, including customer behavior [into account]."
A previous version of this story incorrectly stated that the new merchandise collection was available for sale at Whataburger restaurants. The story has been updated to note that it is only available for sale on Whataburger's website, in addition to Academy Sports + Outdoors stores.