In a bid to win back consumer spending, retailers are betting on travel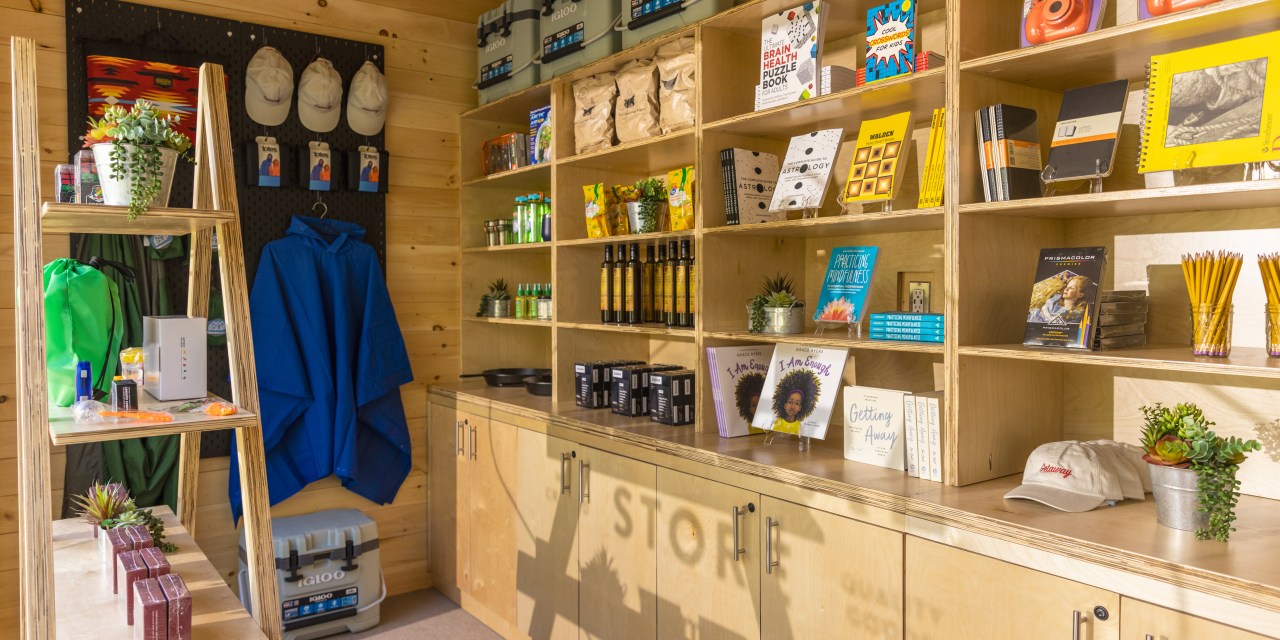 Walmart
After a few months of mixed financial results, more brands and retailers are looking toward travel.
Walmart recently partnered with Getaway, which lets guests stay in tiny cabins nestled in nature, to offer a mini-retail store at some of the hospitality company's outposts. Meanwhile, other brands ranging from Kylie Cosmetics to The House of LR&C, a fashion house created by Denver Broncos quarterback Russell Wilson and singer-songwriter Ciara, are striking deals to sell their products through select airports. 
With restrictions easing, more people are spending money on travel again rather than discretionary goods. In an attempt to catch some of those spending dollars, retailers are striking new travel-focused partnerships, which may vary depending on where their core customer is jetting off to. Fashion and luxury brands have their sites set on the duty-free sections of airports, while mass-market retailers like Walmart are more focused on domestic travel. 
The impact of shifting consumer spending towards travel and entertainment was on display in June when retailer giants reported weaker than expected earnings after experiencing unprecedented growth levels the previous year. As a result of mismatched demand, retailers had to mark down unsold inventory or liquidate it entirely, particularly in categories like home goods and electronics. By contrast, travel spending exceeded 2019 levels for the third month in a row in June to $105 billion, according to the U.S. travel association.
"They're just pivoting more to categories where consumers are spending," said Tim Campbell, director of industry insights at CommerceIQ. "They're trying to follow the shopper to where they're going." 
Foot traffic at airports in particular is growing significantly due to bottled-up demand from the pandemic. The Detroit Metropolitan Airport, for example, dealt with almost as many travelers in the first half of the year as it did all year in 2020, the Wayne County Airport Authority's June aviation statistics report indicates.
As a result, airports have become prime real estate for retailers. The House of LR&C, for example, announced in June that two of its clothing lines will be available for purchase in U.S. and Canada airports through duty-free and specialty retail stores operated by Hudson. The brand will first launch in the Gallery ORD store at Chicago O'Hare International Airport early next year. Meanwhile, several travel news outlets have reported that luxury jeweler Cartier has unveiled its largest travel retail store at the Istanbul Airport. 
Around a year after it relaunched, Kylie Cosmetics entered travel retail in the Americas via the Miami and São Paulo airports in June. Coty, which owns a 51% stake in Kylie Cosmetics, teamed up with Dufry and Duty Free Americas to launch an omnichannel campaign for the brand.
Jeremy Goldman, director of marketing and commerce briefings at Insider Intelligence, said that by opening a store in an airport, retailers are taking advantage of the time pressure involved in being in airports. 
"There is actually an interesting pressure that happens to travelers, which is that you can buy this now, and if not, you just can't buy it," Goldman said. "There's that time pressure on a consumer so they're more likely to make an impulse buy, in some cases, at a higher average cart than they would if they were closer to home."
With increased traffic in airports, retailers like Coty are benefiting from consumers spending more time in airports. As demand for its products persists, Coty recently raised its fiscal adjusted per-share earnings outlook to be between $0.23 and $0.27 from its previous $0.22 to $0.26 forecast.
"You can see that Europe and travel retail are back today," Coty CEO Sue Nabi said during an earnings call in May. Nabi added that "people are shopping fragrances globally today more than ever before. All levels are above 2020-2019." 
Some retailers, on the other hand, aren't looking at airports, but on airplanes to gain the attention of travelers. Ready-to-drink cocktail brand Tip Top, among other food and beverage startups, has teamed up with Delta Airlines to raise brand awareness and grow its business.  
Amar Singh, senior director at Kantar, said that retailers are always trying to expand into the most in-demand categories as long as it is a natural fit for them. When expanding into other categories, Singh said it can be challenging for retailers to figure out a way to lure customers back onto their ecosystem.
"To bring them back into the retail fold, the one way you can do is just be more pre-emptive and relevant for your promotions, which many retailers are doing through the loyalty programs," Singh said.
In Walmart's case, the company is aligning its subscription service with the new promotion in order to keep the customers they acquire through Getaway. Getaway Guests who stop by any outposts over the next year will get a complimentary Walmart+ trial.
Insider Intelligence's Goldman said that retailers will also have to maintain their brand image as they expand into new categories like travel. 
"It's something where you have to really think about how your brand is going to be represented," Goldman said. "People see that it can be highly profitable, but that doesn't mean that it doesn't require quite a bit of work in order to get it done."