How the fake meat industry is trying to reinvent itself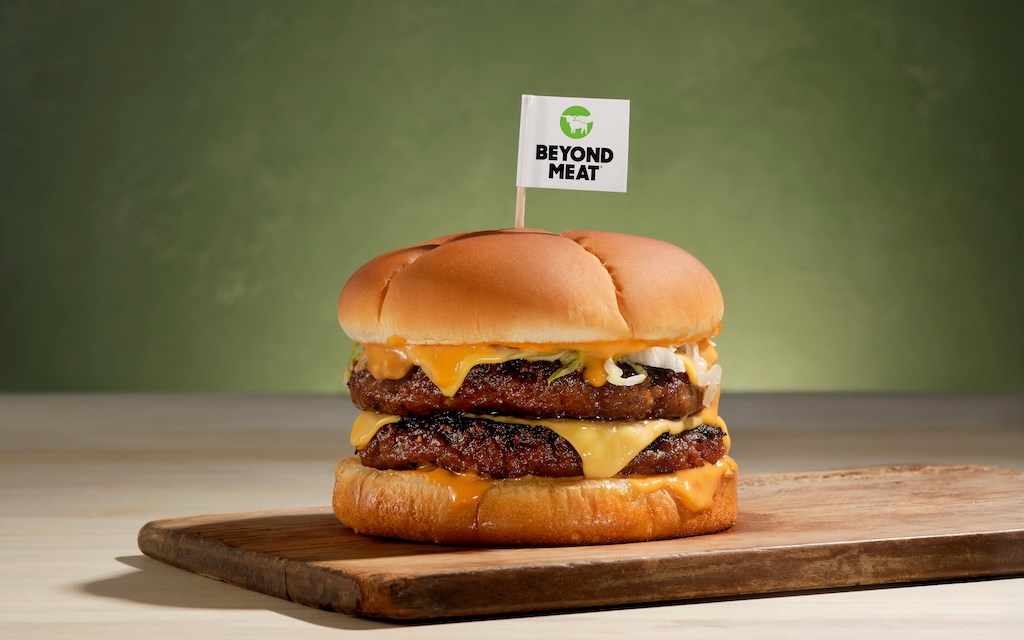 Beyond Meat
The fake meat industry is going through growing pains, prompting brands to rethink their product lines and marketing.
The meat alternative category seemed to peak around 2019, with two major companies leading the pack: Beyond Meat and Impossible Foods. Beyond Meat's IPO gave it a valuation of nearly $1.5 billion. Meanwhile, the company's revenues hit $406.8 million for the full year 2020, a 36.6% year-over-year increase. That same year, Impossible Foods' retail footprint increased nearly 100X. These companies tied to further jump start their growth by partnering with major fast food chains and jumping on trends, like releasing their own versions of meatless chicken amid the chicken sandwich wars spearheaded by Popeyes and Chick-fil-A.
But since then, the category has been in a slump, with industry leaders reporting declining revenue, while other startups like Nowadays and and Meatless Farm, have shuttered or had layoffs this year. While some shoppers were previously intrigued by the novelty of these meat alternatives, others have been turned off by underwhelming taste and mysterious ingredients. In turn, newer players in the space are trying to differentiate themselves by marketing their products as a convenience play, while promoting products with natural ingredients that offer easier-to-understand health benefits.
In the second quarter of this year, Beyond Meat reported net revenue dropped 30.5% year-over-year, to $102.1 million. But that was just the latest set of lackluster results from Beyond Meat over the past 18 months. For the 2022 fiscal year, revenue was down 9.8% from 2021 while losses jumped 101% to $366.1 million. Meanwhile its biggest competitor, Impossible Foods, has once again placed its long-anticipated IPO on hold. Impossible does not share sales figures publicly, but said 2022 saw "record sales" and 50% dollar sales growth in retail. However, last year the company also cut its workforce by 130 people to bring costs in line with revenue.
Now, with these industry leaders struggling and mass adoption still lagging behind other better-for-you and plant-based foods, companies in the alternative meat space are now trying to course correct.
Muddled messaging and increased competition
When they first launched, faux meat brands marketed themselves as direct beef competitors that were healthier for the planet, which they believed would be the ticket to becoming a dominant food category. This made for a confusing messaging, especially among people looking to try meat substitutes for the first time.
Chris DuBois, executive vp, fresh and protein practice leader at Circana, said that "meat substitutes have caught a lot of attention, but it has never caught more than 2% of the total meat dollar." He described the recent lab-grown movement in the meat-free category as "wave two," which built upon the early iterations of frozen veggie burgers of the '80s and '90s, and attempted to create products that more closely mimicked traditional hamburgers and other meat products. But the industry is now moving into in plant-based 3.0, DuBois said, which entails going back to basics by re-centering natural ingredients while also utilizing modern supply chain technology to streamline production.
Once Beyond and Impossible began getting traction, other companies from all sides entered the fray. This included big meat companies getting into the plant-based side, making it even harder for everyone to grab market share.
Lightlife, founded in 1993, came out with its own alternative meat burger in 2019 to compete with Beyond and Impossible's versions. That year, Perdue also entered the plant-based space with its line of chicken nuggets and tenders in partnership with The Better Meat Co.
Not only are fake meats going up against the big traditional meat companies, they're also competing with natural protein sources like tofu and tempeh – which tend to cost a fraction of the price of cultivated meat products. Moreover, well-funded U.S. startups are facing encroaching competition from Europe, where meat substitutes are seeing substantial growth — especially in countries like France and Germany.
A move toward clean labels
Given all the recent volatility the category has experienced, both new and established plant-based food startups are regrouping to settle on a more unified strategy and message to help the category grow once again. Real ingredients are a major part of the new positioning.
In 2020, Lightlife unveiled a campaign calling out Beyond Meat and Impossible Foods for their lab-made meats, in contrast with its "cleaner" meat alternatives.
DuBois said that in the past, companies like Beyond Meat and Impossible Foods "never explicitly said they're a healthy alternative to beef." People came to realize that while purchasing meat substitutes benefitted the environment, they weren't necessarily healthier.
Some nutrition experts argued that alternatives like Beyond Meat and Impossible Foods are less healthy than the real thing, because of how ultra-processed they are. DuBois added that taste is one of the biggest factors in people's decisions when it comes to protein purchases.
Still, DuBois said, the category is progressing gradually, considering current economic challenges and limited size of the alt meat market. "What we're seeing is that this category is probably not going to live in the fresh department," he explained, adding that the fresh meat is hard to break into for new brands. "The consumers really prefer to see these products in the frozen section."
However, he added that there are major changes happening within the category to change consumers' perception. Issues like long ingredient lists and underwhelming taste are being addressed, said DuBois. Earlier this year, Beyond's steak also received certification by the American Heart Association. In August, the company also launched its "There's Goodness Here" campaign to counter the meat industry's claims that meat substitutes are unhealthy.
Still, there is an overall shift away from lab-grown meats, with a number of companies focusing on creating products from natural sources of protein. For instance, Jack and Annie is trying to own the jackfruit-based frozen foods within the meat alternatives category; The company launched in retail in 2020 and has raised over $23 million in funding as of 2021. Mushroom-root based Meati Foods, founded in 2017, is another company utilizing farms instead of labs.
Takeaways for the next phase of growth
With the saturation in the fake meat market, young startups say they've learned from those mistakes and see a healthy pathway to growth.
Christina Ra, vp of marketing and communications at Meati Foods, Modern Retail "it took us a few years to find the right species of mushroom mycelium" to create its chicken and steak alternatives. But the company gained momentum this year. In January, Meati Foods raised $150 million in Series C funding to help grow its operations and retail distribution. Since March, Meati has rolled out in Fresh Thyme, Whole Foods and Giant stores, with more currently being added.
According to Ra, about 40% of Meati's purchases are currently coming from people who have never bought animal-free products before. "Retailers are telling us that while there's been challenges the past few years, customers are interested in convenience," she said.
Meati Food has placed a large emphasis on taste, getting the endorsements of celebrity chefs like David Chang and Tom Colicchio. "I think we've gotten off to a good start because we have six ingredients, including ones to help with color and flavor," Ra said. Convenience is another value prop that Meati is focused on. Much of Beyond Meat's grocery products need to be prepped and cooked, which can deter some shoppers from trying it.
"Consumer behavior is hard to change, so we need to meet them at home by showing that half the work is done with them," Ra said. This is why Meati's line is focused on pre-marinated cutlets and carne asada. "These do well because people can envision what meals to make with them."
In the coming year, Meati Foods plans to grow its footprint by getting into more retailers and food service. The company launched its DTC website just in September, which will be used to test new SKUs before bringing them to retail; this is where the company just launched a new line of jerky. Meati is currently in hyper growth mode, but Ra confirmed "we see the path to profitability within the calendar year 2024."
Canada-based Wholly Veggie, which specializes in frozen plant-based food like buffalo cauliflower wings and truffle-flavored mozzarella style sticks, is also sticking with simple ingredients in a convenient form.
As of last year, annual revenue surpassed $10 million in sales, but co-founder and CEO Johnathan Bonnell said like many plant-based food companies, Wholly Veggies is navigating retail challenges.
Through his background in the meat industry and experience in plant-based foods, Bonnell said the natural plant-based category is in a better position to grow because it's easier to understand than products trying to directly mimic animal meat with lab-cultivated alternatives. Wholly Veggie launched a meatless burger early on, but ended up pulling the product due to the saturated market.
"People expected [meat substitutes] to be cheaper, but it's oftentime more expensive," Bonnell said. "There is now a rush to clean up the formulas, many of which had tons of oils and additives." As such, Wholly Veggie focused on specializing in ready-to-heat dishes — an area of grocery that is currently growing.
But even for the overall plant-based segment, Bonnell said the past year has been tough in retail. Wholly Veggie is currently on the brink of being profitable, after having a tough 2022 with revenue being down.
Circana's DuBois said that all these pivots and consolidations are likely to continue until the category stabilizes. "Yes, the year-over-year numbers are painful and companies are exiting, but what you're seeing is that some of the winners have consolidated," DuBois said. "The hard part is that not everybody can win."