How Sera Labs is leveraging its celebrity partnership with Nicole Kidman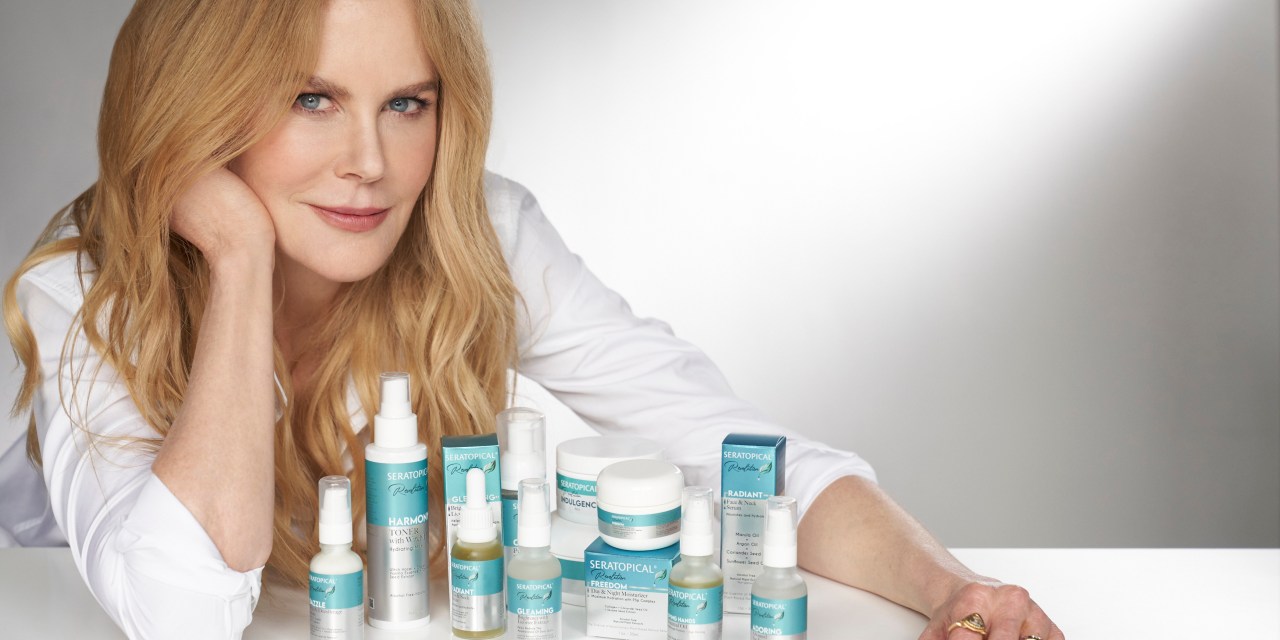 Sera Labs
People who've caught a glimpse of Nicole Kidman's skincare routine or "get ready with me" content have likely come across Sera Labs' products.
The actress has worked with Sera Labs since inking a partnership in 2020 as its global brand ambassador and strategic business partner. Together with Kidman, Sera Labs launched a clean and plant-based skincare line called Seratopical Revolution in 2021. Kidman, who also owns company stock, is involved with the marketing and product development of Seratopical Revolution.  
Thanks to its strategic partnership, Sera Labs has been on a steady growth trajectory. Sera Lab's parent company Avenir Wellness Solutions (previously called CURE Pharmaceutical) saw its revenue rise 32.1% year-over-year in the third quarter to $1.8 million. In 2022, the company recorded around $8 million in sales.  While working with celebrity stakeholders has become a more popular strategy among beauty startups in the last few years, having an influential partner alone doesn't guarantee success. 
"[Kidman] loves our products. She actually used one of our products when she broke her ankle a couple of years ago," said Nancy Duitch, founder of Sera Labs and CEO of Avenir Wellness Solutions. "She really wants to own a piece of a business that she believes in." 
Duitch founded Sera Labs back in 2018 and it was later sold to what is now called Avenir Wellness Solutions in a deal worth $20 million. All of Avenir Wellness Solutions' product sales come from Sera Labs, Duitch said. Seratopical Revolution has nine SKUs available, ranging from an eye serum, to a face and neck toner to a  brightener. Products from Seratopical Revolution range from $19.95 to $39.99 and can be found on the company's website, Amazon and at about 1,800 Walmart stores. 
The partnership began when Kidman's team reached out to Duitch after having used the products herself. Since then, Kidman has appeared in a number of ad campaigns and social media posts for the brand. In a video that garnered over 350,000 views from Harper's Bazaar in 2021, Kidman featured three products from Sera Labs such as the Clarity foaming cleanser.
On the night of the 95th Academy Awards, the company tapped Kidman again to leverage the highly-anticipated event to bring attention to the brand. This time, the company also utilized Kidman's long-time celebrity makeup artist, Kelsey Deenihan, and pitched a behind-the-scenes look at how Kidman is preparing for the Oscars to publications like InStyle and Hollywood Life featuring Seratopical Revolution products. Deenihan also offered interviews for this initiative.  
Twenty four hours after Kidman walked the red carpet, Seratopical Revolution sold $20,000 worth of products, up from the line's typical $5,000 sales per day average. After about three days, the company received a total of over $60,000 worth of orders. Its Adoring eye serum and Freedom day and night moisturizer were some of the best-selling products at that time.
"We started seeing sales come in at three o'clock in the morning," Duitch said. "I wasn't expecting it at all first thing in the morning."
Kimberley Ring Allen, founder of Ring Communications and adjunct professor at Suffolk University, said having a celebrity partner that has a stake in the company makes promotional campaigns appear more authentic because they aren't just paid per post. 
"We stopped trusting influencers when they were just posting a flat picture [because] it was clear that they got paid to post it," she said. "When you've got somebody who's invested in the company or is actually using the products or generating sales [for the company], it makes more sense for the brands to work with them." 
Indeed, brands have begun looking at celebrities, not just as a marketing tool but as co-owners of the brand. Alcoholic beverage brand Thomas Ashbourne, for example, works with actresses Sarah Jessica Parker, Vanessa Hudgens, Ashley Benson and Rosario Dawson — celebrities that also have an ownership stake in the company. In the skincare arena, Loops said in 2020 that model Emily Ratajkowski has a minority stakeholder in the company.
However, Allen warned that celebrity partners with problematic tendencies can do more harm than good to a brand. Adidas recently said it lost $540 million due to unsold Yeezy products after ending its partnership with rapper Kanye West due to his antisemitic statements. 
"At the end of the day, they become an extension of your brand, which means you can't control how they behave," Allen said. "That's why you do a vetting process. It's not about choosing a celebrity that just has a massive following. Today, it's about choosing a celebrity that people can resonate with."
With the heightened attention that Sera Labs now has, Duitch said the company is working on creating more ads for platforms like Meta, TikTok and Google to maintain the momentum. The company also plans to film a TV commercial with Kidman for one of its new products.