How cocktail brand Thomas Ashbourne leverages celebrity partnerships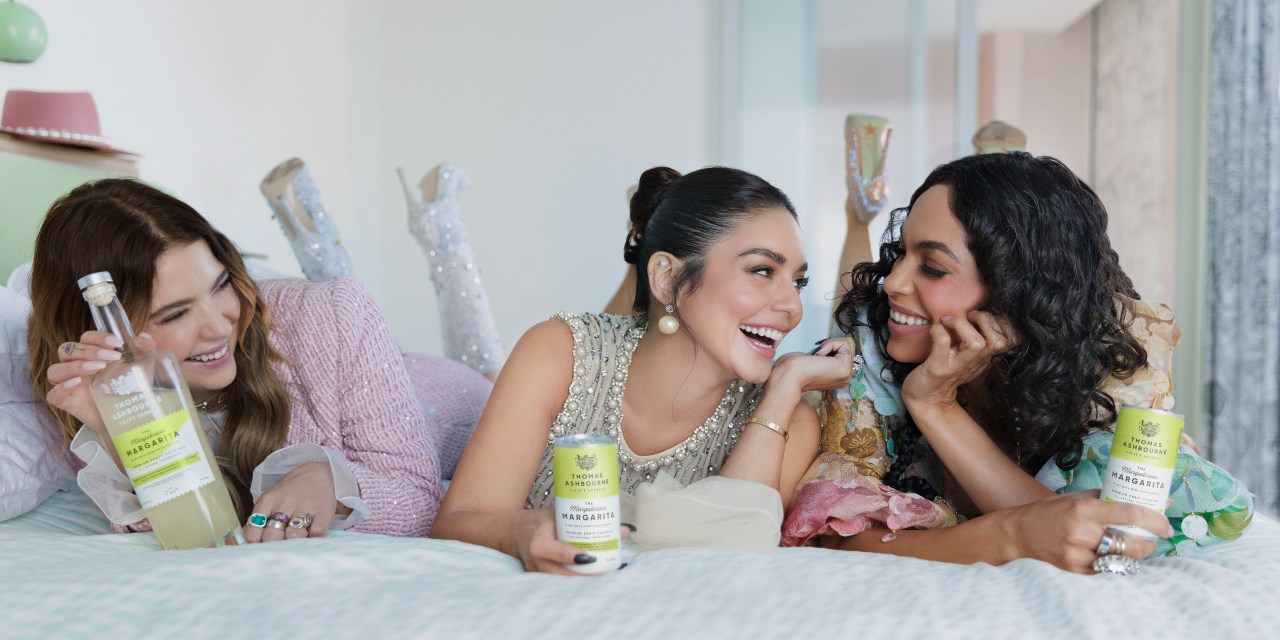 Thomas Ashbourne
Canned and bottled cocktail company Thomas Ashbourne may be less than a year old, but it already has some big celebrity names attached to the brand.
The ready-to-drink cocktail space is ever-growing, and Thomas Ashbourne has opted to showcase celebrity partners front and center as a way to stand out from the pack. The brand works with actresses Sarah Jessica Parker, Vanessa Hudgens, Ashley Benson and Rosario Dawson. Around May, Playboi Carti joined the roster when the brand introduced The Hardscatto cocktail, which is reminiscent of the traditional moscato. These celebrities also have an ownership stake in the company. The ready-to-drink cocktail category is expected to grow $11.6 billion in the next five years, according to the IWSR.
Thomas Ashbourne launched in July 2022 with the idea of offering ready-to-drink cocktails, such as The Perfect Cosmo, The Margalicious and The Classic Old Fashioned. Thanks to its partnerships with celebrities, Thomas Ashbourne was able to attract the interest of wholesalers and consumers. The company, which currently has four spirits-based SKUs, was able to surpass $1 million in revenue after being in business for less than six months.
"Celebrities certainly open doors and they certainly can drive really like organic reach," said Cara Kamenev, CEO of Thomas Ashbourne Craft Spirits. "But it's equally as important to us that we're also a brand that stands for craft, taste and quality."
Thanks to its strategy, the brand was able to grow its retail footprint significantly within a short amount of time. Its products are available in over 4,000 doors in 26 states through retailers like Kroger, Albertsons and Total Wine & More. The "vast majority" of Thomas Ashbourne's revenue currently comes from physical retail.
"One of our competitive advantages is that we're both building a brand and leveraging the power of celebrity and doing so simultaneously," Kamenev said. "By leveraging that unique mix, we've been able to open a significant retail footprint in a very short period of time that other brands of our age I don't think have been able to do at that stage."
Some of the company's cocktails are attached with celebrities and it plans to launch additional SKUs with new and the same celebrity partners. For example, Vanessa Hudgens, Ashley Benson and Rosario Dawson are specifically involved with The Margalicious Margarita. Kamenev said these celebrities are involved in everything from product development, taste testing and store visits to promotions. 
The promotion these celebrities are involved with go beyond participating in marketing materials. Kamenev said when these celebrities host parties or events they often serve their guests with cocktails from Thomas Ashbourne. For example, when Sarah Jessica Parker's new SJP Collection flagship store opened in New York last month, the actress served her signature cocktail from the company The Perfect Cosmo.
When it comes to product development, Thomas Ashbourne considers these celebrities' drink of choice in addition to market data. Kamenev said that for Sarah Jessica Parker, for instance, it was a no-brainer to launch The Perfect Cosmo as the actress' character in the show Sex and the City popularized the cosmopolitan cocktail.  
Kamenev spent around 10 years of her career in L'Oreal where she took on several roles, including vice president of consumer engagement and vice president of brand communications and strategic initiatives. During the time she spent in charge of social, digital and talent initiatives, Kamenev has built relationships with her celebrity partners.
In her career, Kamenev has seen "how powerful the right partnerships can be for a brand," she said. "I'm taking that learning and applying it here in partnership with some of what I think are the best talent partners that we can have."
Celebrity partners certainly make a brand appear more aspirational, said Melissa Minkow, director of retail strategy at digital consultancy firm CI&T. A "trust transfer" could impact the brand if it partners with celebrities who've built a level of trust with their followers. By having multiple celebrity partners, that also signals to wholesalers that this brand has financial stability, she said.  
"If they love the celebrity and think that celebrity has good taste. They will kind of make that association or assumption automatically that the brand is a good one," Minkow said. "A lot of consumers look to celebrities as goals for themselves."
It's not unusual for celebrities to get involved in the alcoholic beverage category. Rapper Cardi B partnered up with CPG maker Starco Brands to launch Whipshots, a vodka-infused whipped cream. Actor George Clooney co-founded tequila company Casamigos. 
However, like any partnership, Minkow warns that brands should be sure that the celebrity matches the company's values. Brands have taken a huge financial hit from controversies stemming from celebrities' behavior. Adidas recently reported a $540 million loss from unsold Yeezy products after ending its parting ways with rapper Kanye West due to his antisemitic remarks.
"A big part of this whole approach in marketing is understanding that this person is an extension of your brand," Minkow said.
When choosing a celebrity, Thomas Ashbourne's Kamenev said the company is looking for someone who is both a good partner and business owner. She added that the brand is looking for even more long-term partnerships. Kamenev said the company will be announcing a new celebrity partner this year.