How resale apps are courting Gen Z shoppers — even as they embrace fast fashion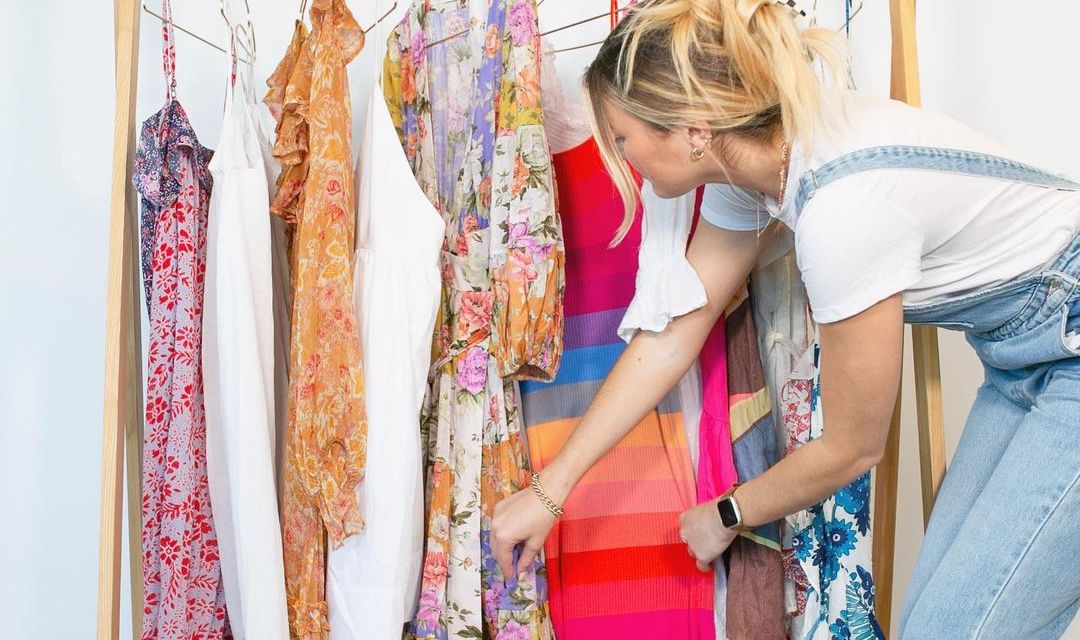 Poshmark
Emma Coffey began selling clothes on resale platform Poshmark when she was just 14 years old. Inspired by the buzz around Marie Kondo's "The Life-Changing Magic of Tidying Up," Coffey had cleaned out her closet to a minimalist capsule wardrobe and sold off the rest.
Six years later, the fashion merchandising major at Kent State University has grown her Poshmark closet into a $700-a-month operation. She focuses on selling high-quality basics and luxury handbags, sourced from consignment stores in her hometown of Louisville, Kentucky, and Goodwill outlets where she competes with other resellers hunting for treasures through the bins.
To Coffey, secondhand shopping is particularly popular among her age group because it's an affordable alternative to buying cheap fast fashion items. Young shoppers may not be able to afford high-end eco-friendly brands, so secondhand allows them to shop sustainably without the price tag, Coffey said.
"They're really taking into account the waste that is happening," Coffey said. "And especially for a college-age student, finding a great designer brand for a fraction of the price, and it's still in great condition? Why not get it instead of a fast fashion thing that's gonna break on you after a few uses?" 
Experts in resale say a confluence of high inflation, increasing climate crises and vintage trends are sending Gen Z to the burgeoning resale market. New research from Boston Consulting Group and online resale platform Vestiaire Collective found 31% of Gen Z consumers are interested in buying secondhand fashion, and 44% say they're interested in selling it. Overall, the resale market has tripled in size since 2020 to $100 and $120 billion worldwide, the report found.
In response, resale platforms like ThredUp are pitching their services to brands as a new way to reach Gen Z shoppers. Meanwhile, other brands that have a large Gen Z user base are increasingly building their own resale platforms. Fast-fashion giant Shein launched an exchange for used items this week amid widespread criticism of wasteful production practices.
Despite the resale boom, Gen Z shoppers are still buying up fast fashion. Brands like Shein, Fashion Nova and Pretty Little Thing rank high in popularity among Gen Z despite sustainability concerns, and frequently turn up in the resale market themselves.
Coffey said there's a disconnect between what some young shoppers say they want to support and what they can actually afford.
"The college-aged student is going to pick the cheaper end of the spectrum, so I think there's a disconnect with all of that," she said. "People say, 'Oh, I want to be sustainable,' but they're not necessarily practicing that."
Morning Consult found in September that Gen Z is less concerned about environmental impact from fast fashion than Gen X.
Coffey sees secondhand shopping as a way to avoid fast fashion without sacrificing style or brand loyalty — and says even when she has more disposable income, she'll shop secondhand anyway.
"I'm a bargain hunter," she said. "It's just the hunt, and the feeling you get when you receive the item and it's in the condition you were expecting."
Growing resale interest from retailers
About four in 10 retail executives say their directors and boards are paying attention to resale, according to data from GlobalData's Fashion Retailer Survey from January 2022 commissioned by ThredUp. In turn, many are finding ways to capture a piece of the growing market.
Jackie Borker is the senior director of resale-as-a-service (RaaS) at ThredUp. The division works with apparel companies who want to get into resale by offering a virtual storefront for secondhand items of that brand. The site is set up and operated by ThredUp, which also handles the "e-commerce" back-end operation of listing the brand's used clothing. The brand links to the resale shop from its own site, and gets a portion of sales.
ThredUp markets the program as a way for brands to get in on the growing resale industry, without having to handle processing or fulfillment themselves. Additionally, the operation provides a way for brands to engage and connect with new or existing customers, Borker said.
Current ThredUp resale partners include youthful mall favorites like PacSun and Abercrombie and Fitch and higher-end popular brands like Madewell and Reformation. One of the most recent to join on was Hot Topic, a stalwart in alternative youth fashion.
"It might be a brand where Gen Z is already a customer and they're trying to engage them more deeply," Borker said. "Or, brands are also looking for ways to acquire and appeal to new customers. And if Gen Z is not yet within their customer set, resale might be one channel in which they can do that."
Three out of every four consumers say secondhand apparel is more socially acceptable than it was five years ago, according to ThredUp research. Some of that acceptance may be fueled by the widespread conversations on social media, with younger shoppers broadcasting their latest gets on Instagram or TikTok. Videos sharing secondhand hauls tagged #thriftvlog or #thriftwithme rack up millions of views.
Borker calls this "thrifting loudly," and says the brand sees it among its users tagging the brand in their content.
"Consumers want to share that they've purchased something secondhand," she said. "Not only do they feel good about having made that purchase, they go out of their way to share with their circle that they're wearing something secondhand."
A love for vintage
Luxury online resale platform TheRealReal is also seeing "massive" growth among Gen Z, according to Kelly McSweeney, the company's women's merchandising manager. Site visits are up by 35% year-over-year as of August, with Gen Z purchases of ready-to-wear clothes up 27% year-over-year.  
And though The RealReal hasn't specifically marketed to Gen Z, some have become avid users: Gen Z customers on The Real Real are the fastest to re-sell items that they purchase, McSweeney said.
They're buying up women's clothing and accessories with an "investment mindset," McSweeney said, which includes a focus on high-end brands and classic pieces. Demand for Bottega Veneta bags, for example, is up eight times what it was in 2019. And a renewed interest in vintage from 90s and early 00s has spurred sales for logo-heavy Christian Dior, up almost four times what it was in 2019. Searches for Cavalli have doubled among Gen Z as well as Millenials. 
"They're trend-savvy shoppers and are always looking to seek out what's new, taking particular interest in vintage favorites once loved by Gen X, effectively driving up the resale value for styles like the Fendi Baguette, Louis Vuitton pochette, and the Christian Dior Saddle bag," McSweeney said in an email to Modern Retail. 
A seller's perspective
Poshmark says about 27% of its shoppers were Gen Z as of the end of last year. It specifically seeks out Gen Z shoppers with celebrity and TikTok partnerships — like Doja Cat, Eric Nam and K-pop group ATEEZ launching celebrity closets — plus an entrepreneurial advice network called Posh on Campus.
Chloe Baffert, head of merchandising and curation at Poshmark, told Modern Retail that she sees Gen Z shoppers turn to the platform for affordability and value — as well as trending items. For example, Birkenstock mules and clogs sales were up 70% year-over-year in the third quarter after the items went viral on TikTok.
"If it goes viral on TikTok we see it almost instantly in the data," she said.
Ali Dieguez, a 23-year-old who recently graduated from San Diego State University, was a Poshmark shopper before she started reselling on the platform in 2020. She said she sees shoppers experimenting with trends, securing vintage pieces, or getting duplicates of favorite brands in sizes they know they can trust.
"Poshmark was a really cost-effective way to follow trends," she said.
Then, she got a car her sophomore year and began thrifting. She would find items that could be resold for a profit, like $5 Lululemon leggings she listed for $75. As a kinesiology major and Muay Thai practitioner, Dieguez started focusing on selling athletic wear like Lululemon, Athleta, Sweaty Betty and other brands. 
Nowadays, she makes about $1,800 a month and is able to fit in running her Poshmark closet between competitions and studying massage therapy. She appreciates the flexibility and ability to work for herself — and she doesn't expect the trend to die down any time soon.
"There's not really like a stigma around it," Dieguez said. "Now that  it's all over social media and everything people aren't like as hesitant to say, 'Oh yeah, it's thrifted.'"
Correction: This story has been updated to include that ThredUp commissioned a survey of fashion retailers.