As part of an image rehab, Shein is launching a resale platform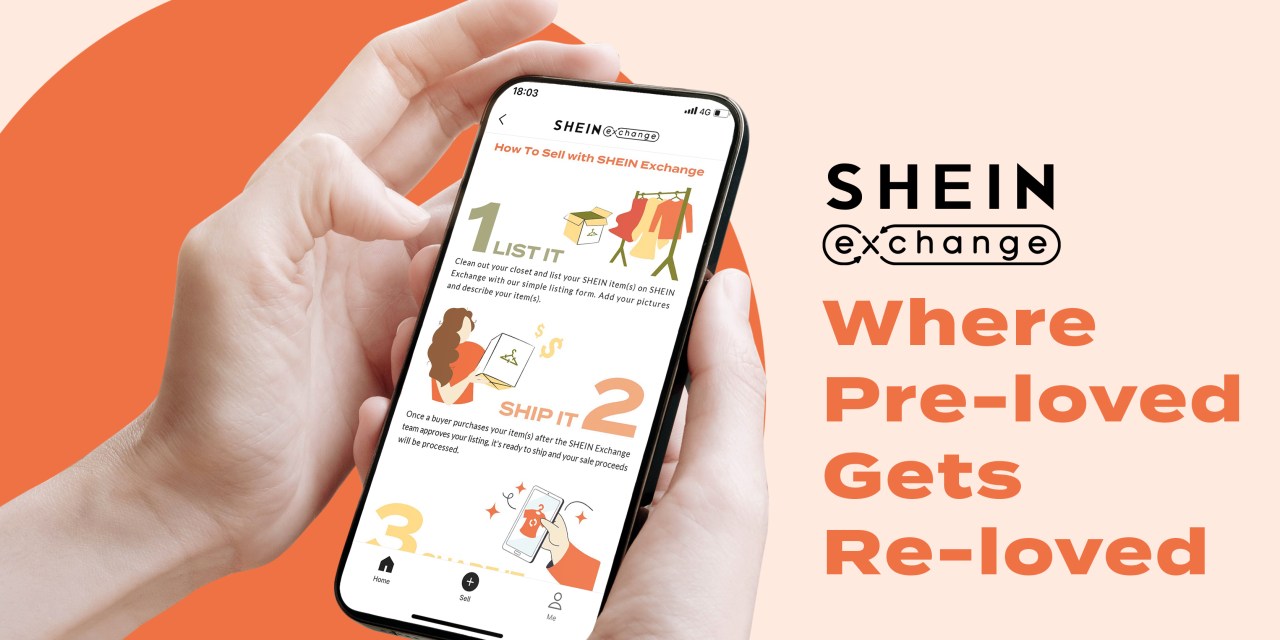 Shein
Fast fashion giant Shein is launching a resale exchange for its U.S. customers following mounting criticisms of its massive scale and impact on the environment.
Shein Exchange, an in-app platform where customers can sell their prior purchases to other users, launched Monday. Caitrin Watson, Shein's director of sustainability, told Modern Retail that the goal is to encourage users to participate in a circular economy while fighting misconceptions that Shein isn't concerned about textile waste.
"We're not going to let people who hate on fast fashion keep us from doing what's important, which is being a part of this movement," Watson said. "It doesn't make sense for us not to be a part of it. There's so much positive impact to be had."
The platform will launch in English and Spanish versions of the U.S. app, with plans to expand to other markets next year.
In its 14-year history, Shein has proliferated from a women's clothing company into a multi-faceted retailer of accessories, menswear and housewares.  In 2021, it became the top-downloaded iPhone app and became a fast-fashion market leader; research firm Earnest found it grew from 13% market share in January 2021 to about 28% halfway through the year. And while Watson couldn't share exactly how many SKUs Shein has in its store, it has claimed it launches more than 1,000 items a day.
Amid growing awareness about the environmental effects of fast fashion, Shein has emerged as a frequent target. Good On You, an app that rates brand' ethical and sustainable practices, calls Shein "the worst of the worst." This summer, resale platform ThredUp launched a marketing campaign telling its customers to boycott a Shein pop-up shop in San Francisco, saying the brand encourages "endless consumption" by regularly launching thousands of new styles. And while Shein has built its brand on affordability, customers and reviewers are often critical of the clothing's quality.
But as the market-leading company heads toward a potential IPO and is reportedly facing a drop in its $100 billion valuation, the company is launching new efforts to combat anti-environment assertions. In late September, Shein announced a plan to reduce emissions by 25% by 2030. That includes setting baselines of its greenhouse gas emissions this year so it can measure its progress moving forward. And it's contracted with Brookfield Renewable Partners to work on switching to renewable energy down its supply chain.
In the pilot version of Shein Exchange, sellers will click on their past purchases to resell an item. That will auto-populate photos, details like size and color. Then they're prompted to add photos of the actual item. There's no user fee other than the 5% cut to Shein, and it's up to the seller of the item to decide whether to charge shipping or not.
Bundled purchases won't be immediately available. But Watson anticipates changes after the launch based on customer feedback before rolling it out into different markets.
Watson said the company won't likely make any money off of the resale exchange. Though it will charge a 5% service fee per sale, that may not cover total operating costs. And it could eat into sales of new items.
"If someone chooses to buy on the exchange, they're not buying something off of the regular retail platform," Watson said. "That is okay. It's up for us to learn, for us to figure out how to be a part of the circular economy."
Growing secondhand demand
Shein is hardly the first brand to launch a resale exchange, though models differ. Higher end brands like Lululemon and Eileen Fisher sell used goods on their platforms. Boohoo Group, which operates multiple brands including Nasty Gal and Pretty Little Thing, this year announced plans to get into resale across its portfolio.
Such initiatives arrive as secondhand shopping becomes commonplace as consumers wrestle with a turbulent economy; reusable goods marketplace OfferUp found that "recommerce" grew nearly 15% in 2021.
While there are widespread criticisms about the quality of Shein clothing — such as fabric concerns or poor construction — Watson said there's already a significant amount of Shein clothing that's being resold. Secondhand Shein clothes frequently popup on resale platforms like ThredUp and Poshmark. And they crop up at local thrift stores around the country.
Before launching the exchange, Shein did surveys around what kind of sustainable fashion activities customers want to see. Resale was a key standout, with 47% of responding customers saying they've sold a used Shein item, and 53% said they've purchased one.
The resale popularity may be partly due to how people use "fast fashion" items, like purchasing an outfit for a single event and then passing it on. Other shoppers may have ordered an item that they longer want to wear or that it doesn't fit right, Watson said.
"There are many pieces that last. Just because it's fast fashion doesn't mean that it can't have a really long life," Watson said. "Whatever the reason, now, you have an easy way to share that piece."
Competing in resale
Jessica Ramirez, analyst with Jane Hali Associates, said whether the platform is successful may come down to how user-friendly it is, such as limiting the amount of time users have to spend making the listing and what they earn.
"If Shein is making it better for the seller than Postmark, they'll probably use it," she said.
Overall, some brands' internal resale programs do quite well, Ramirez said. She pointed to Lululemon and Levi's as examples, citing how the denim company will mend used items before putting them up on its platform. An ultimate result of these programs is also brand loyalty, Ramirez said, as customers are engaging with the brand further.
"You're still bringing in that customer and keeping their attention," she said.
Ramirez said the Shein Exchange platform makes sense for fast fashion given how many customers may only wear an item once. But she also said that the strategy may be a move to fit in with what other brands are doing in the name of sustainability.
"When we talk about sustainability, the question is 'Are you truly being sustainable, or are you using this as a marketing plot?' That's a very fine line Shein is walking," she said. 
Fast fashion concerns
Watson, who joined the company about six months ago, said environment, social and governance issues are a priority for the company, evidenced by standing biweekly meetings between her department and company leadership and founders. There's "a willingness and excitement around being to stand up these projects," Watson said.
Watson also said there are "misconceptions" about Shein's production and fast fashion overall. While some retailers produce hundreds of thousands of garments upon production, Shein operates by offering variety at low volume – the annual sell-through rate on clothing are above 90%, Watson said, with single-digit percent of excess inventory.
"We are only producing in ultra small batches, like 100-200 units for each of these styles," Watson said. "And we have a really smart algorithm that can see how well our customers are responding, and whether or not we should purchase more, and how much we should to specifically meet demand, not just guessing and hoping."
She also said that Shein intends to publicize its ESG efforts. The resale program will be marketed through the app as well as brand ambassadors. And she pointed to multiple trade groups Shein participates in, like the Textile Exchange, that focus on helping companies  become more climate conscious.
"It's going to look different for different kinds of companies who serve different customers," Watson said. "It's really important to have all different, all different companies involved in this."