How Pair Eyewear uses TikTok to drive more than a quarter of its sales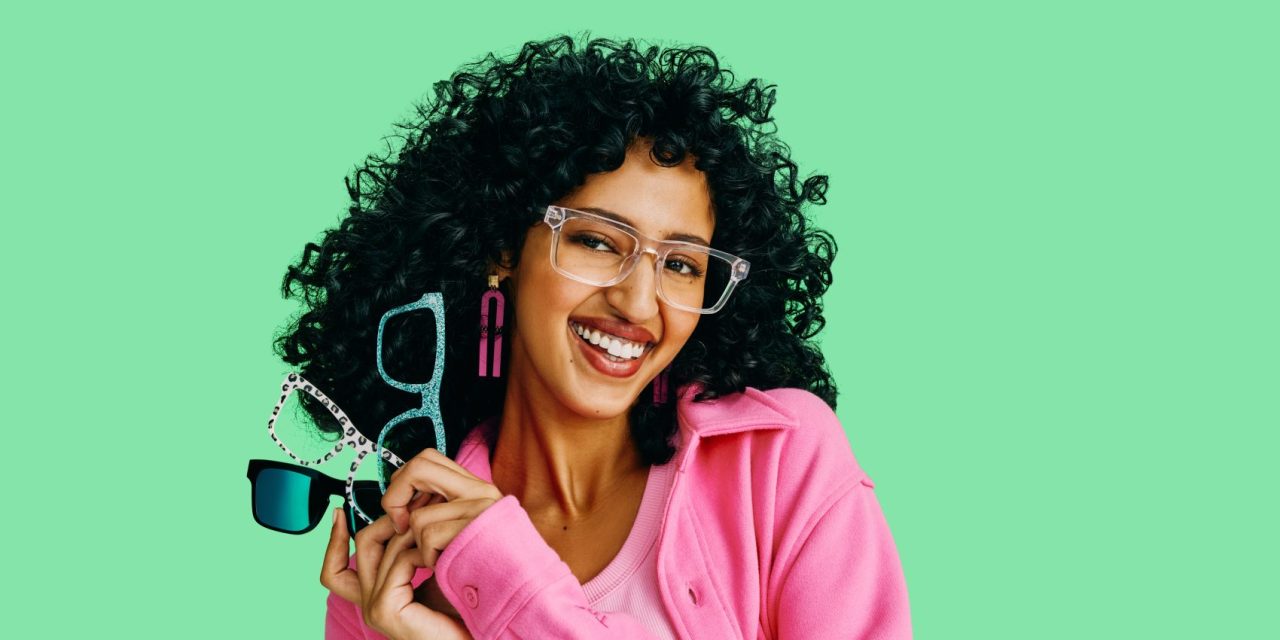 Pair Eyewear
The first time Pair Eyewear went viral on TikTok, co-founder and co-CEO Sophia Edelstein didn't have the app on her phone. This was October 2020, and the brand, still an early-stage startup, had yet to run ads or work with influencers on the platform. 
"I remember the day actually. There were like 10 friends of mine DMs me this link to a TikTok," Edelstein told Modern Retail. "That sparked the movement onto the platform."
A video of a customer showing off 10 different styles of customizable frames had racked up hundreds of thousands of likes under the caption "The Cheaper Way to Accessorize Your Glasses." Pair sells clear base frames starting at $60, then colorful and patterned "top frames" that attach on top with magnets. Those start at $25 each, with muiltiple colors and partners.
The video viral moment made the Pair team realize they could grow the brand's TikTok presence by using a similar structure — selfie-style videos with a user snapping the magnetized, colorful onto Pair's clear glasses.
On Tuesday, Pair announced it raised $75 million in its Series C funding, led by Prysm Capital. Future growth plans include international sales, as well as a move into wholesale with an established retail brand. To date, Pair has raised more than $145 million. But the path to this moment was largely cut through TikTok, serving as a case study on how to convert users from the most-downloaded mobile app of 2022.
Many brands have looked to TikTok to get eyeballs onto their brands. But for Pair, it translates to conversions. Roughly 50,000 of its customers come from TIkTok, contributing to at least 25% of the brand's total sales. The brand has sold about 3.2 million top frames, including more than 300,000 from TIkTok alone this year.
Edelstein credits the success on TikTok to several factors, including the diversity of the customer base that aims to "looks like the U.S. Census" in spanning age, race and geography. The midwest and south have the biggest customer base, and Pair works with influencers ages from 20 to 65. It's also played a vital role in how some customers build up a collection of top frames since TikTokers are showing off multiple styles in a single video, which builds on the repeat purchase strategy that Pair encourages by dropping new styles every week.
Three-point strategy
Derek Chew, CEO and founder of Fullmoon Digital, said that success on TIkTok — or any other platform — requires a brand to pay attention to the broader conversation that's happening around their product, their industry and the styles of posts that are popular.
"It's easy to run social media, and it's easy to run social content. But one of the keys to success with social media is the listening part," he said. "Are you tracking trends and what people are listening to in your space? Are you tracking engagement with your profile, and having the ability and guts to react to it?"
In the case of Pair, that meant striking quickly and jumping onto TikTok once it realized how well videos could perform. Grant Godlman, vp of marketing at Pair, said that the video-sharing app suits Pair in large part because users can see exactly how the product works.
"TikTok is a great place for us to tell our story, and a great place for us to interact with consumers because the product is very visual," Goldman said. "Being able to snap on and snap off a top is a great hook, for lack of a better word. It really engages the customer and allows them to often generate viral moments."
As the brand has grown, it takes a three-pronged approach to its TIkTok strategy. It has its own account that it creates content for and interacts with followers. It also runs paid ads. But a key part is its influencer and creator program — this year, Pair is working with nearly 1,000 creators who get a discount code to share with their followers.
On this point, Pair's strategy is based more around quality than quantity. Goldman said it doesn't necessarily go with creators who have the most followers, or are only Gen Zers. Rather, he said, Pair aims to work with a range of ages and demographics. Some are found via a sourcing platform, Creatoriq, other are just found through the app. Once working together, Goldman said that Pair uses an algorithm to help determine payment. Most of the creators have an ongoing relationship that spans multiple posts, using the #WearPair hashtag.
"We really want to focus on people who are glasses wearers, they understand the pain points of wearing glasses," Goldman said, though Pair does offer prescription-less lenses for those who wan to use glasses as an accessory.
Another reason the influencer program works may be due to the deals that come with it — influencers get a code to share with their followers that offers a 15% discount. And while Pair does have some deals for new customers, a referral program and a rewards program, its prices on its products are generally fixed.
Joe Harouni, connected commerce lead at Hero Digital, said part of Pair's success on TikTok may be due to how many users organically post videos about it. Some of them use the branded #WearPair hashtag used by the brand and its influencers. Harouni also said Pair's success in generating sales from TikTik stems in part from its multi-layered strategy.
"It's very easy to promote awareness and get eyeballs," he said. "If you want to drive conversions, that's when you need to have a content strategy."
Customer loyalty
Pair's TikTok presence also fuels repeat buys, Edelstein said. That's because oes ??? weekly drops of new top frames, and that gives customers something to talk about and then show off.
A handful of Pair customers have as many as 750 top frames in their collection, Edelstein said.
This collection-style-approach is mimicked in the TikTok strategy and conversations. One video shows a creator, who tags herself in the #over50club, putting on a pair with a pattern of the Wonder Woman icon, then sunglasses, then tortoiseshell pattern.
"Since we started and leaned in and scaling our influencer program, our customers have started replicating that behavior," she said. "On a Wednesday, people are on the platform, talking about which top brands from a collection they're gonna buy. The following week, when they receive them, they're back to the platform talking about which ones are their favorite," she said.
As Pair looks toward the future, Edelstein said that international growth is will be a key part of its strategy. That's also partly influenced by TikTok, she said, with viral videos reaching Europe, Asia and South Africa. The first international market will be Canada earlier this year, with more North American expansion on tap, Edelstein said.
There's also a wholesale partnership in the works, Edelstein said, and "continuing the process of vertical integration." The lens and top frames are made in a pair of factories in Irvine, California that allow for on-demand production.
And while it has yet to venture into the world of TikTok shop, due to the nature of its product requiring a prescription, Edelstein said it may begin toying with listing the swappable top frames on the site.
"We're the only ones in market creating eyewear that's customizable and affordable," Edelstein said. "I think we've proven out that this is something that customers like deeply need and want."