How GoPro uses its Million Dollar Challenge to source user-generated content year-round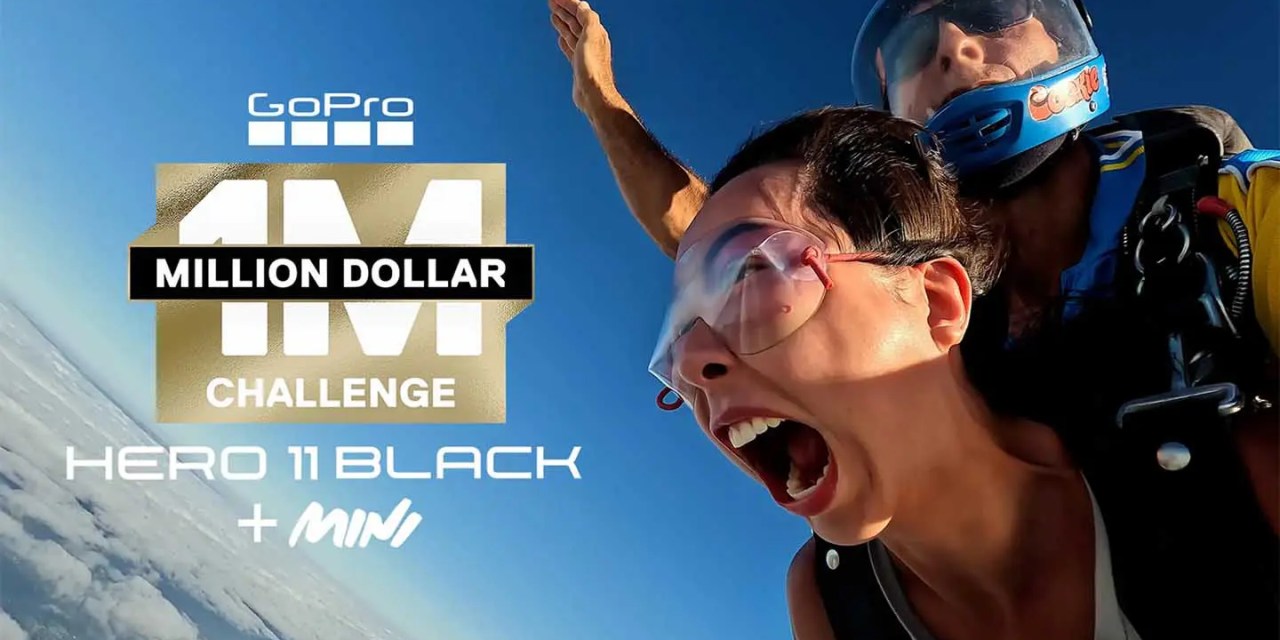 GoPro
For the past five years, action camera maker GoPro has been using its annual Million Dollar Challenge to crowdsource user-generated content made with its latest product. 
GoPro's Million Dollar Challenge started in 2018 as an extension of the company's awards program, a mixture of daily and seasonal contests, like a "$100,000 in 100 Days" cash prize contest. But the Million Dollar Challenge has become GoPro's most recognizable contest. The idea is to award some of the best creators in GoPro's community in exchange for their action-packed footage while encouraging people to upgrade to one of GoPro's newest camera models. 
Since its launch, the Million Dollar Challenge has become one of the brand's most successful marketing campaigns, garnering a record 43,000 submissions globally this year. In April, 55 video creators from 21 countries took an equal cut of the $1 million prize — each receiving $18,181.81 and their clip appearing in a final highlight cut. Following the winners announcement, pieces from the final highlight cut were promoted on GoPro's social channels and in TV commercials, among other official marketing materials.
According to GoPro, not only does the brand's annual contest help generate thousands of impressions, it's also become the foundation for GoPro's overall UGC marketing strategy. Aside from helping create the final reel, hundreds of the submissions are used in other marketing material ranging from social posts to TV ads.
Since going public in 2014, GoPro has struggled to grow revenue, with annual sales peaking at $1.6 billion in 2015. In 2022, GoPro's full-year revenue was $1.09 billion. In the first quarter, sales were down 20% year-over-year — though subscription and service revenue was a bright spot, coming in at $23 million and up 24% from last year. The company also announced it will return to pre-pandemic camera pricing in the hopes of making its products more accessible to new customers.
Kelly Baker, GoPro's head of community marketing, said that while not all submissions from the Million Dollar Challenge are usable in the final cut, there are enough that are typically high enough quality to use in various UGC campaigns. 
"The submissions we get for this challenge help fuel the next 12 calendar months of content," Baker said. "There are thousands of clips that we use for other platform content." These can range from social media posts, TV ads, or even video reels at store kiosks.
GoPro creative director Abe Kislevitz added that the company invests a lot of time sifting through all submissions, with GoPro overall receiving nearly 100,000 pieces annually. Million Dollar Challenge submissions usually make up the largest chunk of that.
"Typically, people think of UGC as scrappy low budget videos," Kislevitz said. "But our cameras have gotten so good over the years that the footage we get is sometimes as good or better than what we'd shoot." Examples include time lapses of different cities or mountain climbing drone footage. For this year's challenge, one person 3D printed a tennis ball and put the mini camera inside to have a dog bite into it. 
This year's Million Dollar Challenge submission window was open from January to April. "Through this period, we're constantly looking through submissions as they come in so we don't get backlogged," Kislevitz explained. The last month of the challenge is when the creative team starts to find a themed storyline and music to go with the footage. "Once the window closes we have to buckle down and narrow down until we have a timeline of the best of the best," Kislevitz said. 
GoPro has several criteria for submissions: all footage must be raw, uncropped and unfiltered. It also must be shot on the highest resolution and without music. Those submitting must also clear all content rights. Ultimately, Kislevitz said, editors choose winning clips at their own discretion — based on what they deem to be impressively shot or executed with a high degree of difficulty.
After a first pass on all the anonymous submissions, the editing team then whittles down submissions to a coherent final reel. "You can usually tell when scrubbing through a video whether it's worth watching through or not," Kislevitz said. "There are a lot of home movies or someone walking down the street that we know aren't going to make it in." 
This year, the footage was initially narrowed down to 35 minutes of 55 people's footage, which Kislevitz said were deemed worthy of the winning dollars. But at the same time, the awards team is keeping hundreds of pieces of content aside for use in other upcoming campaigns. "Sometimes we pass on great clips to be used as paid ads or social media posts," Kislevitz said.
Adam Dornbusch, CEO of UGC management platform Entribe, described user-generated content as the next evolution of influencer marketing. "The best form of marketing is word of mouth, and the next best is seeing people like yourself in the ads," he said. Dornbusch pointed to Entribe's new survey of 1,000 consumers, which found that 90% prefer to see brands share content from actual customers compared to sponsored influencer content. 
Since launching in 2002, GoPro's advertising has historically relied on footage created with its cameras, with past subjects including surfer Kelly Slater and snowboarder Shaun White. "That was the aspirational content," Dornbusch said. "Now people are looking for authentic content from real people using the product." 
In order to make it easier for the marketing team to access this user-generated content, Baker of GoPro said that the awards program's backend system now acts as a content hub for the company. The database has several sections for all teams to pull from, including categories called "anything awesome" or "seasonal."
"Anyone from the marketing, social, or even the packaging team have access to use these anytime," she said.