How C4 Energy is auditioning creators with its new TikTok program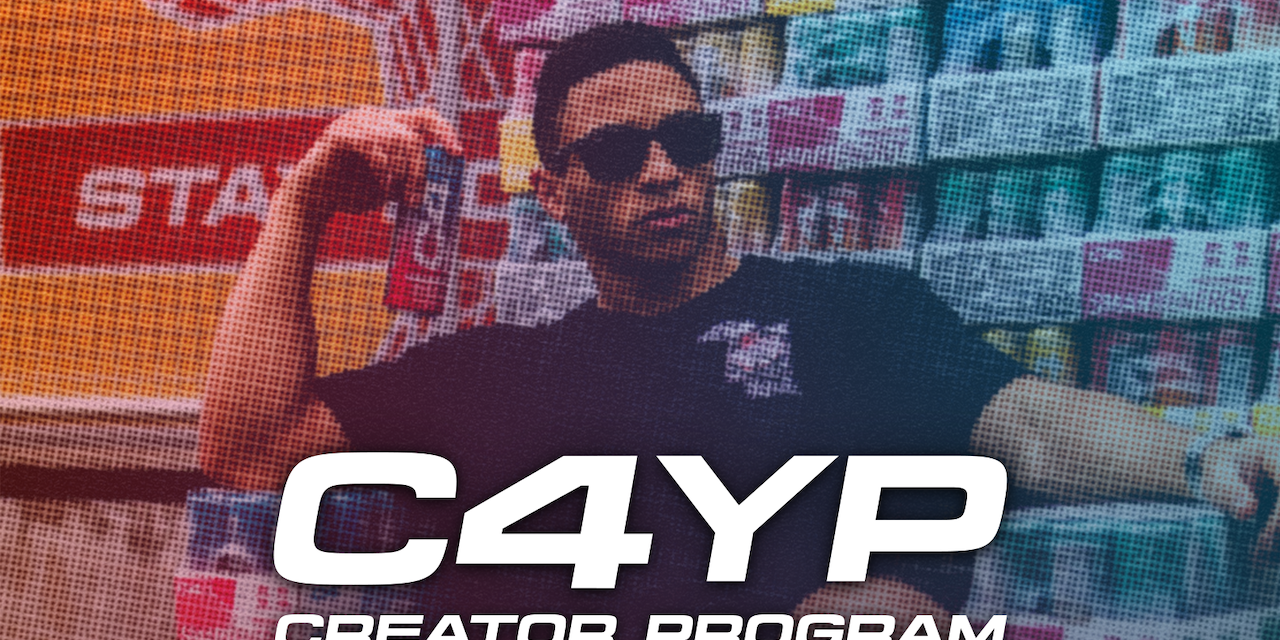 C4
Beverage and supplement brand C4 Energy is testing out a new way to find up-and-coming content creators who might be a fit for its campaigns. 
Starting this month, the C4YP program is giving TikTokers with any follower count the chance to earn $1,000 per month, in exchange for making three C4 Energy-themed videos. Furthermore, the top four creators at the end of the program graduate and get a six-month contract to join C4 as an official creator.
C4 Energy currently has 320,000 TikTok followers and 2.5 million likes. The brand has seen a 3,233% increase in shares on the platform over the past two months and wants to use the new creator program to build on that growth. But according to the company, C4YP is a way to generate a wide range of content to help make C4 products a TikTok mainstay. 
Launched in 2011 by parent company Nutrabolt, C4 Energy is known for its pre-workout drink, along with other energy and hydration supplements. The company has seen major growth over the past few years, as part of a wave of energy drink startups shaking up the category. Part of the brand's success has been credited to its digital marketing, which includes paid social ads and heavy influencer marketing.
Sam Wells, head of social at Nutrabolt, said the company partitions C4's social strategy into owned and earned social content. "We think of this program as an 'always on' creative engine for the brand," Wells said.  
Wells explained that C4 Energy already has a robust roster of celebrity ambassadors, including Kevin Hart and NFL stars like Kyle Pitts of the Atlanta Falcons. The brand also has fashion and lifestyle influencer Suzette James as a host of its official TikTok videos. The company hopes that by casting a wide net in attracting new creators, C4 Energy can reach audiences across lifestyle, beauty, fitness, sports and gaming. 
As a CPG brand with wide retail distribution, C4's social content strategy is a major driver of in-store sales. Robert Zajac, CMO of Nutrabolt, said that C4YP "is the next building block in our continuously expanding talent strategy." 
"As the program scales, it will definitely be focused on both brand and sales metrics," Zajac said. Primarily, he said that the company is looking to create authentic brand content that scales and brings in new C4 audiences into the fold. "That is very closely followed by our ability to leverage that scale and audience to drive sales off the back of the engagement and interaction." 
The TikTok program is starting with 80 selected people participating in the first "semester." Unlike typical briefings that brands give creators, Wells said C4YP creators have creative freedom on the posts — albeit with some brand guidelines to follow. The members can also push their unique C4 promo codes on their social media pages to earn sales commission. "We have a wide product portfolio of products they can tap into," Wells added.
With a chance to become an in-house talent, Wells said there's "somewhat of a competitive feel" to drive participants to create fun and engaging posts. "They have a chance to become part of our multi-tier talent funnel," he said.
Wells said that C4 decided on the dollar amount for the program partially so that it could use the tagline "put a grand in your hand" and create an even playing field for everybody. "We want to attract creators of all shapes and sizes, whether it's an expert vlogger or someone just here to entertain," he said.
The C4YP program is being launched in partnership with Trevor Bell — who has 5.4 million followers — who is already a brand ambassador for the company. The first class of C4YP includes creators like chiropractor Justin Lewis, known as GetAdjustedNow, and beauty influencer Brenda Wood. Products were shipped to members in early June, with content coming in over the coming days. "We got over 600 applicants within a week, which shows people are excited to work with us," Wells said.
One of the reasons C4 Energy chose to specifically focus on TikTok to start out is that "it's a high volume platform where you can post multiple times a day," Wells said. To start out, the company expects the current crop of C4YP members to generate a total of 240 pieces of content per month. "Eventually we want to scale that by adding hundreds of more creators." 
Adam Dornbusch, CEO of user generated content management platform Entribe, said that these types of creator programs "blend crowdsourced content with influencer marketing."
With paid brand ambassadors becoming more ubiquitous, Dornbusch said companies like C4 are looking for new ways to attract creators excited to talk about the products. "It's a way to blanket every engagement opportunity on a busy platform," he said. 
Wells said that C4 wants "to make sure we show up everywhere across TikTok," adding that, unlike a few years ago, the platform has become more competitive for e-commerce marketing. "Having a popular channel is only half the battle," he said. These days, he said, brands also have to be able to reach crossover to different sides of the platform. "We're also using C4YP as a way to gauge what kind of content is resonating across TikTok."
However, the company plans to adapt this creator-focused initiative to other channels. "We see C4YP being a big part of our overall creator program and hope to eventually open it up beyond TikTok," Wells said.