From pancake cereal to pink sauce, food brands embrace TikTok-inspired products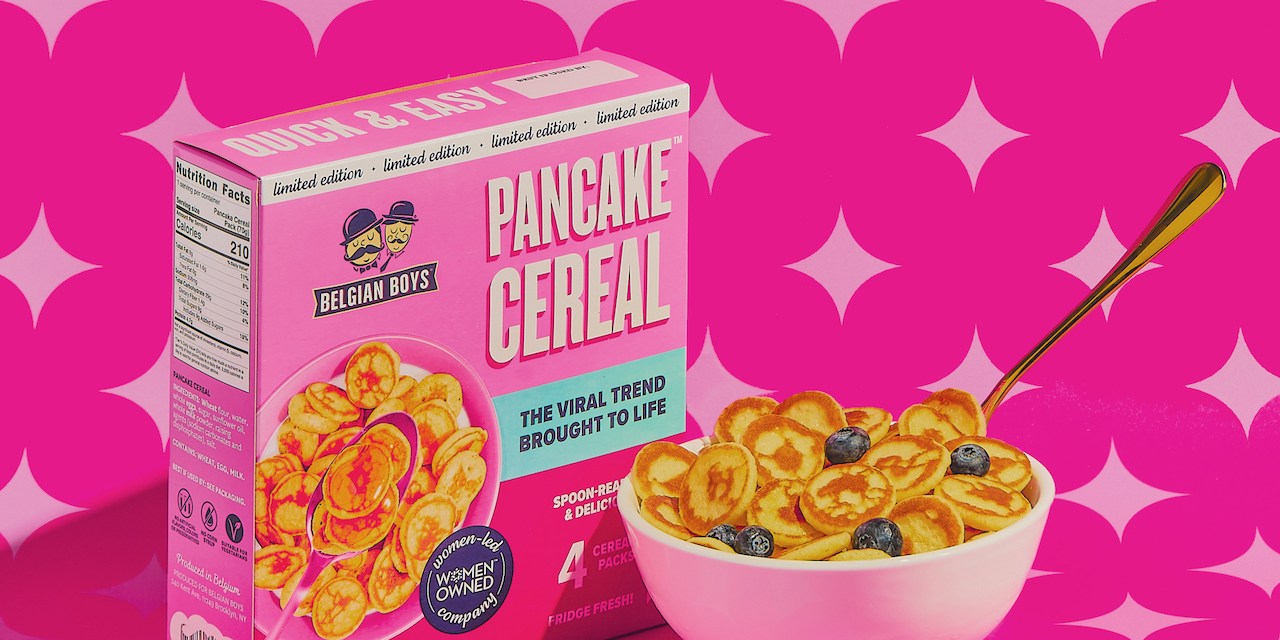 Belgian Boys
Viral TikTok recipes are coming to a big-box store near you.
In the past couple of years, social media platforms — with TikTok at the forefront — have helped catapult a number of food and beverage brands to the spotlight. This trend was kicked into overdrive during the pandemic when cooking and baking took center stage as people stayed home. 
Now, brands are manufacturing and selling these recipes at major retailers like Target and Walmart. This week, Belgian Boys is bringing its TikTok-viral mini pancake cereal to the masses, capitalizing on the recipe's ongoing online popularity. Similarly, in December IHOP and General Mills collaborated on the release of a mini blueberry pancake flavored cereal. The limited-edition cereal is currently sold on Amazon, and will hit select retail shelves this month. The news comes at the heels of the viral pink sauce getting its own brand partnership, partnering with Dave's Gourmet to launch it exclusively Walmart in mid-January. By packaging these popular recipes in easy-to-serve formats, these food brands are positioning their new products as convenient alternatives to hours spent recreating viral recipes. 
Belgian Boys CEO Anouk Gotlib told Modern Retail that the company is positioning the new cereal as a less messy iteration of the TikTok recipe. Mini pancake cereal began gaining media traction in May 2020, after several tutorial videos received millions of views. The earliest documented upload was by creator Sydney Melhoff, who is said to be the originator of the trend; Melhoff continues to create other miniature cereal variations, like mini pies and mini cinnamon roll cereal. The hashtag #pancakecereal currently has over 1.7 billion views on TikTok.
And so, the idea for the Belgian Boys cereal has been years in the making, and originated when the recipe first went viral during the 2020 lockdowns. "We saw people making labor-intensive recipes using mini ladles," she said. "So we thought about how we could create an easy-to-serve version for everyone from Gen Z followers to busy moms." 
Gotlib said the limited-edition product will be available exclusively at Target through the end of March 2023, and retail for $5.79 per box. Additionally, the cereal is made without corn syrup, artificial flavors, colors or preservatives. "We were able to secure an endcap at Target to help create visibility for customers familiar with the recipe trend, as well as passersby," Gotlib said.
The mini pancakes arrive at a time when mini foods continue to capture TikTok's attention. Brooklyn-based bakery L'Appartement 4F, for instance, went viral last year for selling $50 boxes of cereal made of mini croissants. The bakery has amassed nearly 40,000 followers and 1.3 million likes on TikTok since launching the page in 2021. 
The Belgian Boys R&D team spent nearly two years perfecting the mini fluffy pancakes before releasing them. Gotlib added that while investing time and resources into trendy foods are a risk for any startup, "we saw pancake cereal continue to gain popularity, and were willing to bet on it as an expansion of our collection."
The company already sells a mini pancake product, but Gotlib said the new recipe was created from scratch specifically to replicate the DIY TikTok recipes. Specifically, the pancake cereal is smaller and has a lower moisture level to be able to take a splash of milk. Gotlib said Belgian Boys' research and development team tested several recipes to figure out the best way to  package pancake cereal in fridge-friendly boxes. 
"The new SKU also fits well with our growing line, since we've doubled down on refrigerated foods in the past year," Gotlib said. In 2022 Belgian Boys added Brioche French toast to its line of crêpes, pancakes and waffles, which are all made in Belgium. "Being a pancake product means we're not chasing trends for trends' sake," said Gotlib.
Belgian Boys is rolling out the pancake cereal, fittingly, with a TikTok marketing campaign along with other social media platforms. Over the next few weeks, the brand's accounts will highlight behind-the-scenes footage of how the mini pancakes are made at the company's facility. "We're also partnering with a number of influencers who helped make the trend go viral by promoting the cereal," Gotlib said. 
Other companies are looking to bring more TikTok-favorite products to retail shelves by partnering specifically with creators. After TikTok creator chef Pii went viral with her Pepto Bismol-colored condiment last June, she was able to secure a partnership with condiment company Dave's Gourmet to launch a shelf-stable version, after questions about poor food safety practices arose.  
The influencer chef has amassed 228,000 followers and 6.9 million views on TikTok, prompting Dave's Gourmet to reach out to the self-proclaimed "Pink Sauce Queen" last August to help her package and sell the sauce. 
The new bottled sauce launched Walmart on Jan. 11, hitting 4,300 locations and Walmart.com, where it will be sold exclusively until July. According to a Dave's Gourmet spokesperson, while it's early too early to assess sales, the new product is "showing positive week-over-week growth." The company plans to also release gluten-free and vegan versions of the sauce.
"It's been amazing to see so many people rushing to Walmart to bring home a bottle of Pink Sauce right away," Dave's Gourmet CEO David Neuman told Modern Retail in a statement. "This sauce is truly one-of-a-kind. The Dave's Gourmet team is proud of the work we did to bring Pink Sauce to Walmart shelves nationwide and online so rapidly."
Belgian Boys' Gotlib said that being a nimble startup is a major advantage when it comes to being the first to bring trendy new products to market. "A lot of times big brands wait to do surveys and data, but this trend had over a billion views so it was a no-brainer for us," Gotlib said.
Still, launching a product based on an internet food craze is somewhat of a gamble for startups like Belgian Boys, which is still developing relationships with major retailers like Target and Costco. With that, Gotlib said experimentation is important given the company's growing brand voice. "We're always trying to come up with creative SKUs, which is not always easy," Gotlib said.