Food brands are creeping into the beauty category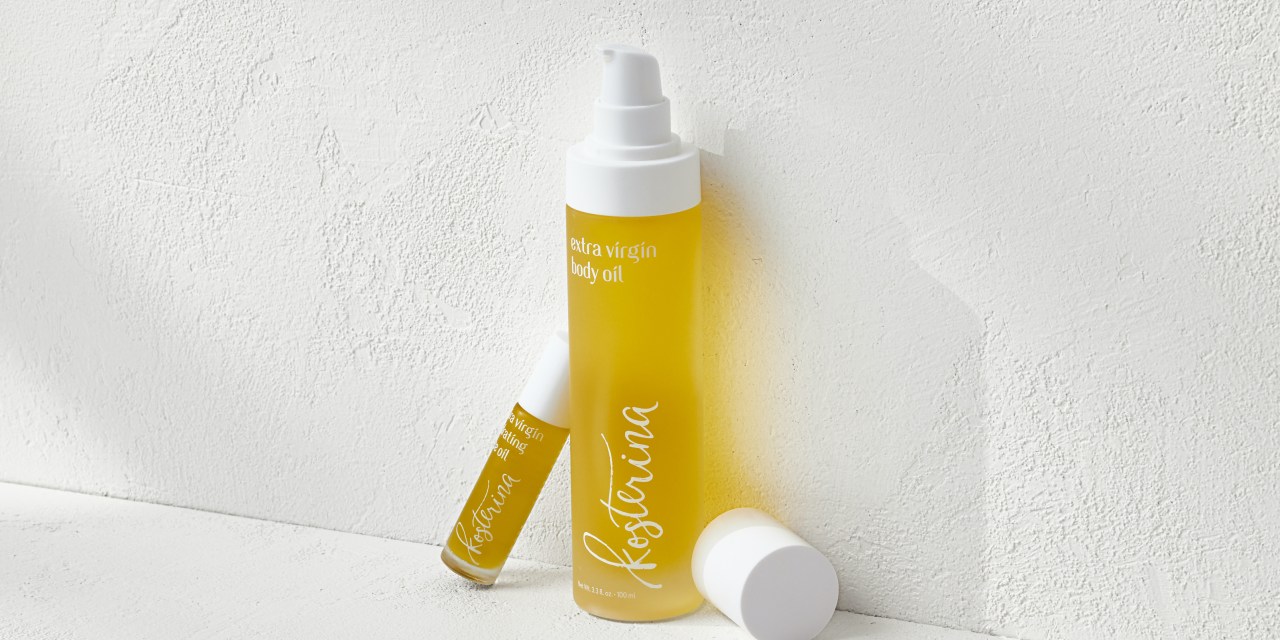 Kosterina
Food brands and pantry staples are taking a stab at the beauty category.
Kosterina, a brand that got its start by selling olive oil, currently has six skincare SKUs and has just recently launched a new body oil product this summer. Soda brand Poppi recently collaborated with InnBeauty to release two limited-edition lip oils. And Kellogg's-owned cereal brand Froot Loops dropped a scented nail polish line with Nails Inc. back in August.
Like any category expansion tactic, adding new SKUs in the beauty category allows brands to potentially increase their transaction sizes. Additionally, buzzy product expansions outside their core categories allow brands to drive excitement to their brands even when these products are temporary.
"You're opening up your brand to a larger segment of consumers," said Greg Carlucci, senior director analyst at Gartner. "I do think that there would be a benefit of visibility in a higher-end category of like beauty. It also provides some kind of brand equity benefits as a halo effect on your main category."
Indeed, since Kosterina launched its skincare line in 2021, the company has been able to bump up its basket size by $8 to $10. Katerina Mountanos, founder of Kosterina, said that 25% of its orders on its DTC website contain at least one skincare product. Kosterina's skincare products — which include its face oil, face moisturizer and oil balm — utilize extra virgin olive oil as a main ingredient.
Mountanos said that it has always been the company's intention to have a skincare line despite initially only offering olive oils when it first launched in 2020. When the company launched its first two skincare products, they only accounted for 5% of total DTC sales. Now, skincare generates almost 20% of Kosterina's total e-commerce sales.  
"I never wanted it to be just an olive oil brand. I wanted it to be a wellness brand centered around health and joy and the Mediterranean lifestyle. So skincare was always a part of it," Mountanos said. "I think the consumer is beginning to understand that health and beauty do come from both the inside and the outside."
Most of Kosterina's skincare customers — which is only sold online — are acquired through its premium extra virgin olive oil products, which are sold in Whole Foods, Crate & Barrel and Bloomingdale's. The company also encourages its olive oil customers to sample its skin care products by sending mini packets into every box they send out. Mountanos said that Kosterina aims to have 50% of its sales come from skincare products.
Poppi, on the other hand, is using its limited-edition lip oil set to promote the launch of its new limited-edition soda flavor called Cranberry Fizz. Poppi's lip oil in partnership with InnBeauty is made with clean ingredients. The lip products will be sold on InnBeautyProject.com, DrinkPoppi.com and Sephora.com.
Allison Ellsworth, co-founder of Poppi, said that expanding into the beauty category also allows the company to introduce the brand to new audiences and retailers. She said that there is a crossover between Poppi shoppers and beauty shoppers.
"We see an opportunity just for growth and relationship building within our retail community," Ellsworth said. "Something that's so cool with this is they're gonna sell the lip gloss on Sephora.com, which is something that like Poppy would not typically have the opportunity to be on."
Three years ago, Olipop released a lip balm in collaboration lip care brand Poppy & Pout. The Olipop lip balm, which was its first collaboration attempt, was mainly meant for influencer gifting and giveaways at trade shows. While Olipop's strawberry vanilla-flavored lip balm was short-lived, Olipop's director of growth and talent Steven Vigilante saw it as another "interesting touchpoint" to the brand.
"Our brand and our customers give us a lot of leeway to go into other categories potentially," he said. "We're obviously laser-focused on soda, but we get tons and tons of requests for merch and cups and glassware."
Larger CPG brands like Kellogg's are no stranger to beauty collaborations. In addition to Froot Loops' partnership with Nails Inc., the cereal brand also has an exclusive eyeshadow palette with Claire's. And in the early 2000s, Dr Pepper-flavored lip balms with Lip Smacker rose to popularity with several celebrities like singer Gwen Stefani and The Pioneer Woman star Ree Drummond mentioned using the balm.
While expanding into unfamiliar categories can be an effective revenue expansion play or a fun way to generate buzz, Gartner's Carlucci said retailers still run the risk of damaging their reputations by launching a bad product.
"Products [that] don't meet expectations can hurt the brand image," Carlucci said. "Expanding into too many categories can deter, in some cases, a brand from expanding and really doubling down on what they're best at."