Eater expands its e-commerce ambitions with a cookware line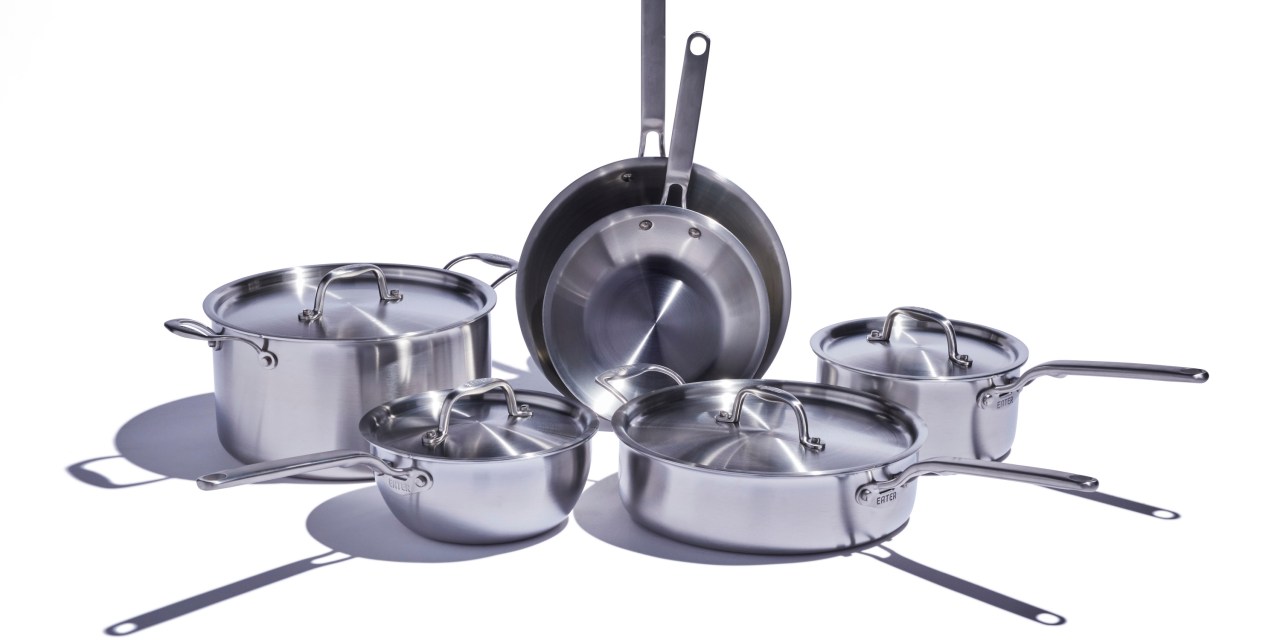 Eater
Eater, the Vox Media-owned publication that covers food and local restaurants, is venturing into home kitchens through a new cookware line with American brand Heritage Steel.
The Eater x Heritage Steel Cookware collection features 10 SKUs, including frying pans, saucepans and pots. The products will initially be available for purchase on Amazon and independent specialty stores in October but the company is aiming to partner with a major retailer. Items in the collection can be purchased independently or in 10-piece, 8-piece and 5-piece sets.
In recent years, Eater has slowly been building out its assortment of consumer products. The company currently has a total of 108 wine offerings per year from its Wine Club subscription program and five SKUs from its bento box collaboration with lunch box brand Takenaka, in addition to the cookware collection. The company said it plans to continue expanding its product offerings in the home goods category.
"The Eater audience trusts Eater to make recommendations about restaurants, about products for their home and about all sorts of culinary topics," said Eric Karp, svp of brand licensing at Vox Media. "But they also trust us to make our own consumer goods and they indicated an interest in buying those."
Vox Media — whose portfolio includes publications like Eater, The Dodo and New York Magazine — signaled its ambition to expand into consumer goods two years ago when it established its brand licensing group. Apart from Eater, animal content publisher The Dodo partnered with Walmart last year to release pet products like a step-in harness and dog grooming kit. The company declined to comment on how its consumer goods business has grown.
Publishers like Vox Media have been battered by the current harsh ad market. It raised $100 million from Penske Media Corp earlier this year. This most recent fundraise reportedly gave the company a $500 million valuation — half of what Vox was worth in 2015. Moved like these that expand into areas like commerce opens up an additional revenue stream for ad-reliant businesses like Vox Media.
Eater's cookware collection with Heritage Steel is meant to be affordable and high quality. The price of its stainless steel cookware line starts at $79.99 for its 8-inch fry pan. The cookware line features kitchen essentials and leaves room for future product expansions.
Heritage Steel is a family-owned company founded in 1982 with 30 SKUs — including skillets, stock pots and saucepans — in the cookware category. Its tie-up with Eater is Heritage Steel's first co-branded partnership. Heritage Steel products can be purchased on its DTC site, on Amazon and in 250 physical stores.
The partnership between a media brand and a consumer products company also has marketing benefits. Vox Media has 350 million social media followers and reaches 130 million people per month. The company said it plans to advertise the cookware line across all its sites and social platforms.
"There are a lot of people in the kitchenware industry and it's often very difficult to get your name out and get differentiated," said Danny Henn, director of sales operations at Heritage Steel. "It's really cool to have the opportunity to partner with a brand like Eater and really put dollars into that partnership. Whereas, the alternative is just shoveling money towards Google and Facebook."
Being both a media and consumer goods company helps alleviate the rising cost of customer acquisition, said Dan McCarthy, assistant professor at Emory University's Business School. Media companies already have a broad reach and an organic audience, which could help them advertise products more efficiently.
Other media publications have also launched their own assortment of consumer goods to create an alternative revenue stream. Food52 first launched as a food media site but now combines content with commerce. It acquired Scandinavian kitchenware company Dansk, lifestyle goods company Schoolhouse and has a private label called Five Two. The New Yorker, on the other hand, introduced its online shop in 2020 which offers apparel and home goods, among other products.
"These media companies can put products in front of a wide audience, and it makes them pretty appealing from that standpoint," McCarthy said. "The one thing that media companies obviously lack is their expertise is not making products," which makes it ideal for them to partner with a consumer goods manufacturer.
Eater plans to delve deeper into the consumer products category this fall through the launch of its first cookbook, which offers restaurant recipes. The publication will also launch a series of city guides, the first of which will come out in the spring.
"We've been engaging with [our readers] through storytelling and guidance and journalism for 18 years," said Amanda Kludt, publisher of Eater. "We're really curious to see how else our audience wants to interact with us. So books were an obvious next step because that's such a natural progression from what we're doing already."